Thanh Tra Pomelo: A Distinctive, Symbolic Taste of Hue
Hue has long been known as the land of various kinds of fruit. Of all, thanh tra pomelo has been famous for its irresistible flavor in Hue for hundreds of years.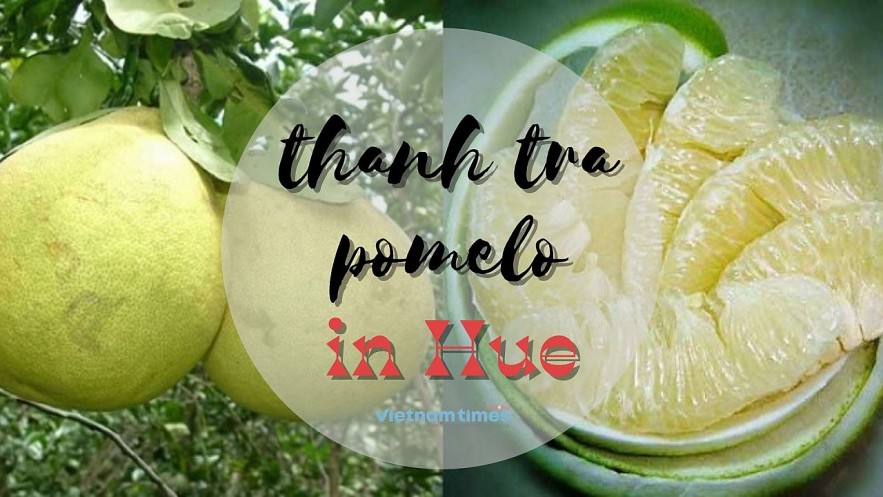 Photo: VNT.
Thanh tra pomelo is a favorite for Hue locals. The fruit is famous for its irresistible flavor which is described as sourness, semi-sweetness and slight bitterness.
Thanh tra is known as a kind of pomelo. Across the country, there are lots of well-known pomelos namely Doan Hung, Phuc Trach (in the north), Bien Hoa pink pomelo, or Nam Roi (in the south). However, thanh tra pomelos are only available in Hue.
Thanh Tra pomelo is called "the queen of fruits in Hue Ancient Capital". It has been said that more than 200 years ago, among many delicacies offered to Emperors, Thanh Tra pomelo of Nguyet Bieu village was presented as a specialty garden produce.
The only Thanh Tra pomelo season is around July or August. It is the time pomelos had polish green skin and gave off a mild fragrance. Nguyet Bieu pomelo is considered the best choice.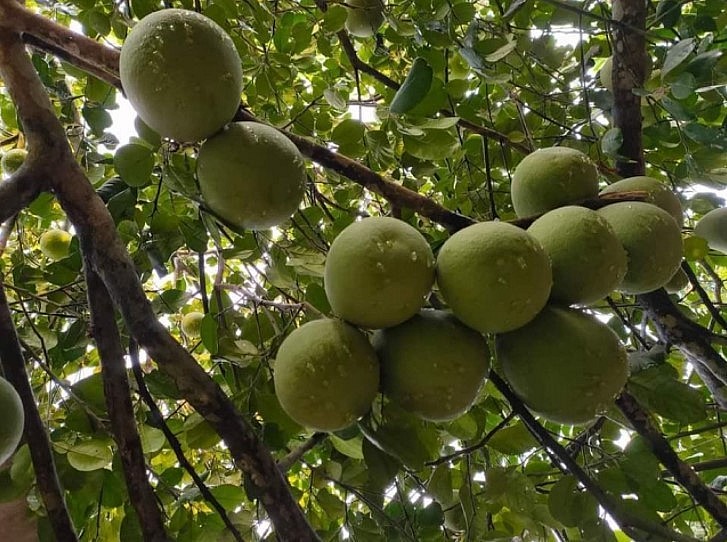 Photo: B.Anh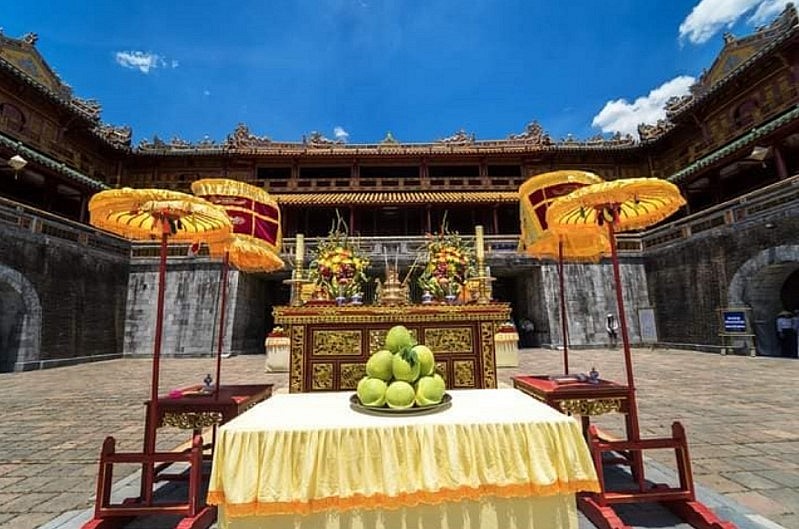 Photo: B.Anh
Although thanh tra is a type of pomelo tree from the North, it is able to create the distinctive taste of Hue thanks to the soil, water and the fluctuating weather of drought, flood and heavy rain. Moreover, Thuy Bieu area is located next to the Huong River. Every year in the flood season, the water of this river rises and brings alluvium to foster hundreds of roots of thanh tra. That is the key point to help thanh tra pomelo be sweet and distinctive.
Mr. Hoang Trong Di, Director of Thuy Bieu Agricultural Cooperative, said that Thanh Tra in the Thuy Bieu area was also brought into the Hue Imperial Citadel in a solemn procession, re-enacting the ceremony of the first royal palace before the Mid-Autumn Festival. The Fruit Offering Ceremony was carried out exactly under the ancient documents. Accordingly, the reception was said to take place at the Ngo Mon Gate of Hue Citadel. After bodyguards received the offerings, they just brought them to worship at shrines namely The Mieu, Trieu Mieu.
According to historical documents, under the Nguyen Dynasty, every year, local foods and specialties were carefully selected to be presented to the king's palace. Thanh tra is a famous specialty of Thua Thien government so it is annually chosen to present to the king. The People's Committee of Thuy Bieu Ward (Hue City, Thua Thien - Hue) still regularly coordinates with the Hue Monuments Conservation Center to organize the festival. This activity is within the framework of Thanh tra Festival.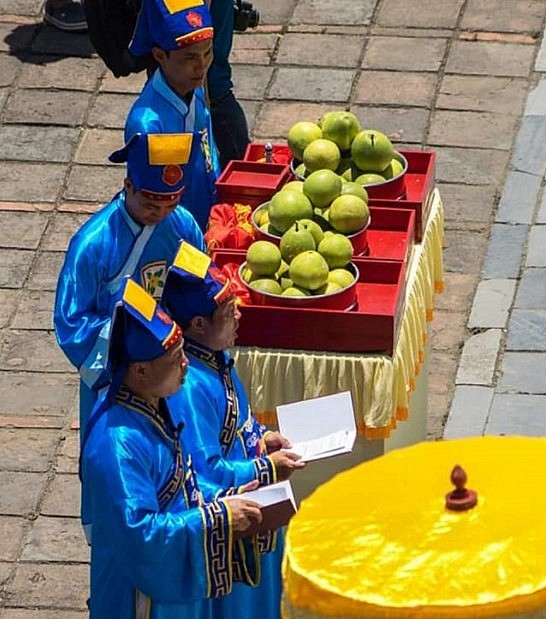 Photo: B.Anh
Thanh Tra Festival is still held every year in September to introduce visitors to participate and enjoy Hue's fruits. Every year, on the days of the Thanh Tra festival, there are various activities organized such as a contest of delicious fruits; a space to display thanh tra products and Hue specialties; a culinary contest to prepare delicious dishes from thanh tra; demonstration of introducing the discovery of thanh tra tree; the ceremony to offer "Thanh Tra" at the communal house of Nguyet Bieu and Luong Quan villages; eco-community tour at Thuy Bieu and folk games.
Under the skillful hands of Thuy Bieu people, Thanh Tra pomelo can be made into dozens of specialities besides being a fruit or being served during Mid-Autumn Festival. Although they are originally rural dishes, after processing, they become sophisticated, exquisite and beautiful works of art.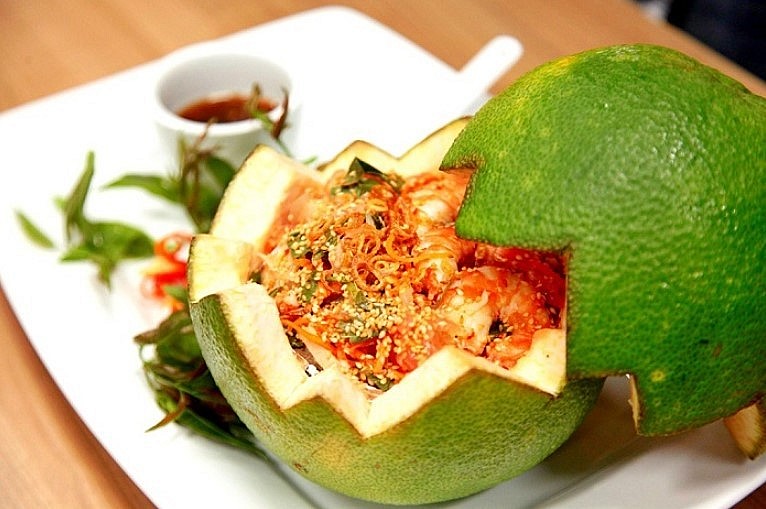 Photo: huexuavanay.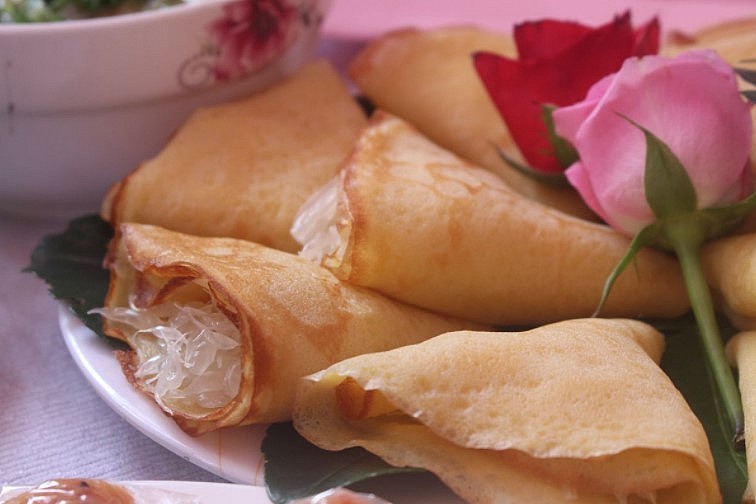 Photo: visithue.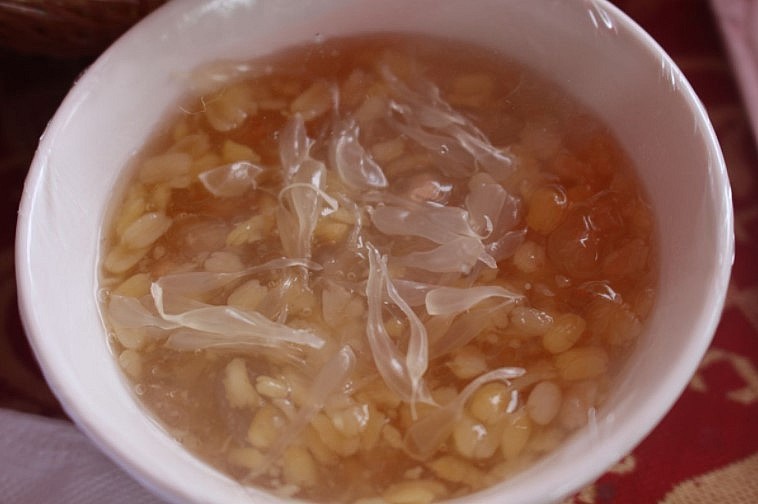 Thanh Tra sweet soup attracts more tourists since it is less bitter. Photo: visithue.
Mr. Hoang Trong Di - Director of Thuy Bieu Agricultural Cooperative shared: "Thanh tra fruit is a specialty of Thuy Bieu ward in particular and of Hue in general. Currently, in Thuy Bieu, there are about 800 households growing thanh tra trees with an area of ​​​​nearly 150 hectares. In 2009, Hue city registered the trademark "Hue Thanh Tra" with the National Office of Intellectual Property to keep and promote this brand. Currently, products made from thanh tra are available and very popular in the markets of Hanoi, Ho Chi Minh City, Da Nang, etc."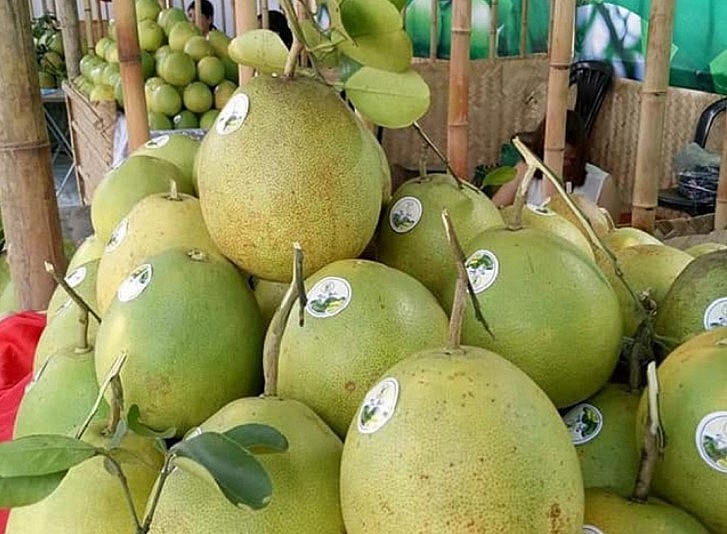 Photo: B.Anh
Currently, other districts of Phong Dien, Huong Tra, Huong Thuy... also have grown thanh tra trees. After harvesting, thanh tra pomelos can be kept for more than a month, but the quality remains unchanged. Besides, thanh tra pomelos have played an important role in eradication and poverty alleviation for many rural areas in Thua Thien Hue. Thanh tra pomelos have fully met the strict criteria of large supermarket systems such as CoopMart, BigC. They have been sold well at these supermarkets with prices ranging from 25,000 VND ($1.10) to 40,000 VND ($1.76) per fruit.