Beijing rejects U.S. report on Chinese nuclear warheads
China's foreign ministry on Wednesday rejected a U.S. report saying that Beijing was expected to double the number of its nuclear warheads.
Earlier this year, Global Times said Beijing needed to expand the number of its nuclear warheads to 1,000 in a relatively short time. (Photo: EPA)
Pentagon: China working to double nuclear warheads
The Pentagon said on Tuesday that China is expected to at least double the number of its nuclear warheads over the next decade from the low 200s now, Reuters cited.
The annual report to Congress on China's military marks the first time it has put a number to China's nuclear warheads. The Federation of American Scientists has estimated that China has about 320. The report said that in October 2019 China publicly revealed the H-6N bomber as its first nuclear-capable air-to-air refueling bomber.
The Pentagon said the growth projection was based on factors including Beijing having enough material to double its nuclear weapons stockpile without new fissile material production.
In his statement, Chad Sbragia, deputy assistant secretary of defense for China, said China was also nearing completion of its nuclear triad capacity, as it develops an air-launched ballistic missile that would have nuclear capability.
Washington has repeatedly expressed its desire to expand an Obama-era nuclear arms control treaty between the US and Russia to include China instead of simply extending the pact, known as New START when it expires in February. China has shown no interest in joining the negotiation, Al Jazeera reported.
In July, a senior Chinese diplomat said Beijing would "be happy to" participate in trilateral arms control negotiations, but only if the United States were willing to reduce its nuclear arsenal to China's level.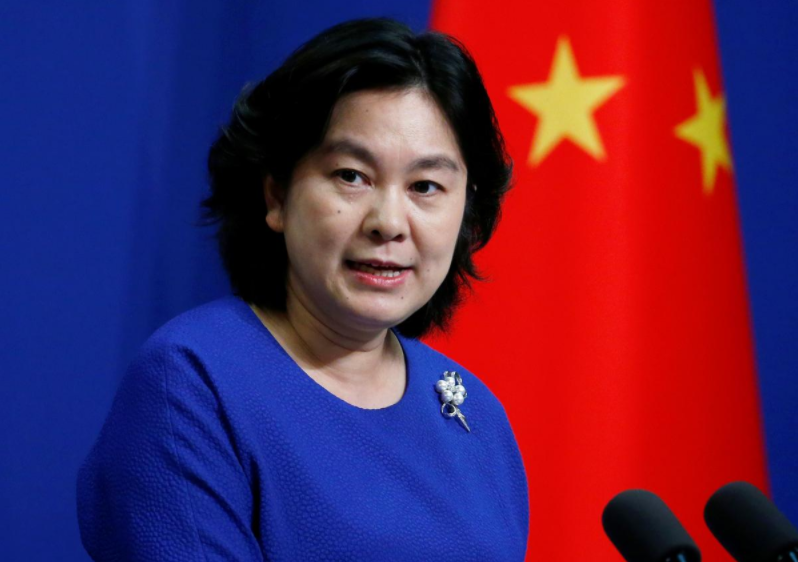 Chinese Foreign Ministry spokeswoman Hua Chunying speaks at a news conference in Beijing, China July 17, 2020. (Photo: Reuters)
China's spokeswoman rejected US claim
In response to the US report, Hua Chunying, spokeswoman of the Chinese foreign ministry, told a news briefing that the report is filled with bias and deliberately distorts China's strategic intentions.
China's defense ministry said on Wednesday that the report is "full of the cold war mentality of a zero-sum game," is a smear on China, and provokes animosity between the mainland and Taiwan, according to The New York Times.
China's nuclear arsenal is a fraction of the United States', which has 3,800 nuclear warheads stockpiled, and Russia's, which has roughly 4,300, according to the Federation of American Scientists.