US official says sanctions against China a possibility while Beijing vows retaliation over US Law on Hong Kong
US Assistant Secretary of State for the Bureau of East Asian and Pacific Affairs David Stilwell has expressed Washington's support for Southeast Asian nations in their territorial disputes with China in the South China Sea (known as East Sea in Vietnam), and warned that the United States could impose sanctions on Beijing.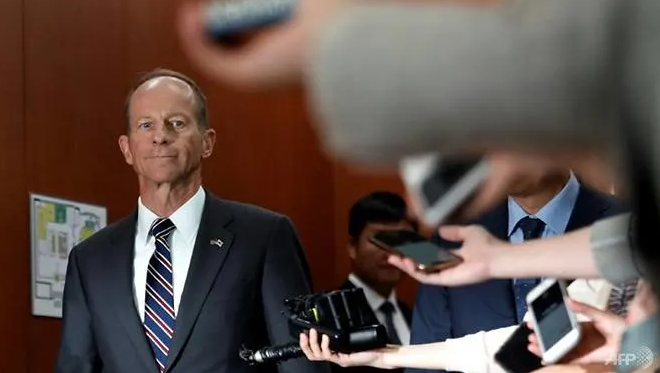 US Assistant Secretary of State for the Bureau of East Asian and Pacific Affairs David Stilwell, seen here in Seoul in July 2019, has likened Chinese state enterprises to the British East India Company. (Photo: AFP/Ahn Young-joon)
Stilwell told an online forum held by a US think tank on July 14 that "we are no longer going to say we're neutral" in maritime issues.
Stilwell stressed that the US will stand on the side of Southeast Asian nations if China sets up equipment to drill for natural resources in the waters controlled by them.
Asked about the possibility of sanctions, he said "nothing is off the table," adding that "this is a language the Chinese understand - demonstrative and tangible action."
He suggested that Chinese officials and state-run companies involved in the construction of manmade islands in the South China Sea could face sanctions.
The warning came after US Secretary of State Mike Pompeo asserted that "Beijing's claims to offshore resources across most of the South China Sea are completely unlawful, as is its campaign of bullying to control them."
"The world will not allow Beijing to treat the South China Sea as its maritime empire. America stands with our Southeast Asian allies and partners in protecting their sovereign rights to offshore resources, consistent with their rights and obligations under international law," Pompeo said in a lengthy statement, reported CNN.
Those comments also were followed by accusations by Japan, in which the country's annual defence review said China was pushing its unlawful territorial claims amid the COVID-19 pandemic.
China "is continuing to attempt to alter the status quo in the East China Sea and the South China Sea", Japan said in the defence white paper approved by Prime Minister Shinzo Abe's government on July 14.
Stilwell renewed US concerns on China's long-running talks with the Association of Southeast Asian Nations on a South China Sea code of conduct (COC), whose target date of next year has been pushed back due to the coronavirus pandemic, AFP said.
"Beijing may have backed off its arbitrary 2021 deadline for concluding the talks, but its hegemonic goals remain," Stilwell said.
While the United States has no claims in the sea, he warned that US interests were "clearly at stake" in the code of conduct.
"A code of conduct that in any way legitimates Beijing's reclamation, militarisation or unlawful maritime claims would be severely damaging, and unacceptable for many nations," he said.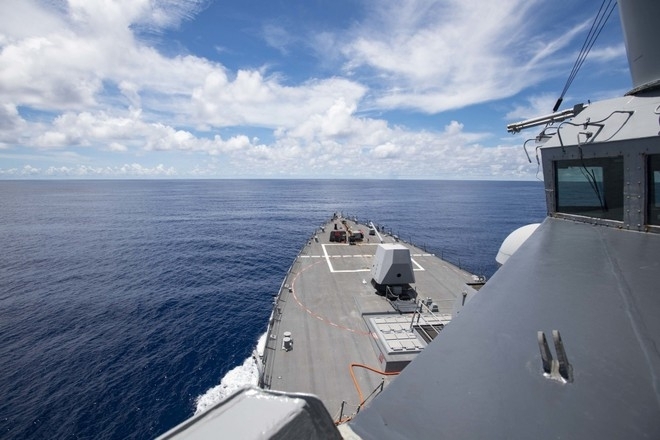 The US Department of Defense's news outlet DIVDS on July 14 has posted photos informing that the US destroyer USS Ralph Johnson is sailing near Vietnam's Truong Sa (Spratly) Island. Photo: DVIDS
Retaliatory sanctions over US Law on Hong Kong
On the other hand, US President Donald Trump has signed an executive order and legislation to pressure China following the implementation of a new national security law for Hong Kong.
According Japan's public broadcaster NHK Trump told reporters on July 14 at the White House that he signed the executive order to end the preferential economic and trade treatment that the US has given to Hong Kong for years.
It is feared that China's new national security law will restrict business and civil life in the territory.
Trump said, "Hong Kong will now be treated the same as mainland China." He said that preferential economic treatment and the export of sensitive technologies to Hong Kong will no longer be allowed.
Trump also signed into law the Hong Kong Autonomy Act. The legislation allows the US to impose sanctions, such as the freezing of assets, on Chinese authorities and financial institutions that contribute to China's actions to remove autonomy from Hong Kong.
Trump said the move is aimed at holding China accountable for its oppressive actions against the people of Hong Kong. To retaliate Trump's signing legislation, China's Foreign Ministry released a statement saying Beijing strongly opposes the US action as interference in its internal affairs.
The Hong Kong Autonomy Act "maliciously slanders" national security legislation imposed by Beijing on the city, China's foreign ministry said in a statement. "China will make necessary responses to protect its legitimate interests, and impose sanctions on relevant US personnel and entities," the ministry said.
The foreign ministry also said that Beijing strongly opposes the latest US action and urged Washington to stop interfering in China's internal affairs, state television reported.
"Hong Kong affairs are purely China's internal affairs and no foreign country has the right to interfere," it said./.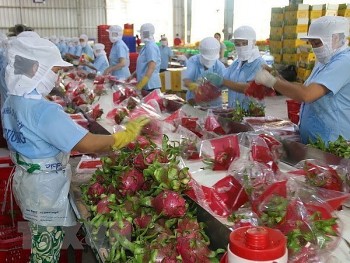 Make in Vietnam
Denmark and Vietnam strengthen cooperation in production, certification and management of organic products