Ben Tre, US Step Up Education Cooperation
A new primary school has been officially handed over to the Mekong Delta province of Ben Tre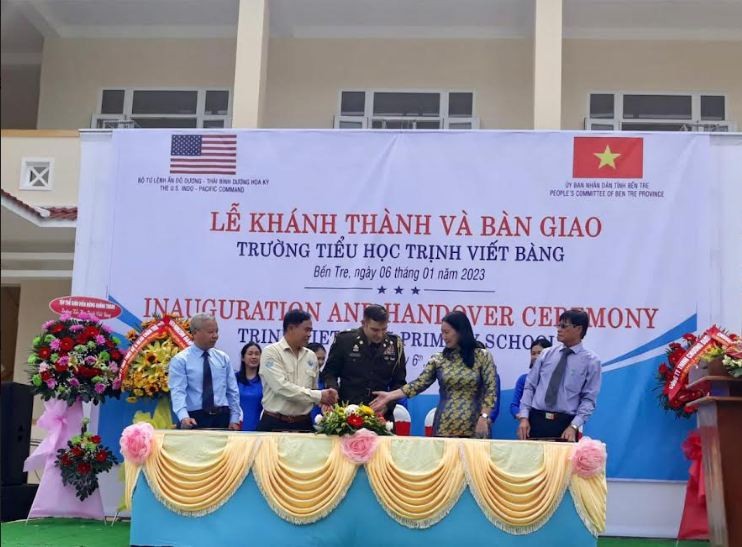 The US government formally hands over the new buildings to Ben Tre. Source: US embassy in Hanoi
US Defense Attaché in Hanoi Colonel TJ Bouchillon and Acting Deputy Principal Officer in Ho Chi Minh City Graham Harlow on January 6 transferred a newly built primary school in Dinh Trung commune to the Ben Tre Provincial People's Committee.
The project was jointly identified by the US Office of Defense Cooperation in Vietnam and Ben Tre province in January 2019.
The new school includes eight fully furnished classrooms and two teacher's rooms as well as a handicap accessible ramp.
The project was constructed and supported by the Chuong Duong Company, the New Horizon Company, the US Army Corps of Engineers, and the Ben Tre Provincial People's Committee. US Indo-Pacific Command under the Overseas Humanitarian Disaster Assistance and Civic Action Program funded the construction project.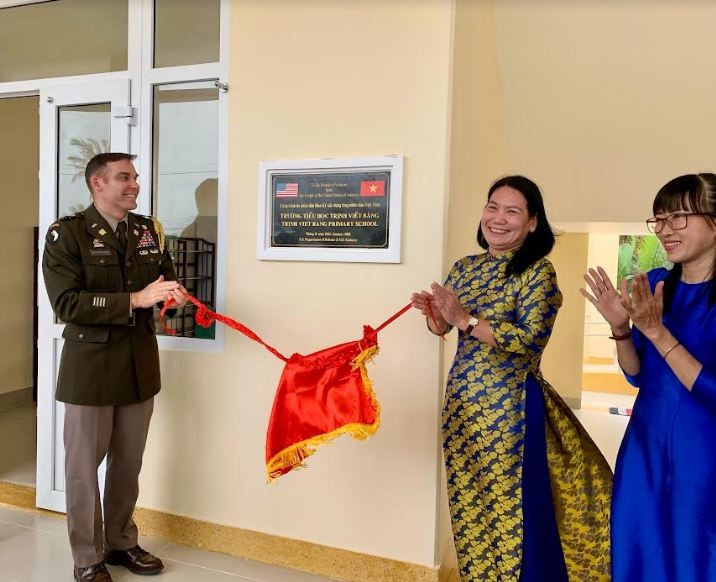 Delegates unveil the plaque at the new school building. Source: US embassy in Hanoi
Speaking at the ceremony, Vice Chairwoman of Ben Tre Provincial People's Committee Nguyen Thi Be Muoi acknowledged the support of the US Mission in Vietnam and the US Indo-Pacific Command.
"This valuable assistance improves primary education facilities in Binh Dai district's Dinh Trung commune and helps send children to school which is a part of our local development strategy," she said.
The new Trinh Viet Bang Primary School will help support Ben Tre province to better facilitate education for children in Dinh Trung and provide safe shelter during natural disasters.
Since 2009, the US Government, through the Overseas Humanitarian Disaster Assistance and Civic Action Program, has partnered with the Vietnamese government to construct schools, clinics, disaster coordination centers, and bridges in many towns and villages throughout Vietnam.
Last March, Defense Attaché Colonel Thomas Stevenson handed over Tra Thi Cut Primary School building from the US government to the people of Thanh Phuoc commune, Binh Dai district.
Nguyen Truc Son, deputy head of the Ben Tre People's Committee, accepted the gift on behalf of the province. The new building will provide much-needed space for students and serve as shelter for the community if natural disasters strike.
The project was started construction in September 2019 with a total cost of more than VND 10 billion (USD 426.000).
The work included design survey, construction organization, new construction of 6 classrooms school, toilets, water supply system, drainage system, septic tank, school yard, school equipment, storage and maintenance supplies.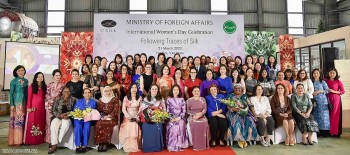 Friendship
Female ambassadors, representatives from diplomatic corps and international organizations, along with spouses of diplomats in Vietnam gathered together to find about more about silk weaving and silk products in Vietnam.