Best Places In The UK To Enjoy A Spa Break
From tranquil, beautiful East Sussex to other counties such as West Yorkshire, Strathclyde, and Lothian, these places are considered the best destinations for a spa break in your relaxing holiday.
One of the most favorite activities for tourists visiting the UK is to enjoy a relaxing spa day in a quiet county, which considers an idyllic weekend getaway. East Sussex is one of the top destinations for luxury spa breaks, according to a recent report.
The county boasts 72 five-star spas, the most out of anywhere in the UK outside London, research by Mira Showers found. Greater London, however, has more than five times the number of luxury spa locations, with 370 across the capital. Take a look at these top 10 places in the UK with the best-rated spas.
1. Greater London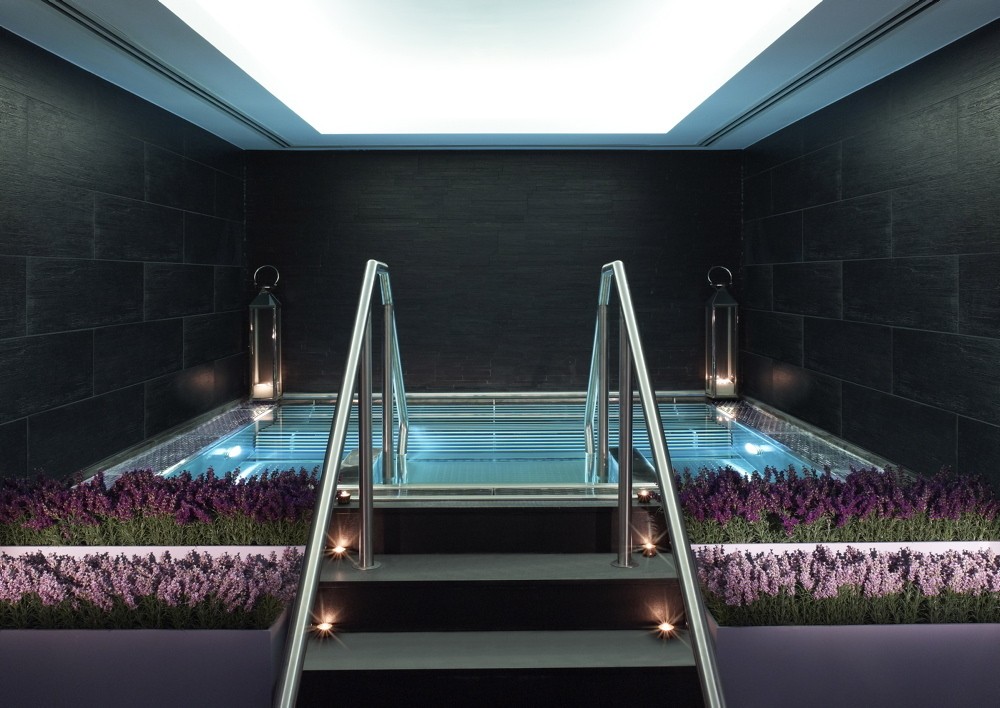 Photo: Time Out
Whether you're in need of a mind-soothing massage, transformative facial or a pampering day with friends, London's best spas have got you covered. Now, there's a wellness destination in every corner of the capital. From boutique day spas to luxury hotel sanctuaries, these hidden havens are the capital's hotspots for pampering, both holistic and aesthetic.
Aire Ancient Baths: For those who aren't up to speed on the high-end luxury Greco-Roman spa scene, AIRE is a collection of thermal baths inspired by antiquity. They started off in Spain 20 years ago, and have since expanded to the US, Denmark, and now here. The wine thing, by the way, is only a small (if notable) part of what they do. For the most part, it's all about immersing people in balmy water within historic, candlelit venues scented by orange blossom & soundtracked by soothing music. It's basically the physical embodiment of relaxation.
Bulgari Spa: the exquisitely designed Bulgari Spa can be found in the heart of London's affluent Knightsbridge. Descend beneath the five-star hotel and you'll find a stunning 25-meter swimming pool, golden vitality pool, thermal facilities, and divine treatments. The Bulgari Spa focuses on overall wellbeing, with programs designed to harmonize and balance from the outside in. Escape to one of the wooden poolside cabanas for absolute serenity.
Cloud Twelve: The wellness and lifestyle club has a number of facilities expanding over three floors - a children's play area and creche on the ground floor (which has its own art room, playground, ballet area, and plant-based cafe). There's a salon, spa, and nutritionally-focussed brasserie on the second floor and a holistic wellness clinic on the top floor - that focuses on nutrition, herbal medicine, osteopathy, acupuncture, IV infusions, colonic irrigation, and cryotherapy. While Cloud Twelve's decor hinges largely on bright colors and loud patterns, stepping into their spa transports you to a calming space as the spa's palette is neutral and relaxing. Before or after your treatment, make sure you make use of their facilities like the relaxation room, the sauna and steam rooms, and the Himalayan salt room - where you can sit and breathe the salt air, according to Evening Standard.
2. East Sussex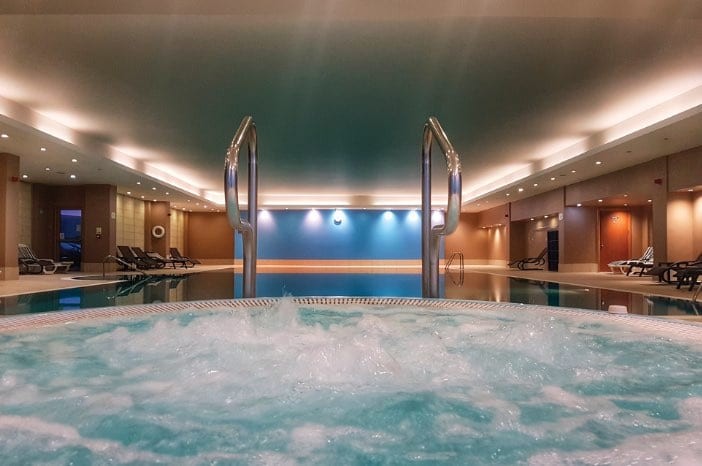 Photo: East Sussex National
Home to rolling countryside, medieval villages, and gorgeous coastline, this inspiring corner of England is besieged by weekend Londoners whenever the sun pops out. And it's not hard to see why as you explore the cobbled medieval streets of Rye; wander around historic Battle, where William the Conqueror first engaged the Saxons in 1066; and peer over the edge of the breathtaking Seven Sisters chalk cliffs and Beachy Head near the genteel seaside town of Eastbourne. Brighton, a highlight of any visit, offers some kicking nightlife, offbeat shopping, and British seaside fun. Off the beaten track, you can stretch your legs on the South Downs Way, which traverses England's newest national park, the South Downs National Park, according to Lonely Planet.
Alexander House: This award-winning Grecian-inspired subterranean spa is part of a large country house hotel set in woodland near East Grinstead. Rooms are extremely comfortable and well-equipped with options, including the Cedar Lodge suites with views of the gardens and countryside.
The Spread Eagle: This Scandinavian-style spa (in one of England's oldest coaching inns) is a contemporary foil to the historic hotel with facilities including an indoor pool and a charming garden in which to relax between treatments.
Ockenden Manor: This hotel is set in nine acres of the garden just off the High Street of the charming village of Cuckfield. The spa is a striking contemporary edifice that complements its surroundings, providing a real 'out of time' sanctuary. There's an indoor pool with full-length windows allowing a view of the grounds – and there's the option to swim through to the heated outdoor pool too. A rainforest shower is fed by the hotel's own natural underground spring, according to Great British Life.
3. Greater Manchester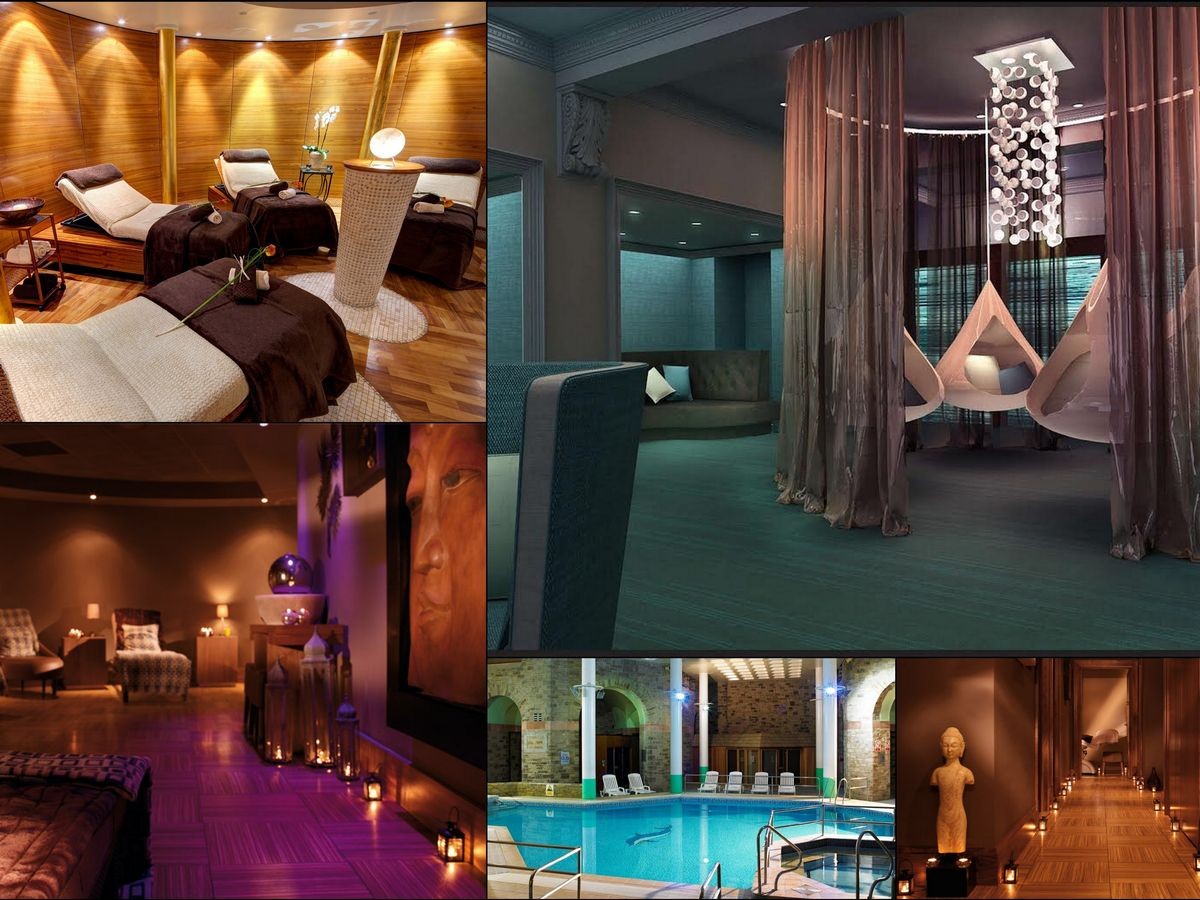 Photo: Manchester Evening News
Youthful, diverse, energetic, and bursting with character; Manchester is one of the most exciting places to visit in the UK right now where everybody and anybody is very warmly welcomed. Manchester city center is jam-packed with unique and eclectic restaurants, bars, shops, museums, galleries, hotels, and places to stay whilst the surrounding Greater Manchester boroughs offer a patch-work of visitor experiences including quaint market towns, traditional pubs, and beautiful green spaces and waterways to be explored on foot or bike. The city region is easily navigated, with great transport links both in and around Greater Manchester, according to Visit Manchester.
The Edwardian Manchester: This five-star hotel, set in one of Manchester's grandest buildings, the Free Trade Hall, often hosts celebrity visitors to the city (Simon Cowell and Sven-Goran Eriksson among them). Guests will enjoy the spa, featuring a good range of ESPA treatments, a relaxation room in one of the building's former vaults, a 12-meter swimming pool, sauna, steam room, experience shower, and whirlpool tub.
The Lowry Hotel: Like a true Mancunian, this five-star hotel is showy without being pretentious and fiercely proud of its roots. Huge stylish rooms, floor-to-ceiling windows, and attentive service keep guests coming back for more. There's an Elemis spa with treatment rooms, a relaxation room, and a sauna – book in advance for treatments as this is popular with visitors as well as hotel guests. There's also a small gym and a hairdresser.
Macdonald Manchester Hotel & Spa: This fairly upmarket hotel is on the edge of the center but well located for Manchester's main train station and largest university campus. The welcoming, warmly decorated spa offers Elemis treatments, plus a thermal suite with hot-rock and infra-red saunas, a steam room, an ice igloo, and a sensation shower. The spa also has a relaxation room with magazines, teas, and water, a space for snacks and afternoon teas, a tanning room, and a gym.
4. West Yorkshire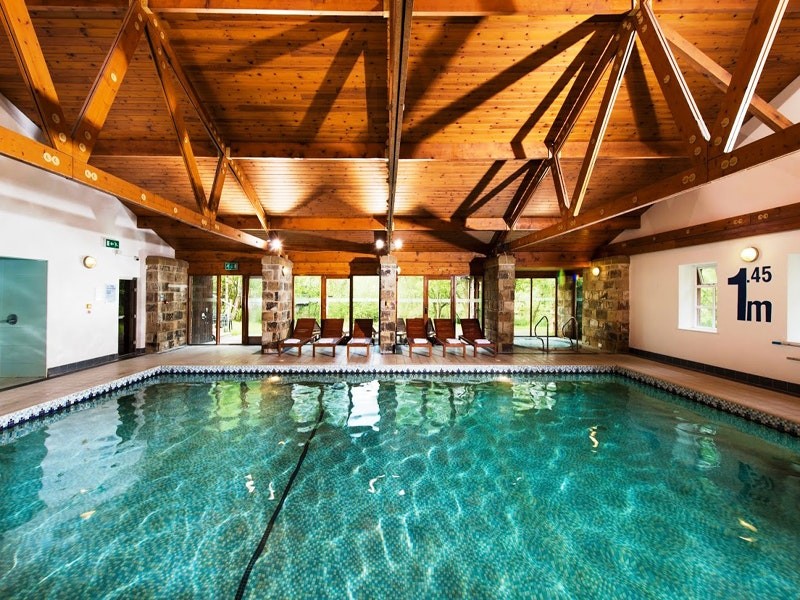 Photo: SpaSeekers
It was the tough and unforgiving textile industry that drove West Yorkshire's economy from the 18th century onward. The woolen mills, factories, and canals built to transport raw materials and finished products defined much of the county's landscape. But that's all in the past, and recent years have seen the transformation of this once hard-bitten area into quite the picture postcard, according to Lonely Planet.
Swinton Estate: A fully-fledged castle in the heart of the Yorkshire Dales, Swinton Park Hotel is a sight to behold. They've kept the decor true to its 17th-century roots, with old-fashioned portraits, one-of-a-kind antiques, and cozy soft furnishings. Their 32 bedrooms have the same sense of grandeur and come complete with views over the estate. The onsite spa has a thermal suite with an aroma steam room, Finnish sauna, and a cleansing salt room, so if you're a fan of natural therapies, this is the spa break for you.
Titanic Spa: An eco-spa with state-of-the-art facilities, Titanic Spa is one of a kind. It's tucked away in a former 20th-century textile mill and offers views of the West Yorkshire countryside. Their apartments are fitted with plush double beds, a kitchen suite and balconies that look out over the surrounding hills. But despite all of this, the spa is the real star of the show.
Feversham Arms Hotel: The Feversham Arms Hotel is one of the best luxury spa breaks in Yorkshire. It's a countryside retreat with cozy wood-burning fires and luxurious rooms that surround a Mediterranean terrace. Their poolside suites have king-sized beds, flat-screen TVs, and a spacious living area. In the evening, you can head to The Weathervane, an AA Rosette award-winning restaurant that uses locally-foraged ingredients from the North York Moors.
Raithwaite Estate: Set in the Whitby countryside, Raithwaite Estate promises fresh sea air and gorgeous surroundings. You can stay in one of their grand hotels or settle into one of their cozy stone cottages. Whichever you choose, you'll be guaranteed plush beds and woodland views, but don't hide away inside – their acclaimed restaurant offers a menu of French-Yorkshire fusion dishes worth leaving your room for, while The Crab Shack serves fresh-as-fresh-can-be seafood.
5. Strathclyde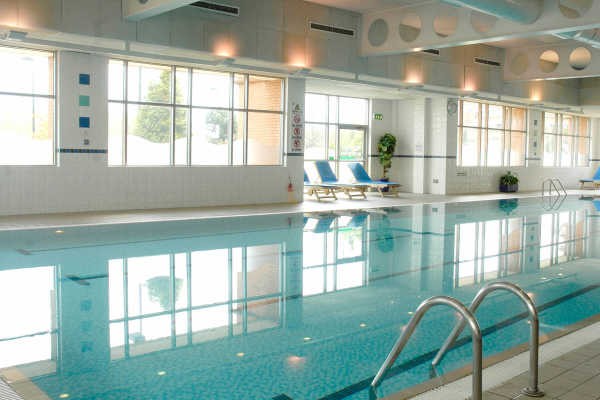 Photo: Spa Breaks
Strathclyde was one of nine former local government regions of Scotland created in 1975 by the Local Government (Scotland) Act 1973 and abolished in 1996 by the Local Government etc. (Scotland) Act 1994. The Strathclyde region had 19 districts. The region was named after the medieval Kingdom of Strathclyde but covered a broader geographic area than its namesake.
Kimpton - Blythswood Square Hotel, an IHG Hotel: Kimpton - Blythswood Square's on-site spa offers luxury treatment rooms, 2 relaxation pools, a rasul mud chamber, a relaxing lounge, a café, and more. Free use of the spa is available only at certain fixed times of the day. Great facilities and staff were brilliant.
Parklands Hotel & Country Club: Parklands Hotel contains a modern gym fully equipped with cardiovascular equipment, a swimming pool, sauna, and an aroma steam room. Guests can also relax in the hotel's La Belle Forme Spa. Guests can start their day with breakfast served in Michaels Bistro. During the day Michaels' provides a relaxing environment for a family dinner, a light snack, or evening drinks. The restaurant can also accommodate special occasions and functions, and the hotel's bar offers a range of drinks, including a cocktail menu, and is open until late.
Auchrannie Resort: With a luxury spa and elegant rooms, Auchrannie Resort features 3 award-winning restaurants. Situated in Brodick, on the beautiful Isle of Arran, the hotel also has a beauty salon and gym.
6. Lothian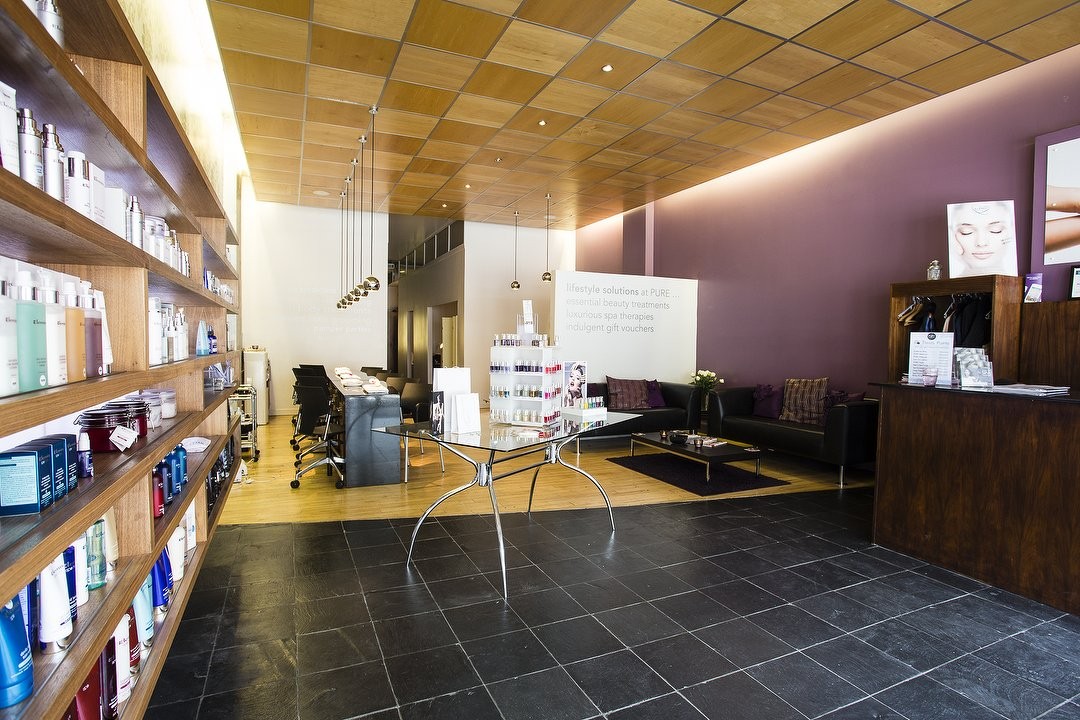 Photo: Treatwell
Lothian is a region of the Scottish Lowlands, lying between the southern shore of the Firth of Forth and the Lammermuir Hills and the Moorfoot Hills. The principal settlement is the Scottish capital, Edinburgh, while other significant towns include Livingston, Linlithgow, Bathgate, Queensferry, Dalkeith, Bonnyrigg, Penicuik, Musselburgh, Prestonpans, North Berwick, Dunbar, and Haddington. Historically, the term Lothian referred to a province encompassing most of what is now southeastern Scotland. In the 7th century, it came under the control of the Anglian kingdom of Bernicia, the northern part of the later kingdom of Northumbria, but the Angles' grip on Lothian was quickly weakened following the Battle of Nechtansmere in which they were defeated by the Picts. Lothian was annexed to the Kingdom of Scotland around the 10th century.
Historically, the term Lothian referred to a province encompassing most of what is now southeastern Scotland. In the 7th century, it came under the control of the Anglian kingdom of Bernicia, the northern part of the later kingdom of Northumbria, but the Angles' grip on Lothian was quickly weakened following the Battle of Nechtansmere in which they were defeated by the Picts. Lothian was annexed to the Kingdom of Scotland around the 10th century.
Subsequent Scottish history saw the region subdivided into three counties—Midlothian, East Lothian, and West Lothian—leading to the popular designation of "the Lothians".