Binh Phuoc Border Residents Foster Cooperation with Cambodian Locality
Binh Phuoc provincial residents and a visiting delegation from Cambodia's province of Tboung Khmum discussed border cooperation at a conference.
An art performance at the conference. Photo: bienphong.com.vn
A conference reviewing the five-year implementation of a friendship exchange programme between Vuon Buoi village, Loc Thien commune, Loc Ninh district of Vietnam's Binh Phuoc province and Cooc Thomo village, Tonlung commune, Memot district of Cambodia's Tboung Khmum province took place in Loc Thien commune on May 5, reported VNA.
The exchange programme, implemented from 2017-2021, contributed to strengthening friendship between local authorities and people of the two villages. As a result, political security, social order and safety in border areas have been maintained.
Gong performance to welcome the meeting of the people of Loc Thien commune, Loc Ninh district, Binh Phuoc province. Photo: Binh Phuoc Newspaper
Implementing the programme, the two sides have regularly coordinated in education and information dissemination on the tradition of friendship and cooperation between the two countries, especially on border demarcation and border marker planting, legal documents, and general agreements.
From the twinning movement of residential clusters on both sides of the border, people on both sides of the border have actively helped each other in production, supporting livestock and plants for eight times for 125 people. Residents have joined the border guard forces of the two countries to patrol six times, 60 people each time; promptly provided valuable information, helping the forces to arrest and handle 13 cases with 40 subjects illegally crossing.
The exchange of goods, cultural and artistic activities is carried out regularly. Recently, Vuon Buoi cooperated with charity organisations to provide free medical examination and treatment and medicines and give gifts to 550 people in Tonlung commune with a total value of over VND 550 million (USD 23,950).
Under the authorization of the head of the Border Guard Command, Colonel Nguyen Quoc Cuong, Deputy Political Chief of the Border Guard Command, presents gifts to the authorities of Vuon Buoi and Cooc Thomo villages. Photo: bienphong.com.vn
Speaking at the conference, Secretary of the Party Committee and Chairman of the People's Committee of Loc Ninh district Le Truong Son said that after more than 5 years implementing the friendship exchange programme, locals' awareness on territorial sovereignty, border landmarks, and legal regulations on border management has been improved.
The number of violations of border regulations and smuggling has decreased significantly as well.
Sharing the same view, Von Val, head of Cooc Thomo village, said that the friendship exchanges between border residential clusters is necessary and significant, thus helping foster the time-honoured solidarity and friendship between the two sides.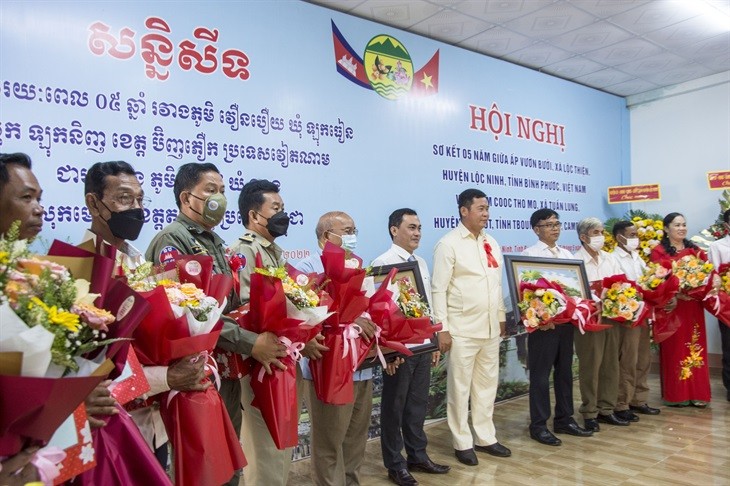 Huynh Anh Minh, Vice Chairman of Binh Phuoc Province People's Committee, Vietnam (6th from left) and Sreng Ly, District Head of Mo Mot District, Tbong Khmum Province, Kingdom of Cambodia (7th from left) give gifts to the people of the two localities. Photo: bienphong.com.vn
Vuon Buoi village, Loc Thien commune, Loc Ninh district, has an area of 3,661 ha, a population of 1,200 people, of which 26% of the population is the S'tieng ethnic group.
Meanwhile, Cooc Thomo village, Tonlung commune, Memot district, has an area of 3,022 hectares, 1,193 people.
The two villages share a borderline of 2,992m, with one main border markers and 11 auxiliary ones.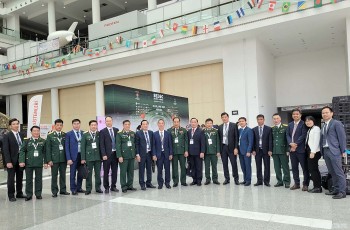 Friendship
Vietnam's presence at the security and defence exhibition SEDEC 2022 in Ankara has been seen as important initial steps to promote the Vietnam-Turkey cooperation.