Blackpink Members Share Photos after Vietnam's Show
Blackpink members shared behind-the-scenes photos of the two night concerts in Hanoi along with lines of gratitude to Vietnamese fans.
During the exchange with the audience at the second Born Pink concert in Hanoi, Blackpink members shared their special love for Vietnamese cuisine. Jisoo and Lisa revealed that the group had enjoyed bread and pho in Vietnam. Rosé is especially fond of pho and describes herself as having "eaten to the last drop" when enjoying this famous dish.
Due to their tight schedules, the band didn't have time to themselves, so fans guessed they enjoyed the food right at the Capella Hanoi hotel, where the group stayed when performing at the end of July.
Returning to Korea after the tour in Vietnam, Rosé immediately posted a picture of wearing a Vietnamese conical hat on her personal Instagram page with more than 73 million followers.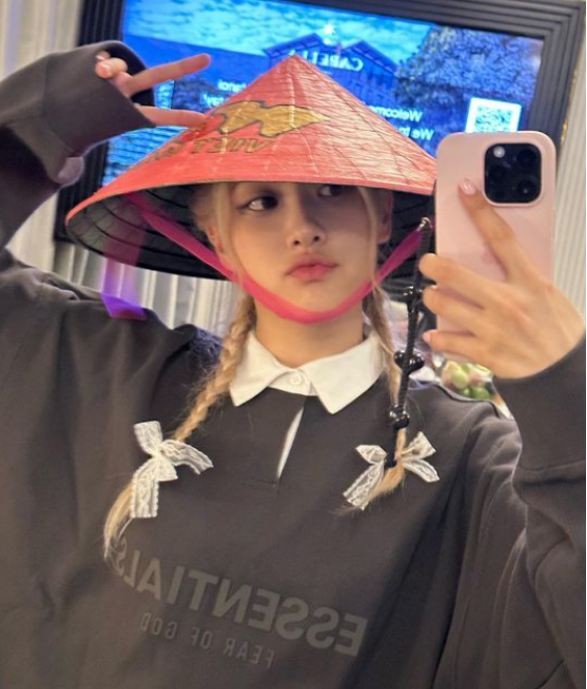 Source: Instagram roses_are_rosie
As soon as she got off the airport, Rosé posted 5 photos taken with a conical hat given by a fan in her hotel room during her tour in Hanoi.
After only 12 hours of posting, the photos have reached over 3.5 million likes.
Before that, during the two shows on July 29-30, all four members also continuously wore conical hats even while performing or interacting with fans.
During the concert, BlackPink greeted fans in Vietnamese, talking about pho and bread, and how Rosé humorously described Lisa as "sniffing a bowl of pho". That quickly became headlines all over the press and social networks.
On the second night of the show in Hanoi, Rosé wore conical hats to dance to the song Boombayah, making the audience present at the stage very excited.
In addition to conical hats, Rosé also repeatedly expressed her love for Vietnamese Pho. This is no longer a strange thing for her fan community.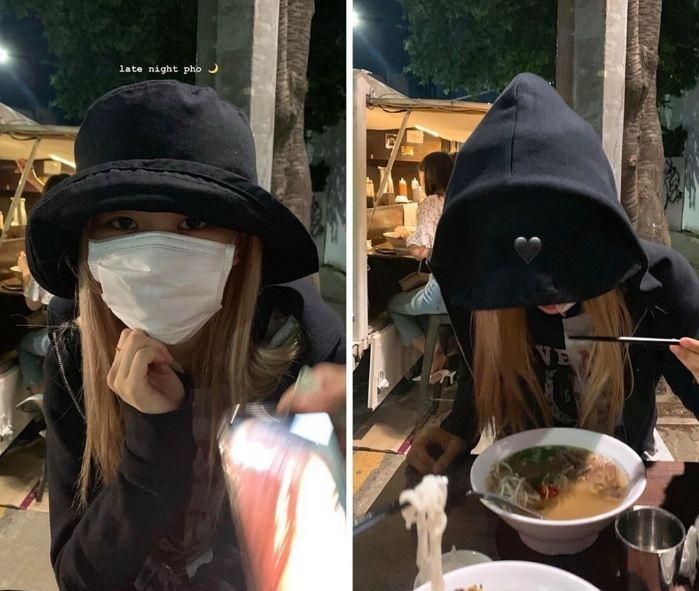 Rosé loves Vietnamese pho. Source: Instagram roses_are_rosie
To welcome Rosé to Vietnam, the female singer's fans ran ads with the message, "Let's eat pho together" on the LED screen at TNR Tower, facing the main roads of the center, namely Chua Lang, Kim Ma and Nguyen Chi Thanh streets of Hanoi.
Besides, Rosé has also shown her love for many other dishes such as dried mango, spring rolls of Vietnam.
Many times Rosé promotes, and brings the culture, and cuisine of Vietnam closer to world friends. It can be seen that cultural exchange is always one of the fastest means of bringing people closer together. In particular, Rosé and Lisa used to visit a restaurant selling Vietnamese food in Korea to enjoy pho as well as traditional rolls.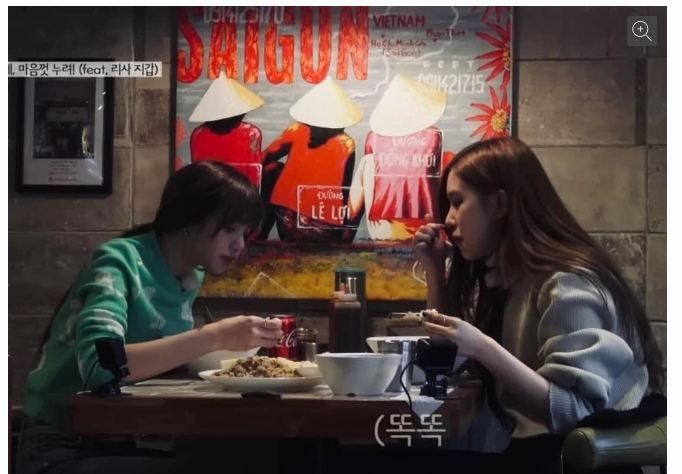 Lisa and Rosé (right) eat pho and Vietnamese dishes in Korea. Photo: BLACKPINK HOUSE
On the morning of August 2, Jennie posted on Instagram a series of photos of the Born Pink world tour in Hanoi.
Jennie did not forget to thank Vietnamese fans, "Hanoi [symbol of the Vietnamese national flag]. Thank you so much for two great nights."
On Instagram Story, the Korean singer also shared the moment of dancing a Vietnamese viral song 'See Tinh', with the caption, "For my Vietnamese Blinks."
Earlier, late at night on August 1, Jisoo wrote on her personal page, "I had a good time in Vietnam, where I first visited! I get a lot of energy from Blink! See you soon. I love you guys".
Along with loving messages to Vietnamese fans, Jisoo posted a series of selfie photos behind the stage and at the hotel.
The thing Jennie and Jisoo have in common is that they both show their interest in Vietnamese conical hats by sharing photos of traditional accessories with the country's red flag and yellow star.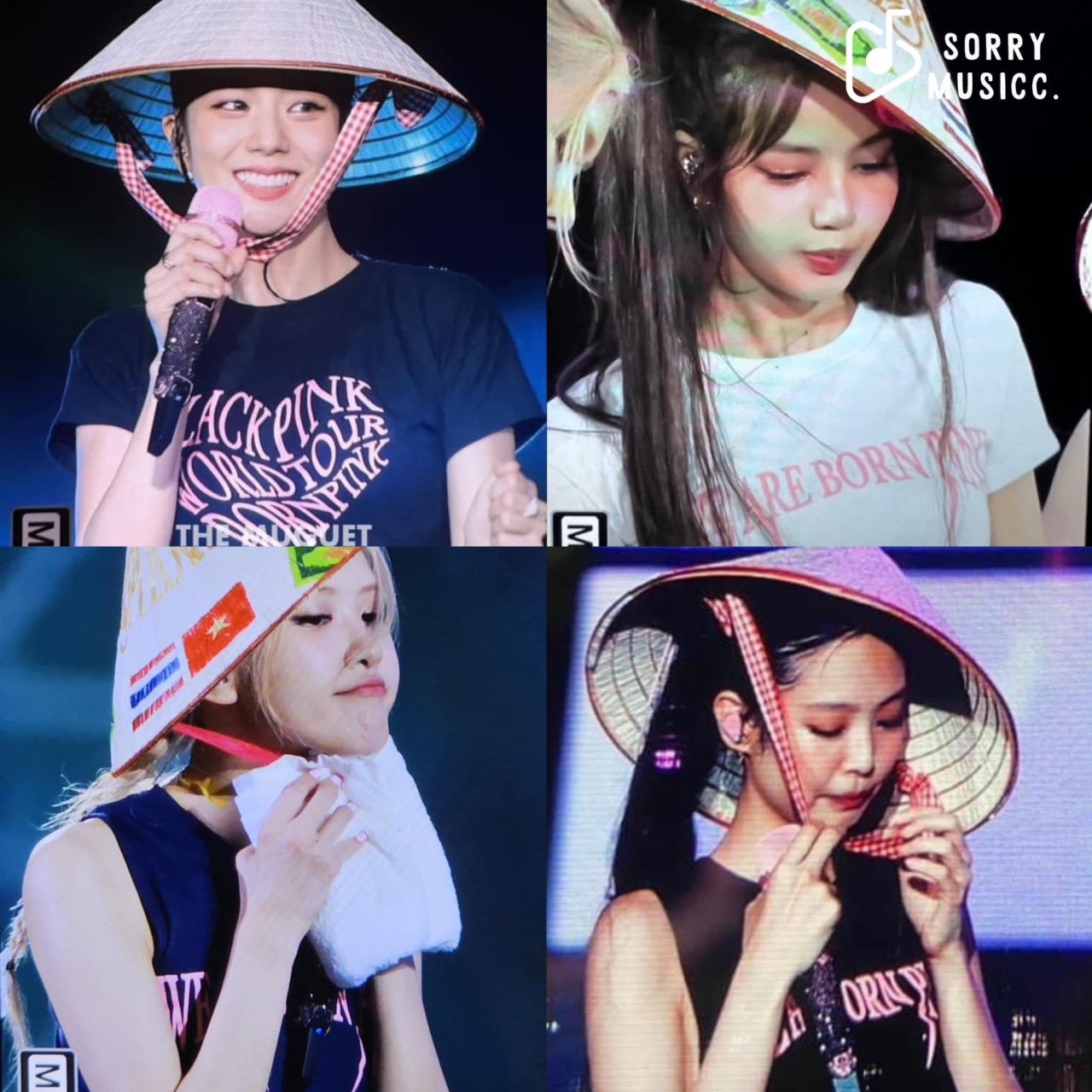 Blackpink wears conical hats on the stage.