Book "President Ho Chi Minh with India" launched in Hanoi
After being launched in India, the book collection "Ho Chi Minh with India" was inaugurated in Hanoi on November 29.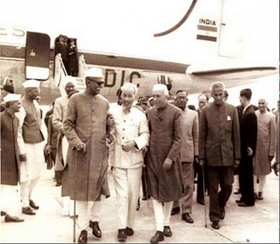 Indian President Rajendra Prasad and Prime Minister J.Nehru receive President Ho Chi Minh in 1958.
The book, available in both Vietnamese and English, was compiled by the Centre for India Studies of the Ho Chi Minh National Academy of Politics. It includes writings, letters, messages and poems about India by President Ho Chi Minh, together with his memories of India, as well as writings by Vietnamese and Indian scholars about the respected leader and the long-standing Vietnam-India relations.
Speaking at the book inauguration ceremony, Indian Ambassador to Vietnam Verma Pranay highlighted the meaning of the book collection that contributes to establishing a solid foundation for the Vietnam-India friendship and cooperation, which were started thousands of years ago, ranging in various spheres such as culture, economics, politics, etc.
Earlier this month, the book collection made its debut in India's capital New Delhi on November 21 and Kolkata on November 24 as part of a series of activities to mark the Vietnam Month in India.

Economy
HCM CITY, VIETNAM - Media OutReach - 2 December 2022 - The HCM City Development Joint Stock Commercial Bank, or HDBank, is seeking shareholders' approval to issue convertible bonds worth US$500 million to international investors. HDBank is also seeking approval to increase the foreign ownership limit from 18 per cent to 20 per cent.