Border guards strengthen security as borders whiten with snows
The COVID-19 checkpoint of Sì Lờ Lầu Border Guard Station in the northern province of Lai Châu has been engulfed in fog and frost almost around the clock in the last few days.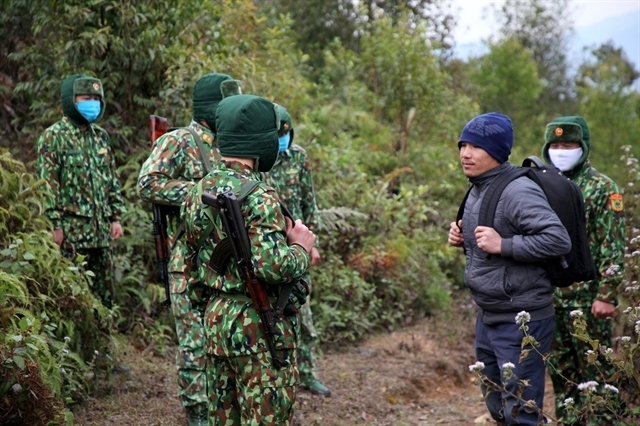 Border guards in the northern province of Lai Châu find a man illegally crossing border through path (Photo: VNS)
The checkpoint in the province's Phong Thổ District, 1,600 metres above sea level, which makes temperature in the area drop to between 5-7 degree Celsius, lower than the average temperature of Việt Nam's northern mountainous region.
It even dipped to below zero last weekend across many northern localities like Lai Châu, Sơn La, Lào Cai, Lạng Sơn and Quảng Ninh..
Most trees along the patrolled borderline were enveloped in a light layer of frost. Raindrops on branches crystallised into sharp shards hanging off of trees. The snow was falling thickly, covering houses, gardens and roads.
In a country with a tropical climate region like Việt Nam, snowfall is a rare weather phenomenon which sees tourists flocking to snowing areas to satisfy their curiosity. But these adverse weather conditions adds hardship to border guards who usually work outside all the time in remote mountainous areas.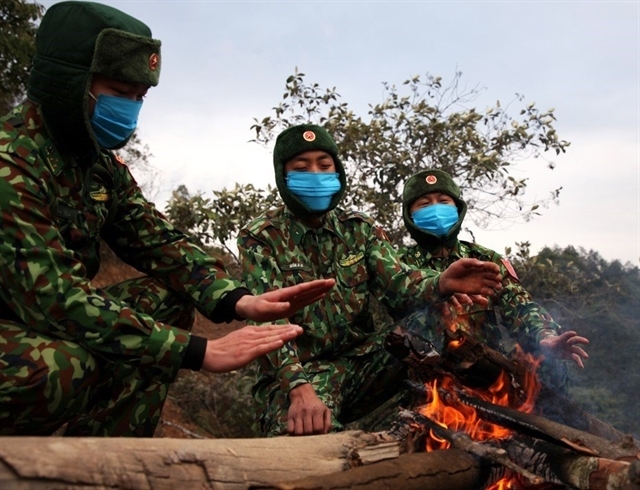 A fire helps border guards keep warm during their patrol in border mountainous areas (Photo: VNS)
Major Mã A Phỏng of Sì Lờ Lầu Border Guard Station said that despite the cold weather, border guards still went patrolling, as usual, two shifts in the morning and the afternoon.
"Dense fog limits our vision, which makes us more alert and heightens our concentration during the routine patrols," he said.
"This is a busy time to tighten border control, prevent illegal entries and minimise the risk of the disease spreading into the community."
During the COVID-19 pandemic in Việt Nam, border guards' checkpoints are considered the first shield to protect the country from imported cases of coronavirus.
In addition to regular tasks, guards also visit villages of ethnic groups and instruct local people to keep warm, stay healthy as well as protect their cattle, poultry, and plants from the cold.
At another border guard station in Sin Suối Hồ Commune in the same district, guards learn from Dao ethnic people how to stay warm.
Colonel Lự Văn Thuật of Sìn Suối Hồ Border Guard Station said that they used clothing to wrap around their feet to keep warm as Dao people did.
"This tip is very useful as it helps avoid vasoconstriction when it is cold, improving blood circulation, especially when the soldiers have to walk for consecutive hours," he said.
They also used hot salt compresses, put stones onto a fire or drink more ginger water, he said.
At the checkpoints, more tarpaulin is used to wrap up makeshift tents, he said, adding that they prepared hot food and water as well as regularly exercises to keep illnesses away.
"We have to stay healthy to fulfil our tasks," he said.
Lieutenant Colonel Nguyễn Xuân Hanh of Sìn Suối Hồ Border Guard Station said that illegal border crossings were expected as Tết ( Lunar New Year) celebrations were coming, which made authorities work harder.
Border guards in the northern province of Lào Cai go patrol after snow fell earlier this week. VNA/VNS Photo Quốc Khánh
In the northern province of Lào Cai, people saw 15cm-layers of snow in Y Tý Commune early this week.
Soldiers there also visited residents' home to help fixing houses and make sure animals stay warm.
In the northern province of Sơn La, Lieutenant Lò Việt Hùng of Chiềng On Border Guard Station said that more sleeping pads, blankets and cotton hats were provided to soldiers working at COVID-19 checkpoints.
The soldiers also store more firewood, Hùng said, adding that they would buy some husk-fired heaters for the checkpoints.
Soldiers are advised to keep exercising regularly to improve physical health and better adapt to the cold weather.
The strong cold spell also hit the north-central province of Thanh Hoá with night temperature dropping under five degree Celsius in Yên Khương Commune, Lang Chánh District.
Young soldier Ngân Quang Thuần worked at the checkpoint based in the commune.
It was 10pm, Thuần and other soldiers were set for a night patrol after wearing warm clothes, facemasks and carrying guns. Rubbing his hands over a flickering fire to stay warm, Thuần told a reporter of Dân Trí online newspaper: "It's cold but it doesn't matter. As soldiers, we will overcome any difficulty."
"When we are back, we will sit around the fire. We will be warm," Thuần said, then leaving for his patrol. They are expected to come back to the station at 2am.
Colonel Hồ Ngọc Thu of border guard station in Na Mèo Border gate said that in some areas, border guards had to live and work in very harsh conditions, even without electricity, no clean water and no mobile phone connection.
"They have to patrol in geographic difficulties and harsh weather," he said.
"At COVID-19 checkpoints, makeshift tents were built as many of us, in the beginning, though that the pandemic would soon go away.
"The pandemic has hit the country for almost a year. During the same period, border guards have kept up the COVID-19 fight. For times, the makeshift tents were blown away by strong winds.
"As the pandemic continued developing complicatedly, soldiers are all determined to work at the checkpoints and celebrate Tết there so other people can have a happy and safe holiday!"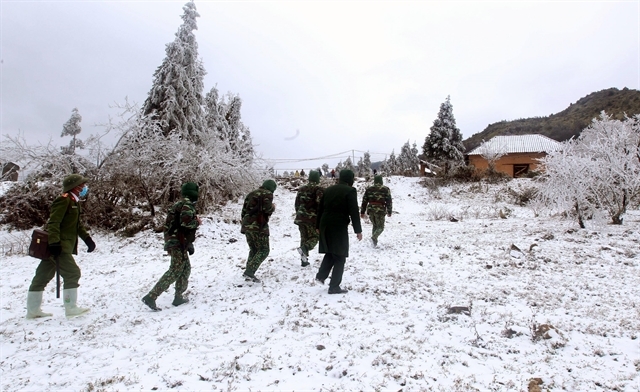 Border guards in the northern province of Lào Cai go patrol after snow fell earlier this week. (Photo: VNS)
Earlier in August, Prime Minister Nguyen Xuan Phuc has asked authorized agencies to make thorough investigations into and strictly handle all unlawful immigration cases.
The PM made the request after local police repeatedly unveiled the illicit immigration of Chinese nationals. In July, hundreds of Chinese people were caught illegally entering and staying across Vietnam.
Major General To An Xo, chief of the Ministry of Public Security Office, said at a press conference on August 3 that 27 out of 63 cities and provinces in Vietnam have reported the illegal entry of 504 Chinese so far this year.
The police have conducted investigations into five cases involving 20 people, including one Chinese national.
Xo noted that the immigrants are both Chinese and Vietnamese (who went to China for work) who now attempt to return to Vietnam for better shelter amid serious flooding and pandemic uncertainties in China. The Chinese immigrants get in Vietnam for tourism, job seeking, and using Vietnam as transit to a third country.
At a meeting in Hanoi on July 31, Lieut. General Le Duc Thai from the Border Guards Command under the Ministry of National Defense, said that since the beginning of this year, Vietnam's border guards have arrested roughly 16,000 unlawful immigrants. In July alone, more than 2,400 people were arrested when attempting to cross the border.
National
Vietnam News Today (Jan. 20): Vietnam confirms 15,936 new local Covid cases; First Omicron infections in community reported in HCM City; Vietnam to facilitate procedures for foreign entrants; Hanoi capital cancels fireworks display on lunar New Year's Eve.