Bored Panda Suggests 3-Day Voyage through Phu Quoc
Aside from its picturesque scenery, Phu Quoc Island also offers an abundance of delicious dishes cooked from tasty ingredients found only on "Pearl Island", such as sardinella salad and horn scallop.
In recent years, Phu Quoc island city in the Mekong Delta province of Kien Giang, has emerged as one of the most talked about destinations for travelers from all around the world, thanks to its breathtaking natural beauty, iconic landmarks, and unparalleled luxury travel experiences.
Bored Panda, one of the world's leading art and pop culture magazines, has published an article unveiling a three-day voyage through some of the heavenly beachscapes found on Phu Quoc, with the island bieng considered a paradise that seems to have been crafted by the divine hands of nature itself, VOV reported Thursday.
"Through this 3-day voyage, Phu Quoc's allure revealed itself, offering a blend of tranquility and discovery that resonated with my heart. From the allure of Kem Beach to the serene charm of Sao Beach and the thrill of Hon Thom, each moment wove a narrative of nature's grandeur," the article wrote.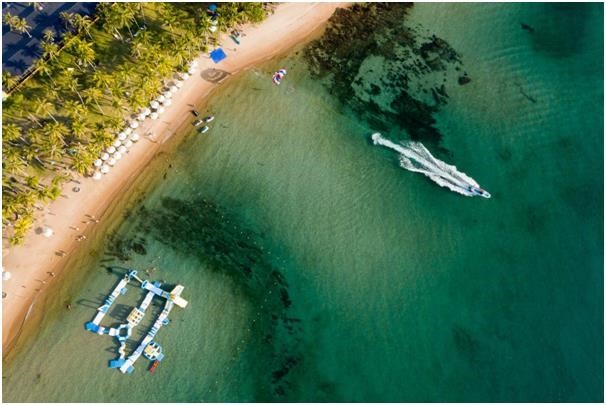 Hon Thom Island in Phu Quoc.
The journey through Phu Quoc's heavenly beachscapes starts with Kem Beach, a place that could easily be mistaken for a glimpse of Eden.
The site isn't just a beach, instead it's a haven for luxurious resort experiences. Hosting prestigious names such as JW Marriott, Accor, and Rosewood, it's not just a shoreline but is actually a canvas of opulence.
JW Marriott Phu Quoc Emerald Bay was designed by architect Bill Bensley and symbolises luxury, earning plenty of accolades and rivaling top destinations. This beach's allure is notable for attracting a billionaire's extravagant wedding and being deemed as one of the best resorts globally.
Discovering Sao Beach on the second day is a good suggestion as the site was listed as one of the 10 most pristine and tranquil beaches in the world by CN Traveler.
Guests can amble along the seemingly endless coastline, letting the soft sands cradle every step. Other activities include snorkeling, during which visitors can discover a world of vibrant coral reefs beneath the surface.
The afternoon is perfect for kayaking and more water-based escapades. One can sample a seafood feast against the backdrop of the setting sun, creating a memory that lingers long after, the article reports.
An adventurous day may await travelers on the third day as they venture to Hon Thom, aptly named the 'Island of Joy'.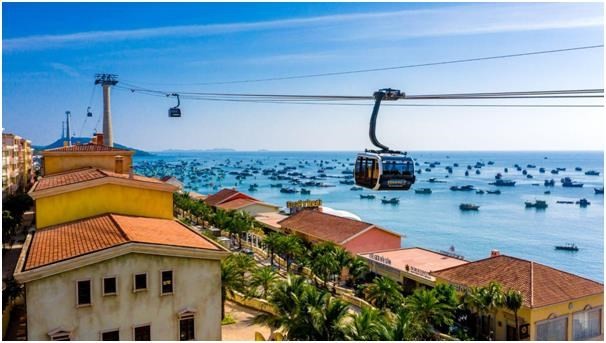 Hon Thom Cable Car. Credit: Minh Tu
Glide through the skies on the world's longest three-rope cable car to Sun World Hon Thom. Dive into the exhilaration of Asia's largest water park, Aquatopia, and explore Exotica Village's array of rides and games.
Guests should not miss out on the opportunity to discover the underwater wonders through scuba diving, a journey into a world of ancient coral formations and marine life. As the day concludes, visitors can take in the breathtaking sunset over Hon Thom's golden beaches, according to Bored Panda.
In 2021, Time Magazine honoured Phu Quoc as one of the 'World's Greatest Places'. In October 2022, Conde Nast Traveller voted the 'pearl island' – as it's known in Vietnam – as one of "Asia's 10 Most Favorite Resort Islands'. The destination was the only representative of Vietnam in the category of 25 Best Islands in the world, as chosen by Travel + Leisure. In November, 2022, Phu Quoc was named the 'World's Most Attractive Natural Island' at the World Travel Awards, surpassing six other world-renowned islands, according to VNA.
Phu Quoc is a popular tourist attraction of Vietnam, Photo: VNA
With a rare tropical beauty, Phu Quoc has often been compared with long-established island paradises such as the Maldives, Phuket (Thailand) and Bali (Indonesia). But the pearl island — actually part of archipelago – has its own distinctive ecology with 28 large and small islands, 150 km of coastline, and 14 diverse beaches, many of which have been ranked amongst the most beautiful on the planet. Adding to the island's appeal is its mild climate with warm sunshine all year round, making Phu Quoc ideal for travel and relaxation at any time of the year.
From 2016 to 2019, the number of tourists to Phu Quoc increased steeply, reaching nearly 5 million people.
In 2020, while the global tourism industry was "hibernating" due to the pandemic, Phu Quoc still welcomed 3.5 million visitors, surpassing tourist arrivals to Asia's most popular destinations including Phuket in Thailand and the Maldives.
In 2022, Phu Quoc welcomed nearly 5.1 million visitors, a growth of 134% compared to the same period in 2021.