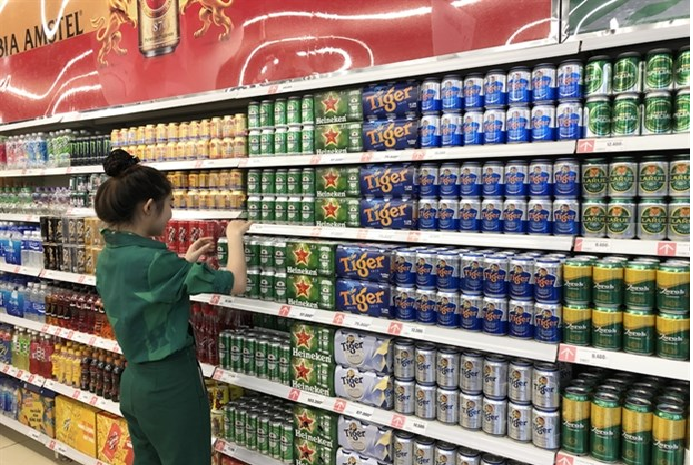 Beers on display at a supermarket in HCM City. (Photo: VNA)
Domestic beer consumption in the second half of the year is expected to improve over the first six months, while next year the beer industry can grow by 20 percent compared to the low base this year.
Despite progress, beer consumption volume is unlikely to reach the figures recorded before the COVID-19 pandemic, Viet Nam News cited SSI Research as saying.
"We believe that beer consumption volume may take several years to recover to the levels prior to the COVID-19 outbreak and before the promulgation of Decree No.100/2019/ND-CP [which outlines sanctions for drunk driving that took effect early this year]."
Demand for beer was negatively affected by the pandemic in the first six months, with consumption volume down by 12.7 percent, while consumption of the FMCG portfolio dropped by only 7.3 percent, according to Nielsen's statistics.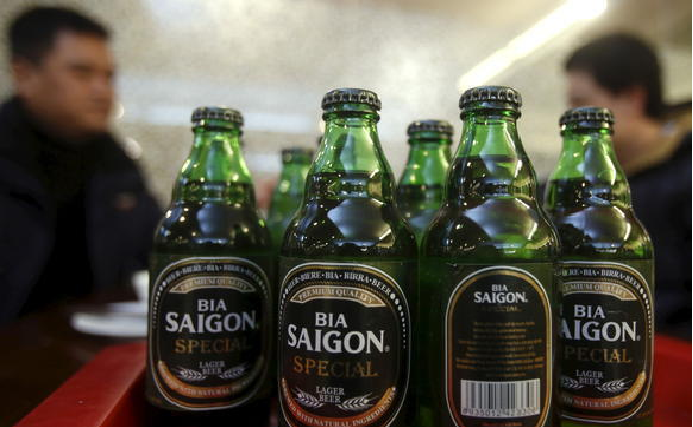 Men drink Saigon beer, a product of Sabeco, at a restaurant in Hanoi. Photo: Reuters
According to Nielsen, beer consumption volume in the second quarter dropped by 22.6 percent compared to the same period last year. Nielsen's data reflects actual beer consumption, while the revenue of Sabeco (SAB) and other beer brewers in Vietnam reflect figures from breweries to distribution agents.
The share of beer consumption accounted for 20.7 percent of FMCG consumption in Vietnam in the first six months of 2020, slightly down compared to 22 percent last year.
Production output has recovered from May, with an increase of 60 percent compared to the period from February to April. Accumulating output in the first half was down 17 percent over the same period last year, according to the General Statistics Office of Vietnam.
The second quarter was the worst quarter for the beer industry due to the national social distancing measures in the first three weeks of April. Beverage businesses stopped operation from mid-March to early June. Non-essential businesses in high-risk localities were asked to stop operations again amid the second COVID-19 outbreak.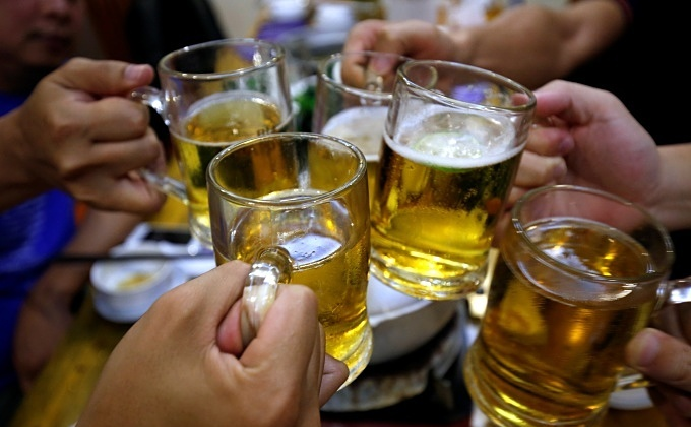 People drink beer at a restaurant in Hanoi, 2019. Photo: Reuters.
SSI Research said Q1 was the worst quarter for SAB's earnings, as SAB did not promote sales and distribution channels in Q1. However, its beer consumption in June almost recovered to levels prior to the COVID-19 outbreak.
It also reported higher profit margins thanks to its efforts to cut costs. Similarly, most of the listed beer brewers reported a recovery in Q2.
It estimates that SAB's beer output in 2020 will decrease by 30 percent year-on-year. The company's business outcome in the latter half of the year is expected to be better than that in the first half of 2020 if there is no social distancing applied across the country.
According to the report, COVID-19 has changed the industry sales structure, with an increase in sales through off-trade channels (all retail outlets like hypermarkets, supermarkets, convenience stores, mini markets, kiosks, wines and spirits shops).
"Consumption in off-trade channels will become even more important in the following years," SSI Research said.
Thus, beer companies are making efforts to boost sales on off-trade and modern trade channels.
In 2019, total beer production reached more than five billion liters (up 22.9 percent over the same period in 2018), while consumption reached over four billion liters (up 29.1 percent over the same period last year).
Vietnam is famous for its beer-drinking culture. It is widely believed that business deals in Vietnam tend to go more smoothly over a few drinks at the negotiating table. Vietnam is the biggest beer market in Southeast Asia, consuming nearly four billion liters in 2017.
The country spends on average USD3.4 billion on alcohol each year, or 3 percent of the government's budget revenue, according to official data. The figure translates to USD300 per capita, while spending on health averages USD113 per person, according to the Ministry of Health.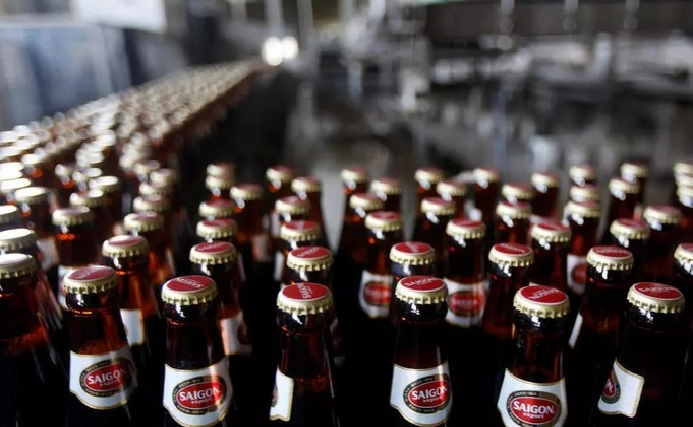 A manufacturing chain of Sabeco. Photo: Reuters
Challenges
People selling beer to those under 18 will be fined VND500,000-1million (USD22-43) under a government decree that takes effect on October 15.
A 2013 decree sanctioned only the sale of alcohol to underage people and not beer, VnExpress said.
Beer establishments need to put up notices saying "Not to sell beer to people under 18 years old." Sellers are responsible for checking the age in case of suspicion a buyer might be underage.
The fines go up to VND3-5 million for selling alcohol and beer through vending machines or at banned locations such as educational and recreational establishments for people under 18.
Those hiring employees under 18 for the production and sales of alcoholic drinks will also be fined VND3-5 million.
The new decree comes in the wake of a law on mitigating the harmful effects of alcohol that took effect this year, stiffening penalties for drunk driving.
Those riding bicycles and electric bikes will also be fined for driving under the influence. Motorcyclists and car drivers can be fined VND6-8 million and VND30-40 million (USD1,300-1,725), double the old levels and have their licenses suspended for 22-24 months./.
Rosy Huong