British Flu Expert Hails Vietnam's Pandemic Fight Strategy
Prof. Sir Jonathan Van-Tam, Deputy Chief Medical Officer for England, applauded the COVID-19 fight strategy of Vietnam in a recent interview granted to the Vietnam News Agency in the UK.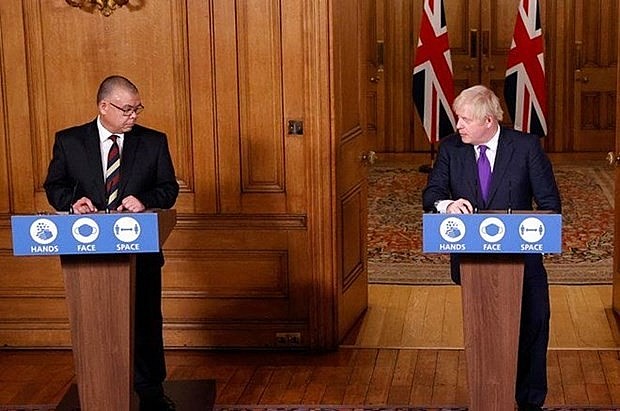 Prof. Sir Jonathan Van-Tam (L) at a press conference on COVID-19 (Photo: VNA)
The Englishman of Vietnamese origin noted that at the beginning of COVID-19 outbreak, Vietnam was one of the countries with the lowest case number, becoming successful in COVID-19 prevention and control like Australia and New Zealand.
The flu expert who has worked as the Deputy Chief Medical Officer for England since 2017 underlined that Vietnam's concentration on COVID-19 vaccination is completely proper as this is still an important solution for the next few years.
He advised Vietnam to consider the administration of booster doses of COVID-19 vaccines as a way to control the pandemic in a long term.
Since the outbreak of the pandemic, he has become famous for his press conferences on the epidemic situation that attracted millions of viewers. The Sunday Times called him an "unexpected hero in the pandemic".
Early this year, he was made a knight by Queen Elizabeth II of the UK in recognition of his contributions to the local fight against COVID-19.
At the Vietnam National Day celebration in London in September last year, the Vietnamese Embassy in the UK honored the professor for his provision of policy advice for Vietnam's COVID-19 prevention and control.