Vietnam Keen on Receiving WHO's Support Responding to New Health Challenges
Vietnam is looking forward to receiving WHO's support in responding to new health challenges.
Deputy Prime Minister Tran Hong Ha on July 18 called on the World Health Organisation (WHO) to support Vietnam in responding to new health challenges and particularly enhancing the capacity of its grassroots health care system.
At a reception for WHO Representative in Vietnam Angela Pratt in Hanoi, Ha spoke highly of the organisation's coordinating role in the context of the world facing various disease challenges, and its support to Vietnam in the fight against the Covid-19 pandemic, VNA reported Tuesday.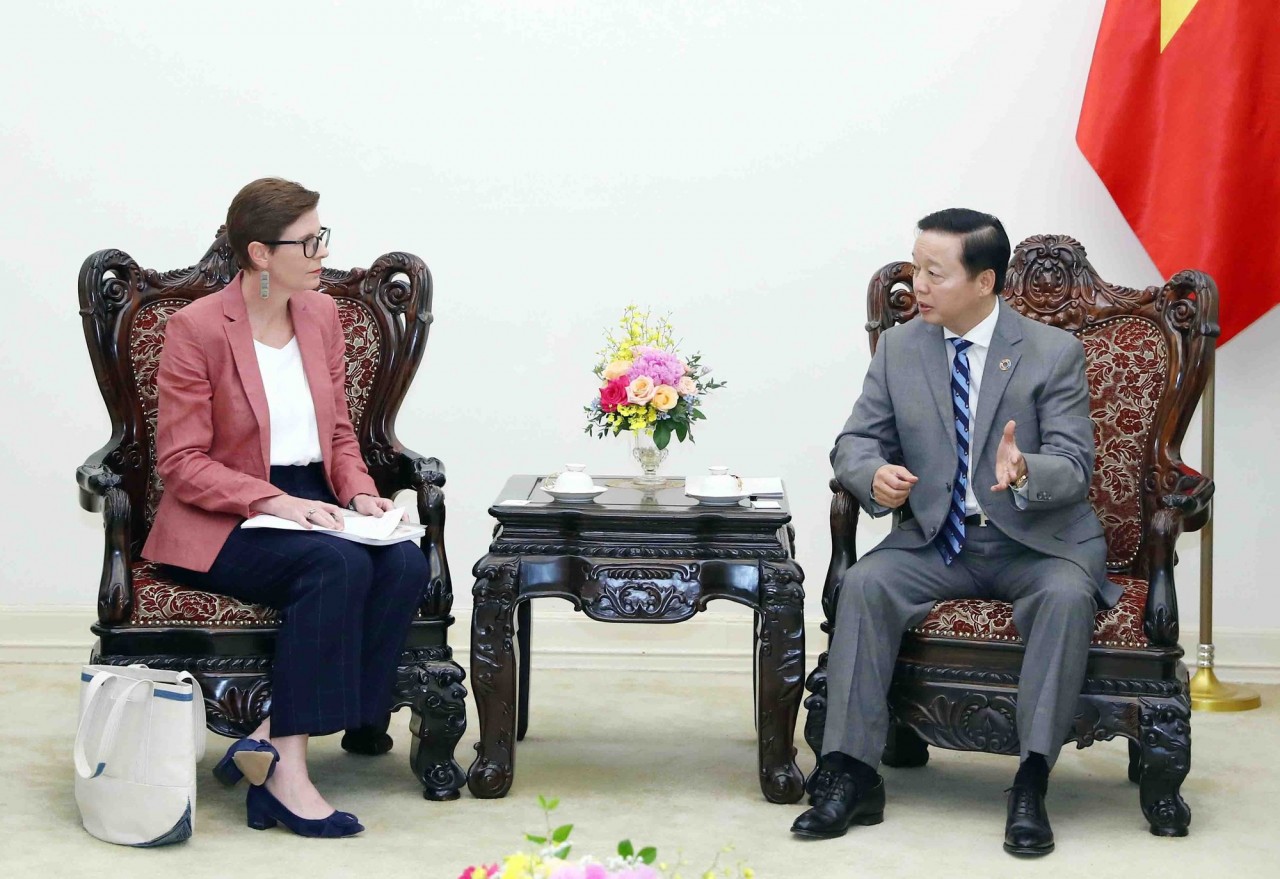 Deputy Prime Minister Tran Hong Ha (right) and WHO Representative in Vietnam Angela Pratt. Photo: VNA
The official stressed that after the pandemic, Vietnam has worked to upgrade its medical system in anticipation of possible disease outbreaks in the future.
He also called for the WHO's assistance in addressing limitations in health insurance policies, and accessing quality and affordable medical products, medicines, biological products, and vaccines, especially those that are not available in the expanded immunisation programme.
Ha noted his views on some specific matters like how to deal with diseases caused by environmental and water sources pollution, tobacco harm prevention, the removal of barriers to vaccine production technology access and transfer, drug quality control, and centralised drug bidding.
For her part, Pratt highlighted the close and effective cooperation between the WHO and Vietnam, which, she said, creates a foundation for the two sides to continue handling present difficulties in the medical sector.
The WHO will maintain its close coordination with the Vietnamese Ministry of Health to enhance Vietnam's access to sources of vaccines included in its expanded immunisation programme, she affirmed.
She also commended Vietnam for its active engagement in future healthcare programmes and projects, as well as its climate commitments.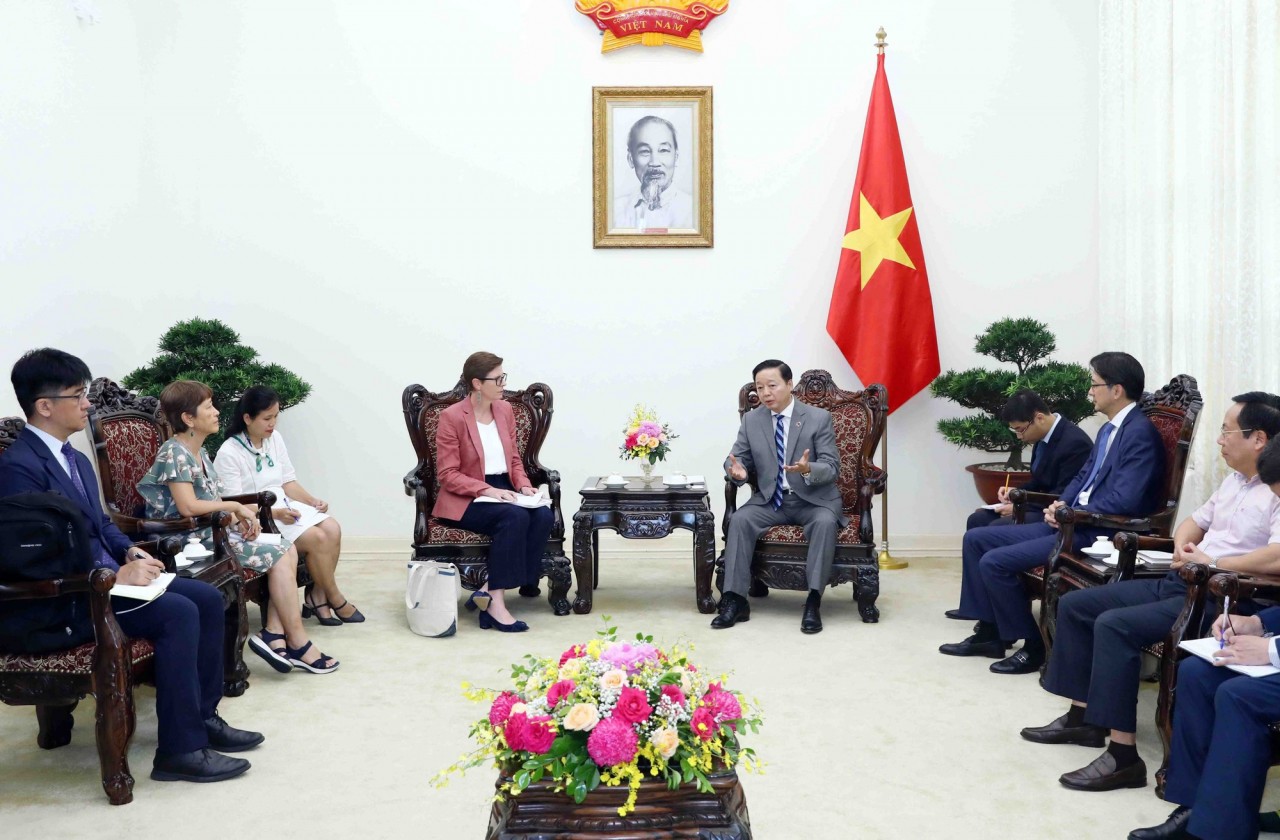 Deputy Prime Minister Tran Hong Ha (right) and WHO Representative in Vietnam Angela Pratt. Photo: VNA
Vietnam has gained a number of major healthcare achievements, including the average life expectancy raised to over 75. It has also been pressing on with reforming the health sector to meet medical demand in the future, especially amid fast socio-economic development and lessons from Covid-19.
In related news, many new kinds of vaccines will be included in the national expanded programme on immunisation (EPI) in the coming time, said Dr. Dang Thanh Huyen, deputy head of the EPI Office under the Ministry of Health, on July 10.
Huyen said that according to the roadmap, the vaccine against Rotavirus will be provided in a number of localities in 2023 and the whole nation in 2024.
Meanwhile, vaccines against pneumococcal disease, cervical cancer, and seasonal flu will be introduced from 2025, 2026 and 2030, respectively, said the official.
The EPI of Vietnam, which was launched in 1981, is providing immunisation to 12 vaccine preventable diseases of Tuberculosis, Hepatitis B, Diphtheria, Pertussis, Tetanus, Polio, Hib, Measles, Rubella, Japanese Encephalitis, Cholera (in high-risk areas), and Typhoid (in high-risk areas).
According to the WHO, in Vietnam, it is estimated that EPI has saved 42,000 lives and prevented more than 6.7 million childhood diseases like polio, tetanus, diphtheria, measles and pertussis with high vaccine coverage. Official 2017 data indicated a coverage of 97% for Bacille Calmette-Guérin (BCG), 97% for measles-containing vaccine (MCV) first dose, and 93% for MCV second dose.