Business Insider: Hanoi among best places to visit in March
Hanoi - the Vietnamese capital was voted among the top 13 best places to visit in March for every type of traveler by Business Insider.
( VNF) - Hanoi - the Vietnamese capital was voted among the top 13 best places to visit in March for every type of traveler by Business Insider.
Travelers are planning their springtime vacations and March offers an array of great travel experiences around the world.
Best yet, in many places March is the start of "shoulder season" — the period between the high and low seasons of a vacation destination — meaning you'll be able to find an affordable vacation no matter your travel style. Business Insider looked at airfare trends, climate data, and peak travel times to figure out which vacation spots should be on your radar.
Hanoi among best places to visit in March. (Source: Internet)
Climate-wise, March is one of the best months to visit Southeast Asia, and Vietnam is no exception. In Hanoi, you could spend days roaming the energetic and maze-like Old Quarter, brimming with street vendors, open-air eateries, and whizzing motorbikes.
Hoan Kiem Lake provides a peaceful respite from the frenzy, as do the numerous Buddhist temples and pagodas. When you need a break from the city, stunning views of the rock formations of Ha Long Bay and the verdant rice terraces of Sa Pa are only short trips away, advised the article's author.
The weather during the month of March in Hanoi remains very pleasant and soothing. The temperature actually ranges from 17 to 23 degree Celsius. Compared to the previous seasons, this season it is hard to see rains falling cats and dogs. However, one thing might strike you is that the rain in March is much intense. In addition to this, you would be exulted to know that the pleasing weather would be a perfect one for shopping as well as strolling in the adjacent areas.
Moreover, flowers are in full bloom in Hanoi this March, creating a peaceful and fresh atmosphere. In spring, Hanoi is adorned with Hoa Sua (Milk flower or Dalbergia bouruana gagu flower), which has become an integral part of Hanoians; hoa Buoi (Grapefruit flower) are often sold by street vendors in March; hoa Ban (Bauhinia variegata) often bloom in early March, filling the streets of Hanoi with delicate pink flowers reminiscent of orchids.
Ban flower beautifies the streets of Hanoi with its soft pink and purple hues. (Photo: VOV)
The number of international tourists to the capital was estimated to rise by 30 per cent to 125,000 people during the week-long Tet (Lunar New Year) festival, according to the Hanoi Department of Tourism.
Most foreign visitors came from China, South Korea, Japan, the U.S., France, Germany, Australia, Malaysia, and Thailand. The figure brought the total number of visitors to Hanoi during the Lunar New Year holidays (February 14th – 20th) to nearly 375,000, an increase of 13 per cent over the same period last year. The figure included 250,000 domestic travellers, up 6 per cent year-on-year. The local tourism industry estimated to earn more than VND 1.28 trillion (USD 56.5 million ) during the biggest holiday of the year, up 19 per cent year-on-year.
The Vietnamese capital has welcomed 5 million foreign tourists in 2017, up 23 per cent against the previous year, surpassing the set target of 15 per cent. Hanoi expects to welcome 5.5 million foreigners among the more than 25.4 million tourists in 2018, according to director-general of Hanoi Department of Tourism, Tran Duc Hai.
Other destination on the list including Austin, Texas; Palm Springs, California; St. Croix, U.S. Virgin Islands; Cartagena, Colombia; Galapagos Islands, Ecuador; Amsterdam, Netherlands; Chamonix, France; Cairo, Egypt; Tasmania, Australia; Mumbai, India; Kathmandu, Nepal; and Antarctica./.
VNF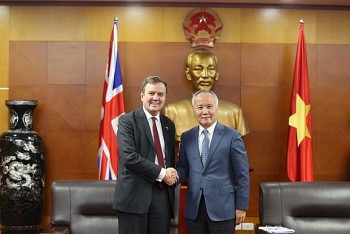 Economy
UK ready to boost CPTPP's economic firepower, said the Trade Minister on Vietnam visit