Business Times: Vietnam – A New Asian Tiger
Vietnam is expected to accelerate its economic recovery from the pandemic this year after having recorded a 2.6% increase in gross domestic products (GDP) in 2021, Singapore's Business Times reported.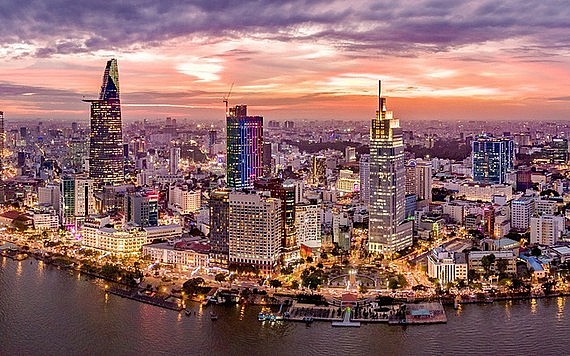 Vietnam is expected to accelerate its economic recovery from the pandemic this year. Photo: saigondautu.com.vn
Once among the poorest countries in the world, its economy is now booming and the World Bank describes it as one of the most dynamic and emerging countries in the entire East Asia region, Business said in an article published last week, calling Vietnam a "new Asian tiger."
Singapore's DBS Group Research forecasts Vietnam's GDP growth to reach 8% in 2022, boosted by an accommodative monetary policy. The International Monetary Fund (IMF) has predicted that Vietnam will climb three spots to rank third in GDP among ASEAN member states this year, thanks to the fast-growing middle class and the rise of ultra-rich people.
Knight Frank's latest Wealth Report estimates there were about 19,500 high-net-worth individuals in Vietnam in 2020, defined as those with assets of at least $1 million, the article said. By 2025, that number is expected to grow by almost 25% to top 25,000, it added.
Business Times attributed the robust growth of the economy to increasing flows of foreign investment into the country. Many Singapore companies, including CapitaLand and Keppel, have invested heavily in the country as they seize the abundant opportunities.
"Vietnam has long been known as Southeast Asia's coding farm, where talent and wages are in a sweet spot for companies to use it as a base for their technical development," it noted.
Vietnam's economy is now booming. Photo: VNA
The article also referred to Vietnam as the largest solar power producer in Southeast Asia today with 16.6 gigawatts of installed capacity as of 2020. Vietnam's construction industry is set to continue its recovery in 2022 as several large-scale infrastructure projects move through different stages of development, it further said.
According to the Business Times, Vietnam currently boasts the most solar power of any Southeast Asian nation today with 16.6 gigawatts of installed capacity as of 2020 following the Government policy of becoming a key driver for this renewable energy transition.
Moreover, the Vietnamese construction industry is set to continue its recovery in the year ahead as several large-scale infrastructure projects move through various stages of development.
Amendments to local construction and investment laws will likely bring further investment into the sector as well, analysts believe, adding that this comes amid companies in other parts of Southeast Asia appearing to be actively exploring opportunities in the Vietnamese market.
Alexander Rogozhin, head of the Group of Economic Problems Staff Member Center for Development and Modernization Studies, said the country has recorded a string of amazing socio-economic development achievements, particularly as the Covid-19 pandemic has dealt a heavy blow to the global economy.
The country's dynamic and stable economic development can largely be attributed to its effective policy openness coupled with the implementation of a range of free trade agreements signed with other countries.
Additional factors include openness in the Investment Law along with political stability, a highly-skilled, young and cheap workforce, which has served to attract a number of foreign enterprises and capital inflows into the country, he noted.
Vietnamese economy to recover fast in 2022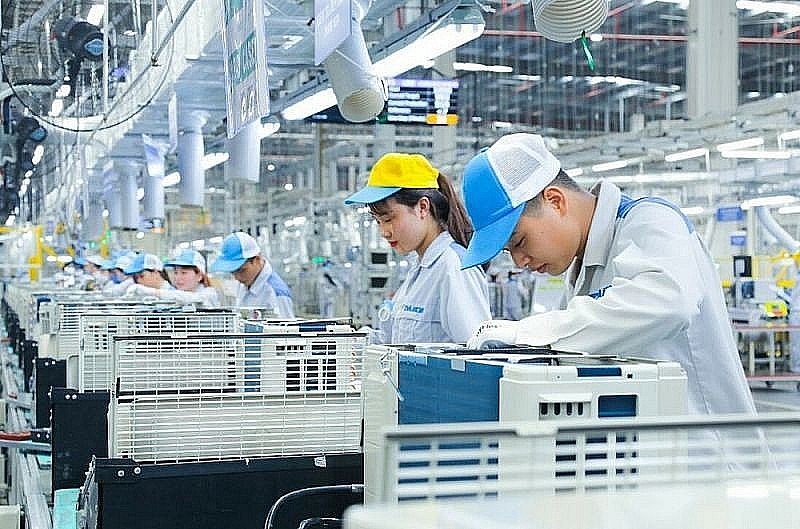 Vietnam - a "new Asian tiger." Photo: doanhnghiephoinhap.vn
Vietnam's recovery is set to gather momentum in 2022, as domestic demand rebounds and export performance remains strong, according to Fitch Ratings.
In its recent report, Fitch said that improving levels of vaccination in the country should reduce the risk that the recovery is set back by further Covid-19 outbreaks. However, the evolution of the pandemic remains subject to uncertainties, in particular as daily cases have trended higher in recent months.
Economic growth in 2021, at 2.6%, was much weaker than the 7% that Fitch had expected in April 2021, when it affirmed Vietnam's rating at 'BB' and revised the Outlook to Positive, from Stable.
According to Fitch, this partly reflected a 6% year on year contraction in real GDP in the third quarter last year as the authorities moved to control a surge in Covid-19 cases. Further pandemic-related shocks, while possible, are unlikely to be so severe, because the government has shifted from a "zero COVID" approach to one of flexible adaptation as vaccination rates have increased, it said.
Growth will be led by exports, which rose by 19% in 2021, it said, adding that it expects goods demand growth to decelerate in the developed world in 2022 as activity normalises and services demand picks up. Inward investment remained strong in 2021, at $19.7 billion, down only slightly from $20 billion in 2020. The strong export performance that Fitch expects in 2022-2023 will catalyse domestic investment and consumption, through positive spill-overs, for example from job creation.
Fitch's current forecasts see Vietnam's public debt/GDP ratio broadly stable over 2022-2023, at around 41% of GDP. Since this forecast, the government has approved a fiscal stimulus package covering the period, worth around $15.3 billion (roughly 4% of 2021 GDP), but Vietnam's debt/GDP level will remain below the peer median of 56.6% in 2022 and 56% in 2023, it noted. The package continues certain tax breaks and exemptions, which will weigh on the revenue base, but these may be rolled back as the recovery strengthens. It also contains additional infrastructure spending that could help to underpin medium-term growth prospects, Fitch commented.
Non-performing loans in Vietnam's banking sector rose in 2021 amid disruption to economic activity associated with efforts to control Covid-19 outbreaks, it said, adding that a return to strong economic growth should reduce risks to asset quality. It believed the pace of bank capital accrual will remain modest in 2022-2023, as much of the internal capital generated is likely to be consumed by rapid balance-sheet growth. Last April, Fitch held that a material reduction in risks posed to the sovereign balance sheet from weaknesses in the banking sector could lead to a rating upgrade./.