Ca Tru Shows by Kim Duc Ca Quan from Oct to Dec
Experimental music center Phu Sa Lab will hold Ca Tru Show – Kim Duc Ca Quan is at its facility in Hanoi's Tay Ho District from October to December.
Experimental music center Phu Sa Lab will hold Ca Tru Show – Kim Duc Ca Quan is at its facility in Hanoi's Tay Ho District from October to December.
A ca tru performance led by artist Pho Thi Kim Duc in January 2018.
Artist Pho Thi Kim Duc who – the bridge connecting five generations of Ca tru, and the Kim Duc Ca Tru school's teaches will perform with instruments and classical singing at the event.
Artist Pho Thi Kim Duc was born and raised from the cradle of Ca Tru. In her family line, there are many people who were famous singers and artists of Ca Tru.
Her family's origin was in Ngai Cau village, Hoai Duc district, former Ha Tay province. From the early years of the 20th century, artist Kim Duc's grandparents – Mr. Truong Bay and Mrs. Pho Thi Yen opened a Ca Tru Theater in Thai Ha ward, set up a Ca Tru school with the strict standard singing style and beautiful vocal technique of Classical Singing.
Continuing with the tradition of the family line, her father, her uncles, her aunts and her brothers were the famous instrumentalists and singers in Kham Thien Ward, where all the famous Ca Tru instrumentalists and singers of Hanoi garthered. Furthermore, her father – Mr. Pho Dinh On was the Choir Leader of Kham Thien Ward.
She was taught and train to sing Ca Tru by her grandmother – Pho Thi Yen when she was only 7 years old. Her father continued to direct and coach her after that. When she was 12 years old, she became a professional Ca Tru vocal. She used to perform together with her father and her brother in famous theatres in Kham Thien until the years of peace restored.
With the root platform from her family, during the time she was living and performing in Kham Thien Ward, she accessed and absorbed the essence of Ca Tru from the well-known artists such as Mrs. Chu Thi Bon, Mrs. Chu Thi Nam and Mrs. Dam Mong Hoan to enhance and embellish the Ca Tru art.
Due to history circumstances, since 1960 she started teaching the class of Traditional Operetta at Hanoi Academy of Threatre and Cinema. Then she worked for the Traditional Operetta Deparment of Radio The Voice of Vietnam until her retirement. Her main duty focused on Traditional Operetta but she still performed Ca Tru when required during the time she was working here.
In the last years of 20th century, artist Kim Duc joined the art ensemble of the dancer artist El Sola to tour in 11 countries and performed her beautiful vocal and professional "Phach" playing. With her high-end artistic level and artistic sensitivity, she had conquered the Western audiences, made them gaped admiringly at the trancendent art of Vietnam. There was an old officer praised her incomparable "Phach" as "Scholar Phach".
Ca Tru is not only the spiritual tradition of her family but also the art of her life. Concerned about the loss of transmission, extinction of a career, she puts effort to summarize her knowledge and experience of the framework, style and technique of the beat, singing, 3-string lute, drum in Ca Tru to teach and train many classes on singing Ca Tru.
She is the rare remaining professional vocal of the art of Ca Tru. She was trained in the traditional way. She is a seamless bridge of five generations of Ca Tru consecutively: from the generation of Truong Bay and Pho Thi Yen with the famous Ca Tru Ap Khuon, to the generation of her father of the Kham Thien Ward with his siblings in the family, and her generation with her brothers, followed by the descendants she taught in the family through the self-organized classes. These classes have been named by the students of "Ca Tru Kim Duc School" with the following traditions of her family and preserve the precious art of Vietnam.
The shows will be presented from 8pm on October 13, 27; November 10, 24; December 8, 22.Tickets cost VND 500,000 or USD 21.5 (including dinner and one drink).
Phu Sa Lab is at 21/52 To Ngoc Van Road, Quang An Ward, Tay Ho District, Hanoi./.
VNF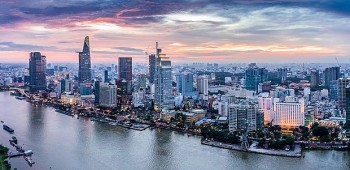 Economy
Japanese investors have been interested in the property market in Vietnam.