Cambodia confirms first case of nCoV
Cambodia has confirmed the first case of novel coronavirus (2019-nCoV) in the country, Health Minister Mam Bunheng said on Monday (Jan 27), adding that the patient is a Chinese national in the coastal city of Sihanoukville.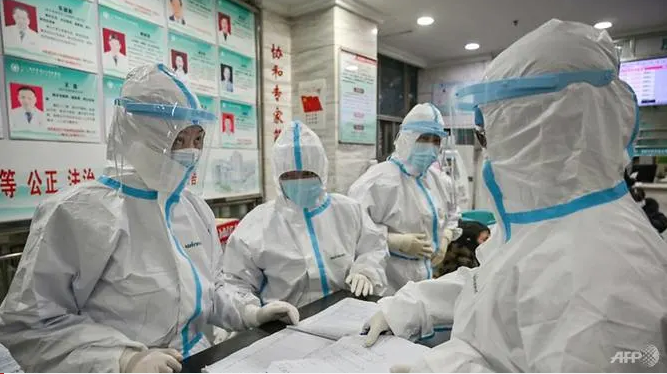 Wuhan residents are pitching in to the relief effort by driving sick fellow citizens to hospital. (Photo: AFP/Hector RETAMAL)
The new virus that was first reported in the Chinese city of Wuhan has killed 81 people, all in China, and infected more than 2,700 others.
Earlier on Monday, Chinese Premier Li Keqiang visited the central city of Wuhan, the epicentre of the outbreak, as the government sought to signal it was responding seriously to the crisis.
China has locked down Hubei in the country's centre, an unprecedented operation affecting tens of millions of people and intended to slow transmission of the respiratory virus.
The virus' ability to spread appears to be "getting stronger" though it is "not as powerful as SARS", top Chinese health officials have said.
The virus has spread throughout China and across the world - with cases confirmed in around a dozen countries including as far away as the United States.
The US State Department said on Sunday it was arranging a flight from Wuhan to San Francisco for consulate staff and other Americans in the city.
France's government and the French carmaker PSA also said they planned to evacuate staff and families, who will be quarantined in a city in a neighbouring province.
Japan is coordinating with Beijing to swiftly evacuate its citizens, Prime Minister Shinzo Abe said.
Hong Kong (China), which has had eight confirmed cases, banned entry to people who had visited Hubei in the past 14 days. The ban does not cover Hong Kong residents.
Macau, which has five confirmed cases, said on Monday it will deny entry to visitors from China's Hubei province or those who visited the province 14 days prior to arrival unless they can provide documentation showing they are not infected with the virus that broke out in the province.
In Vietnam, there have been 63 cases who showed fever symptoms and returned from nCoV-affected areas. They consist of 25 negative for the virus and 38 still kept in quarantine, including the two Chinese nationals initially tested positive for nCoV at the Cho Ray Hospital in Ho Chi Minh City.
Deputy Minister of Transport Le Anh Tuan said as directed by his ministry, Vietjet Air conducted four flights carrying Wuhan passengers from Vietnam back to Wuhan international airport. None of them showed signs of nCoV infection.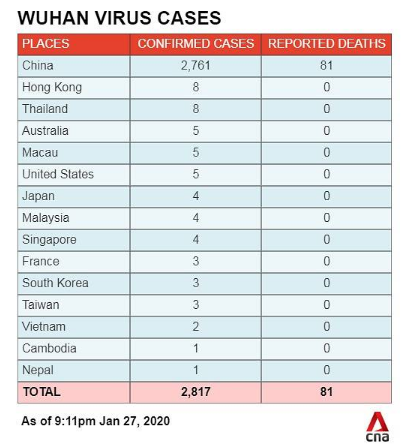 Source:CNA
The World Health Organization (WHO) on Monday said the global risk from the deadly virus in China was "high", admitting an error in its previous reports that said it was "moderate".
The UN health body said in a situation report published late Sunday that the risk was "very high in China, high at the regional level and high at the global level."
In a footnote, the WHO said there had been an "error" in previous communications published on Thursday, Friday and Saturday which "incorrectly" said the global risk was "moderate".
Asked for more detail, WHO spokeswoman Fadela Chaib said only that it was "an error in the wording".
The WHO on Thursday stopped short of declaring the virus an international public health emergency - a rare designation used only for the most severe outbreaks that could trigger more concerted international action.
WHO chief Tedros Adhanom Ghebreyesus, who is visiting China this week to discuss further action to contain the virus, on Thursday said: "This is an emergency in China, but it has not yet become a global health emergency"./.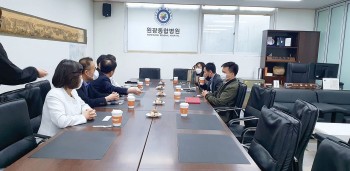 Overseas Vietnamese
A meeting was organized at the Wonkwang Hospital on the provision of medical support for the Vietnamese community in Korea in accordance with the signed cooperation agreement.