"Camping On The Rooftop" - A Exciting Trend For Boring Quarantines
Having to cancel summer trips and holidays because of new Covid-19 surges, many families in Ho Chi Minh city find a new way to kill boredom and enjoy life at home. Grab a tent and head upstairs. This summer, camping is on the roof.
Since the city has been in quarantine in order to curb the spreading of Covid-19, the terraces have become an ideal place for family camping. Camps are set up inside the house, with other activities such as barbecuing, watching TV etc has become a new trend on social media and received a lot of positive response.
"I have been staying at home for such a long time"
Photo: Hai Vy
Many trips have been cancelled abruptly to follow quarantine and social distancing rules to prevent Covid-19 community transmission.
Van Tam (District 5, Ho Chi Minh City) just came back from a 1-month camping trip, said he "has been staying at home longer than imagined." Instead of travelling, he arranged a camping time with her family right on the rooftop.
"Organizing indoor camping helps me and my family entertain through this tough time," Van Tam said.
Before the new surges of pandemic, Kim Ngan (Binh Tan, Ho Chi Minh city) and her family often go to Dalat camping in the weekends, about 2-3 times/ month. To follow social distancing rules of the city, she had to postpone and cancel all the plans for travelling.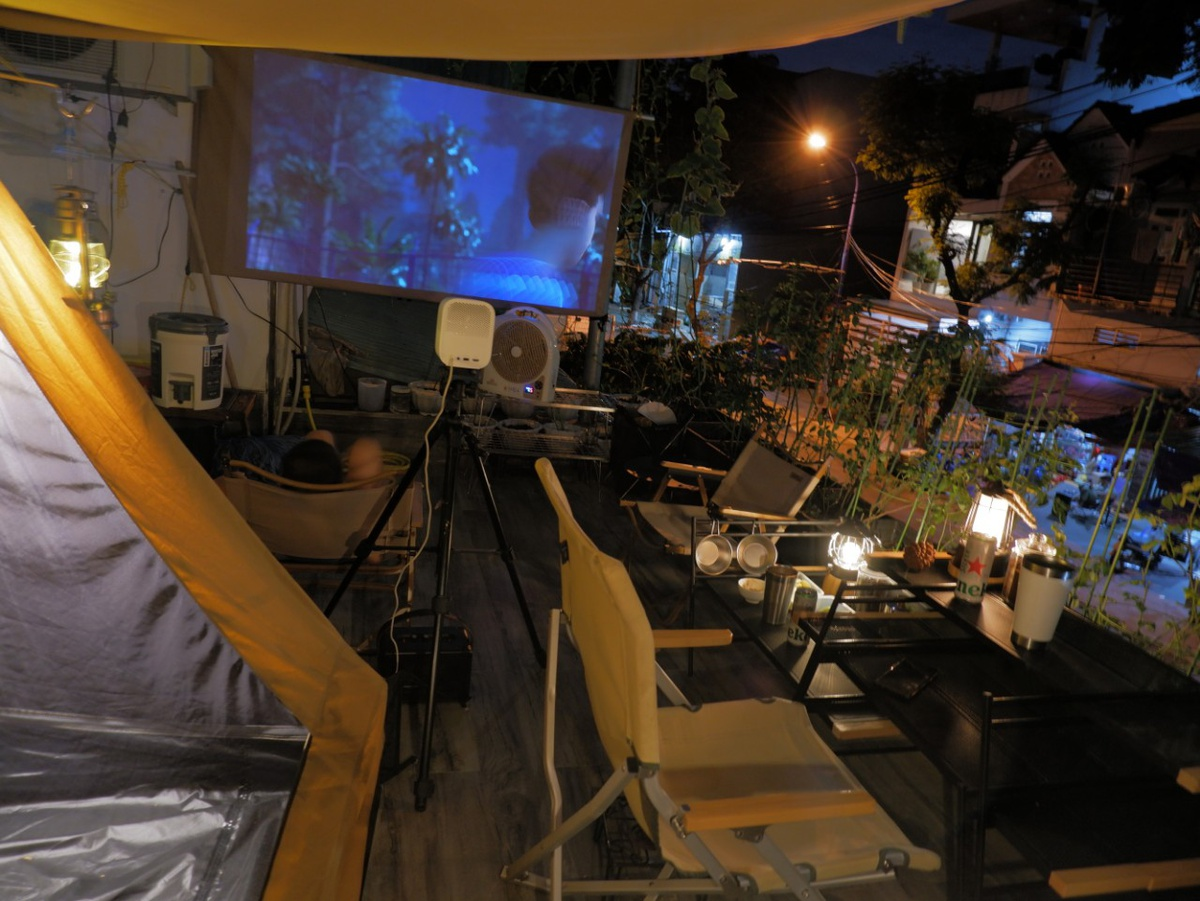 Photo: Kim Ngan
"I cleaned up our rooftop to have space for camping for my family," Kim Ngan said. The schools are off for summer holidays, and these activities also keep her children entertained and tighten the bonds between parents and kids.
Without being able to travel, Hai Vy and her family feels trapped when they have to stay at home for a long time. "To help curbing the community transmission, we have cancelled our trips to Tay Ninh. Since the new camping trend went viral, we also enjoy our own time on the rooftop every Saturday," Hai Vy said.
With a large space for the rooftop, Hai Vy's family also have barbecue parties and set up camps for 8 members in the family.
Bringing new experiences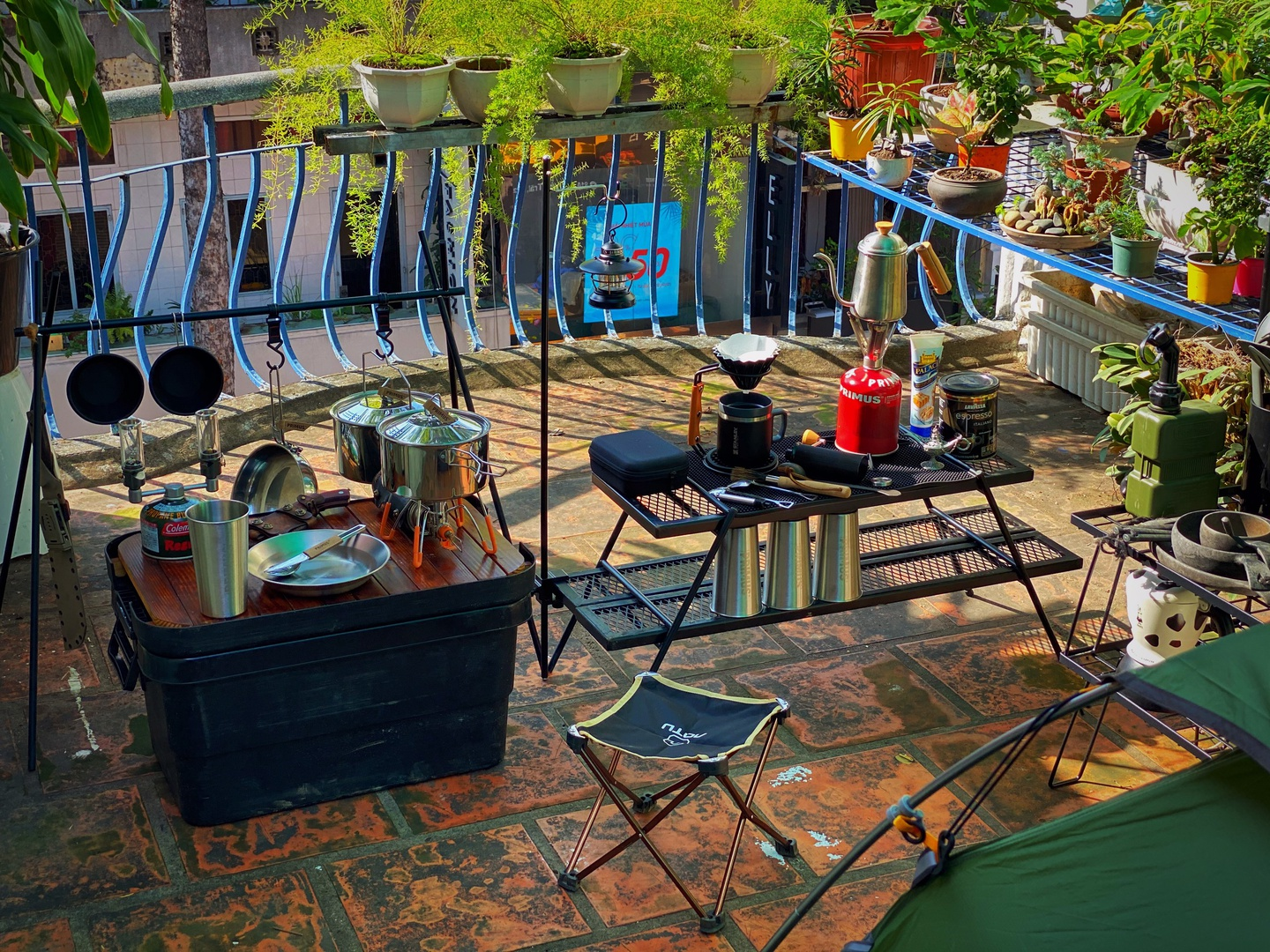 Photo: Van Tam
Even though camping inside, the families still prepare everything from food to drinks, table etc, making it look like they are enjoying an outdoor camping.
"Staying at home like this, the kids can only play around the house, which does not have much activities for them," Kim Ngan said.
She also tries to come up with new ideas and games for the kids during the camping such as cooking and watching movies together etc.
Before that, Hai Vy always spent her time to take her family out on a camping trip in the countryside. At the moment, they will have their occasional indoor camping every weekend.
"Camping on the terrace is much easier and more convenient for us, and we can still have a fun time together. We also do not have to worry about water, weather and other problems," Hai Vy said.
A new creative way to enjoy quarantine time
A pretty, small corner or a terrace is enough to arrange your own camping with your loved ones without having to go out. This is also a great time for family members to spend time with each other talking, playing games and tightening the bonds. Answering Zing interviews, Kim Ngan and Hai Vy said they will continue this activity even after the pandemic is over.
However, people are wishing Covid-19 to be soon under control, so they can go on camping trips with their families.
"Once the city lifts social distancing rules and there is no new cases, we will travel to Dalat to camping, and enjoying the peaceful and fresh air of the countryside." Hai Vy said.
Dalat is also Kim Ngan's favorite destination to go on long trips with her family. "I hope the pandemic will be controlled soon, so that we can go camping on Dalat's pine hill," she said.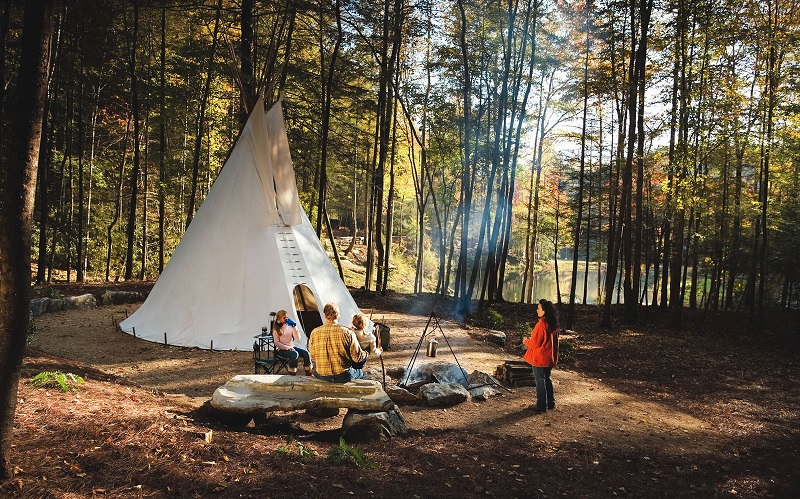 Photo: Chuyentactical