Can Tho Receives Musical Instruments From Japanese Government
With the aid of more than VND2 billion (US$88,274) from the Japanese Government, students of Can Tho School of Culture and Arts have new musical instruments to study and perform.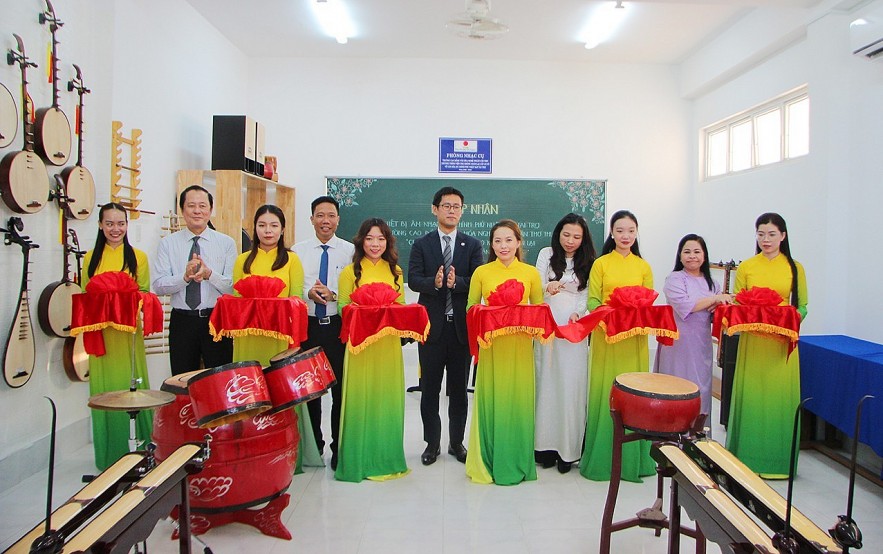 Delegates cut the ribbon to inaugurate the Musical Instrument Room at Can Tho School of Culture and Arts.
On the afternoon of June 16, Can Tho School of Culture and Arts in collaboration with the Union of Friendship Organizations of Can Tho City held a ceremony to receive musical instruments sponsored by the Japanese Government for the school.
The aid has a total value of US$88,274, equivalent to VND2,052,367,341, in which, non-refundable aid of US$75,716 (equivalent to VND1,760,399,401), reciprocal capital of US$12,558 (equivalent to VND291,967,940).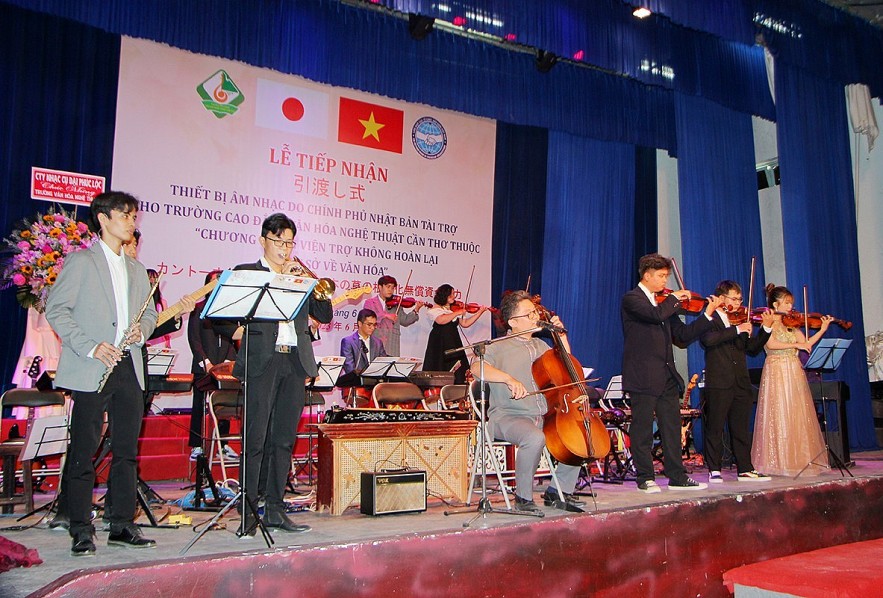 Performance of traditional musical instruments at the ceremony.
Nguyen Thi Huong, vice-rector of Can Tho School of Culture and Arts, said that with this aid, the school purchased 137 new musical instruments and accessories such as mechanical piano, electric piano, organ, saxophone, trumpet, trombone, zither, monochord, and flute.
These instruments are used to teach at school and for students at secondary schools and high schools with which the school cooperates.
The school will also use donated musical equipment to perform cultural performances within the framework of the Vietnam-Japan Cultural Exchange Program in Can Tho City to celebrate the 50th anniversary of the diplomatic relations between the two countries.
Speaking at the ceremony, Nguyen Thuc Hien, vice chairman of Can Tho City People's Committee, said that the musical instruments aid package creates opportunities for pupils and students to access different types of musical instruments.
From there, they know how to appreciate, preserve, protect and popularize traditional musical values, and at the same time apply their acquired knowledge to create new artistic values, raising the need for art, and social-spiritual life.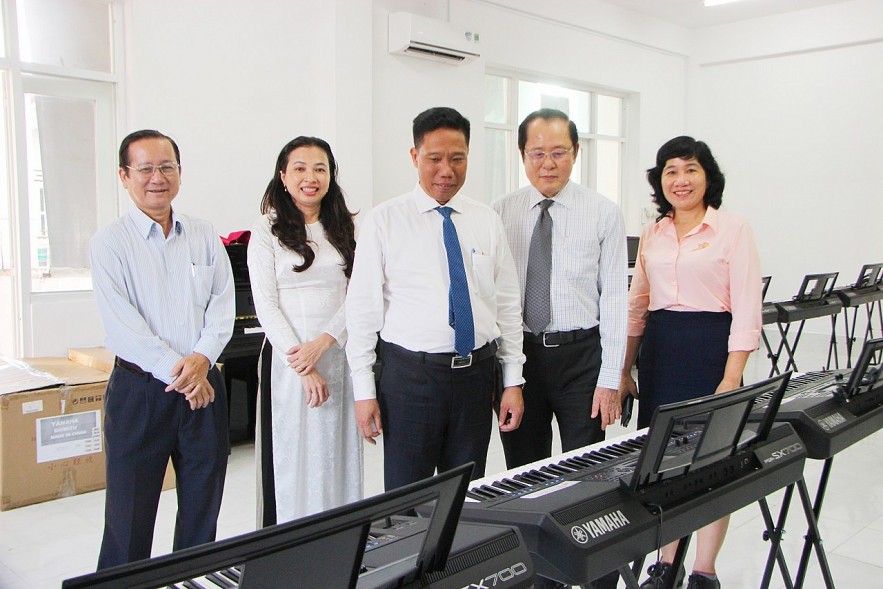 The delegates visited the Musical Instrument Room sponsored by the Japanese Government for Can Tho School of Culture and Arts.
Nguyen Thuc Hien wishes that the Consulate General of Japan in Ho Chi Minh City will connect many programs and projects in other fields, contributing to ensuring social security and improving the lives of people in Can Tho City.
The aid program of the Japanese Ministry of Foreign Affairs aims to meet the diverse needs of developing countries, mainly focused on aid in the fields of health, culture, education, bridge construction, and environmental protection.