Switzerland Supports Can Tho City Develop Sustainable Tourism
Can Tho city has been facing a number of challenges like other cities, therefore, it is necessary to complete the Can Tho Urban Development and Resilience Project soon
Officials of the Mekong Delta city of Can Tho had a working session with a delegation of the Swiss State Secretariat for Economic Affairs (SECO) to discuss the implementation of a sustainable tourism development project funded by the Swiss Government in Vietnam in 2023-2027, VNA reported.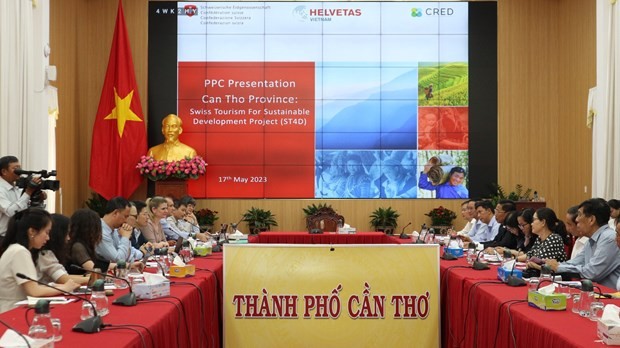 Participants at the working session. Photo: VNA
Katrin Ochsenbein, deputy head of the Cooperation and Development Division at the Embassy of Switzerland in Vietnam, who led the delegation, said SECO is currently in charge of the Economic Development and Cooperation Programme of Switzerland in Vietnam.
SECO's strategy for Vietnam in 2021-2024 aims to support the Southeast Asian nation to achieve sustainable growth, she noted.
According to Ochsenbein, Switzerland has been supporting Can Tho in public finance management, sustainable urban development and tourism. The Swiss Tourism for Sustainable Development Project (ST4SD) in Vietnam for the 2023-2027 period aims to contribute to a more sustainable and inclusive tourism sector in Vietnam through promoting public-private dialogue on tourism policy, and developing sustainable tourism management and business skills.
The delegation of the SECO and ST4SD conducted a survey in the Mekong Delta region on May 16-19 as part of activities to select localities and assess their potential, ability and commitment to join the project in the coming time.
Deputy Director of the municipal Department of Culture, Sports and Tourism Dao Thi Thanh Thuy said Can Tho's tourism sector is implementing many solutions to develop tourism into a spearhead economic sector of the locality.
Can Tho has been supported by international organisations in developing sustainable and green tourism. Switzerland has financed two projects in Tan Loc island and on Cai Rang floating market, she said, adding that the locality's tourism sector hopes to receive more support to develop tourism products with unique characteristics.
Vice Chairman of the municipal People's Committee Nguyen Thuc Hien said that the city will focus on completing a set of sustainable tourism criteria, and call on units to invest in upgrading infrastructure serving tourism development.
Last year, Can Tho welcomed over 5.1 million holiday-makers, up 142% year-on-year. The city's total revenue from tourism activities reached VND 4.11 trillion (over USD 175.2 million), 199% higher than the figure reported in 2021.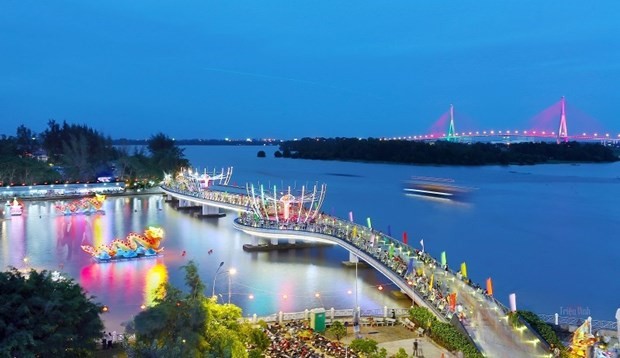 Ninh Kieu Wharf in Can Tho city. Photo: VNA
Last month, Chairman of the Can Tho city People's Committee Tran Viet Truong hosted Swiss Ambassador to Vietnam Thomas Gass, during which he asked for continued support from Switzerland for localities in the Mekong Delta to adapt to climate change.
As the city is facing saltwater intrusion and sea level rise, Can Tho has cooperated with experts and scientists to explore suitable plants and animals to restructure the agricultural sector for better adaptation, he said.
The official also called for Swizerland's continued collaboration in the fields of health, education and training and exchange of experts in areas of mutual interest such as clean energy and aquaculture.
According to the city leader, Can Tho has received support from Swiss partners for non-governmental organisation (NGO) projects related to education and health.
For official development assistance (ODA) projects, Switzerland has assisted the implementation of the third component of the Can Tho Urban Development and Resilience Project, financed by the SECO.
The total capital of the project is USD 254 million, of which USD 250 million comes from the World Bank and the rest from SECO.
A number of completed works under the project are very useful for the city's development. Among those, the embankment along Can Tho River and Cai Son - Muong Khai embankment help with flood control in the city's urban core area.
Ambassador Thomas Gass said that Switzerland attaches great importance to the relations with the Vietnamese locality, adding that Can Tho is considered the main economic engine of the Mekong Delta region.
The city has been facing a number of challenges like other cities, therefore, it is necessary to complete the Can Tho Urban Development and Resilience Project soon, creating conditions for investors to explore investment opportunities in the Mekong Delta city, the diplomat said.
He also said that Switzerland will share its capacity and experience with Can Tho in dealing with those challenges.