Cao Bang and Bac Kan provinces received medical equipments
VinaCapital and VinaCapital Foundation (VCF) announce a donation of VND 2.3 billion (USD 98,900) to Cao Bang and Bac Kan to assist the two provinces' ongoing efforts to provide better healthcare for children.
VinaCapital presents a batch of medical equipment to the general hospitals of the northern mountainous provinces of Cao Bang and Bac Kan. Photo: VCF
The donation is implemented through VCF's Critical Response and Survive to Thrive programs which is in partnership with the Ministry of Health.
In the handover ceremony held in Cao Bang City and Bac Kan City respectively on July 3-4, VCF presented to Cao Bang General Hospital with 1 ventilator, 2 continuous positive airway pressure (CPAP) machines, 2 phototherapy machines, 2 peripheral capillary oxygen saturation (SPO2) machines and 2 intubation tubes. Bac Kan General Hospital and eight other district hospitals receive 10 crash carts, 1 phototherapy machine, 1 infant warmer and 1 electrocardiography (ECG) machine.
This equipment was used immediately to improve medical quality for local people, especially children in life- threatening cases such as drowning, electric shock, accidents and other diseases.
As a part of the donation, in May, VCF and Vietnam National Children's Hospital hosted a training course for 31 doctors and nurses in Bac Kan to practice using and maintaining this equipment. More importantly, they underwent Advanced Pediatric Life Support (APLS) training, which originated in the United Kingdom and has gained worldwide acclaim. APLS training focuses on a quick and synchronous response to an urgent situation so a child can receive the best treatment.
VCF's program Critical Response began in 2009, and focuses on improving pediatric care and reducing mortality for Vietnamese children under five years old. In 2015, VCF partnered with the Ministry of Health to expand this program to 25 northern mountainous provinces and provide APLS courses nationwide.
VCF's statistics show that the Critical Response program is extremely effective. Its data shows that, with each donated crash cart, doctors can save additional 2 children per week. The life- saving crash cart allows children to overcome the most fragile moments of their lives and underprivileged families to receive quality healthcare.
Don Lam, CEO of VinaCapital and founder of VinaCapital Foundation, shared that VinaCapital has been paying forward its success by contributing to economic and social development over the last 16 years.
"I believe the best investment that I and VinaCapital have made is to help Vietnamese children live healthier lives and receive better access to education," Lam said. "These efforts are supporting the future of our country and they are exactly VinaCapital's responsibilities towards Vietnam."
According to Vietnam's General Statistics Office, the mortality rate for children under 5 years old was about 21 per 1000 births in 2018 while the rate in high-income countries was only about 5 for 1000 births in 2016, according to World Health Organization. The risk of losing young lives is significantly higher in rural and mountainous areas.
Two-thirds of Vietnam's population are concentrated in these areas, including most ethnic minorities. Rural and mountainous communities are struggling to thrive economically, and the equipment to save children in emergencies is urgently needed./.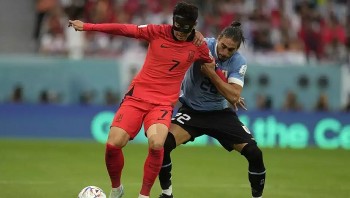 World
Both South Korea and Ghana are searching for their first wins at this year's World Cup. Ghana are facing the prospect of an early elimination from World Cup 2022 Group H when they travel to the Education City Stadium to face South Korea on Monday.