CARE's project on agro-climate information empowers ethnic women in Dien Bien
Lo Thi Duong, a woman of Thai ethnic group has been benefited greatly from ACIS, a project on agro-climate information service run by CARE.
Lo Thi Duong, a woman of Thai ethnic group has been benefited greatly from ACIS, a project on agro-climate information service run by CARE. At the moment, Duong has started to spread the knowledges she gains from ACIS to support other women in her community.
Duong prepares for the women's group meeting where she is going to explain weather information to other women in the village. (Photo: @2017 Giang Vu/CARE)
Lo Thi Duong points at a big piece of paper on the wall, reading out loud the weather forecast information for the next three months. The forecast introduces both information provided by the provincial forecast agency and traditional experiences by local people. For every part of the paper, she repeats the information several times to make sure the rest of the room, about thirty other women, understand everything clearly. Meanwhile, the women confirmed their understanding with each other, using a mixture of both Thai and Vietnamese languages.
This is one of the regular meetings of Phang village's saving group in the mountainous province Dien Bien in northern Vietnam. Comprised of 32 women, all of them are Thai ethnicity, the group meets twice a month to put money together in a pooled fund where they can either borrow or keep their savings. The second part of each meeting is for members to learn about the weather forecast and advice for farming, including what kind of fertilizers and how much should be used, how to prepare seedlings, when to drain water out of the field, so on and so forth. For a traditional rice farming area, such as Dien Bien, one would not expect such knowledge to be difficult to obtain. In reality, fast pace of changes in the climate, combined with the misuse of pesticides, have made it more and more challenging for local farmers to depend on the conventional experiences passed down on to them from generation to generation.
"I used to not even know who in the local authority to ask for advice if I wanted to know what herbicides or pesticides I should buy"
That is a fact that Mrs. Tran Thi Thanh Xuan, one of Dien Bien District's agriculture public employees, acknowledged when, in 2015, CARE started a project in two communes of Dien Bien District, Dien Bien province to provide agro-climate information to local farmers. Now Xuan's mobile phone number is listed in every weather bulletin and she frequently joins group meetings like this to respond to any questions from the local women farmers regarding rice farming techniques.
Agricultural officer Tran Thi Thanh Xuan speaks to reporter from the Voice of Vietnam (source: CARE)
Over 70 percent of the populations of Vietnam live in rural areas where agricultural technology is still lagging far behind many other sectors in the economy. In Dien Bien District, where the project is implemented, two-thirds of the population are Thai, rice farming is the main source of income for many poor families, and women are the major labour force. However, many women have little access to village meetings where information about farming techniques are presented. Many of the women are also not able to read and write Vietnamese, the official language in all weather forecasts from the television and radio. In addition, the forecast and farming advice are more general at the provincial level, while each district in Dien Bien province might have very different characteristics, making it difficult for farmers like Duong to apply the information she receives to her field.
Since joining CARE's project called the Agro-climate Information Services for Women and Ethnic Minority farmers in South-East Asia, or ACIS for short, in late 2016, Duong has attended various workshops where she has learnt the meaning of each seasonal weather forecast and how to apply the advice in farming technique bulletins. More importantly, Duong and other farmers have contributed to the creation of such bulletins by adding their local knowledge and experiences. For example, when seeing a plenty of chestnuts in the forest so early in winter, the farmers know they are going to go through some extreme cold spells in the coming months.
Now that Duong can understand and use the bulletins better, she has seen a sharp increase in her family's rice yield. They used to harvest 10-11 packs of rice, with each pack weighing 50 kilograms for every one thousand square meters of rice field. The figure has risen to 13-14 packs after two years. Moreover, she has saved a lot of money from buying fertilizers and pesticides because she no longer buys general types of materials to use randomly.
Representative of Pa Khoang và Muong Phang commune attend a conference on ACIS (source: CARE).
"I used to go to the store and order general pesticides that were supposed to kill all types of bugs and insects. But even then, our rice still suffered from diseases. Now, even though there are still diseases that are hard to cure, I've got to know better of which one to buy for which kind of insects. That helps me save money"
Duong's family is not the only one benefiting from applying weather forecast and farming advisories provided by the ACIS project. After becoming more confident with her own knowledge and skills, Duong started to instruct other members to apply forecast information and farming techniques.
In the beginning, not all families were open to trying new methods to take care of their rice fields. But Duong's efforts have started to pay off: two years after of joining the ACIS project, many people have started to see positive changes. In the past crop season, in comparison to other groups of families that do not participate in the project, the families that participate in the project had the biggest increase in their rice yield while significantly reducing the use of fertilizers and herbicides/pesticides. For Duong, her biggest hope now is that the local authorities will continue to invest in providing climate information and farming advice after the ACIS project accomplishes its mission in 2018./.
( VNF/CARE International )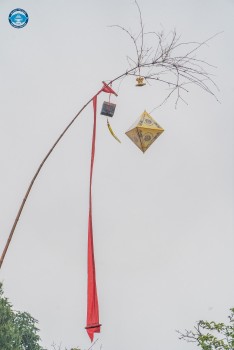 Viet's Home
In the past, the Neu pole (a tall bamboo pole with red garment strips used to ward off evil spirits during the lunar New Year) lowering ceremony at the royal palace of the Nguyen Dynasty was performed to mark the end of the New Year holiday and prepare to enter a new working year.