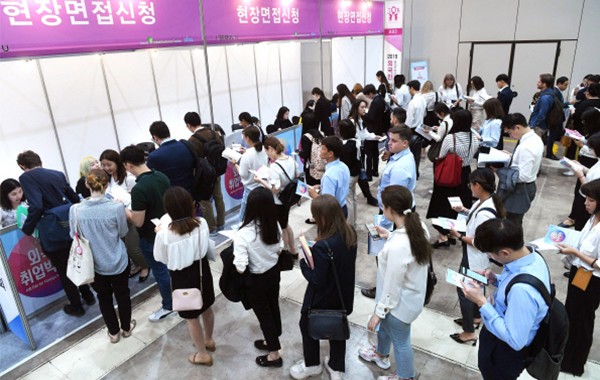 Job Fair For Foreign Residents 2019 is held in COEX centre in Seoul (Pulse photo)
Immigrants make up only 4 percent of South Korea's total population of 51.7 million, The Korea Herald reported. Among them, the number of migrant workers is about 280,000 and those married to Koreans number about 165,000. There are about 184,000 foreign students. Some 995 people are recognized refugees, and 2,151 are here on humanitarian stay visas, according to government data as of October 2019.
Despite the growing number of foreigners, the country's immigration policy has largely remained unchanged, with a focus on controlling the border.
Policies on foreign residents in Korea have been devised and implemented mainly by three ministries: the Justice Ministry is in charge of visa schemes; the Gender Ministry focuses on assimilating marriage migrants into Korean society; and the Labor Ministry manages migrant workers entering Korea under the Employment Permit System.
Against the backdrop of low birthrates, taking in more foreigners appears inevitable if the Korean economy is to grow. The number of multicultural families is expected to soar from the current 743,400 in 2020 to 1.21 million in 2013 and 2.16 million in 2050, according to the Korea Institute for Health and Social Affairs.
"Given the low birthrate, we need to utilize the influx of foreigners as part of our population policy," Chung of the IOM Migration Research and Training Center said. "By opening the door wider, the government should select those who can stay here in the long term to contribute to our society."
To that end, it is necessary to lay out a cross-sectoral immigration policy addressing all foreigners -- from students to businesspeople to laborers -- and to have a control tower in charge of implementing the policy, she added.
The government announced in September that it would integrate all laws that affect foreigners into one, as part of a comprehensive immigration system, and would grant long-term visas to skilled, educated foreigners living in cities with declining populations.
Changes in policies
According to Yonhap, from 2020 onward, short-term foreign visitors are barred from applying for a South Korean driver's license due to a revision of the Road Traffic Act.
The legal revision has come as many foreign tourists have relatively easily obtained a Korean driver's license after taking intensive driving courses and have caused traffic accidents in third countries or swapped the Korean license for a driver's license in other countries. Only registered foreigners, those who are exempt from foreigner registration and overseas Koreans with a registered place of residence here are allowed to obtain a driver's license here.
The Korean government will offer customized support for marriage immigrants in South Korea to better protect their human rights. The customized support will be extended from before and after entry to early stages of settlement.
Beginning January, multicultural family support centers nationwide will provide customized support to marriage immigrants, who take part in pre-entry training or early adaptation programs for immigrants, or apply for welfare services from community service centers and agree to provide their personal information.
In the labor sector, the family care leave system took effect this year, allowing employees to take up to 10 days of leave per year due to family illness, accidents, old age or rearing of children.
Employees wanting to take family care leave are required to present their employers with documents that contain names and birth dates of family members in need of care. Use of family care leave to take care of grandparents and grandchildren is also possible. Previously, family care leave was allowed only for parents, spouses, children and parents of spouses.
The free high school education, which was launched for third graders last fall, will be expanded to newly include second graders this year under the government policy to ease parents' financial burden and guarantee the basic right to education. Education at elementary and middle schools is already free in South Korea. Thanks to state subsidies for tuition and textbook purchases, the affected high school students will be able to curtail their education expenses by 1.58 million won (USD 1,360) per person annually.
The 52-hour workweek system will be expanded to small firms with 50 to 299 employees at the beginning of this year after first going into effect at large companies with more than 300 employees in July 2018. As small businesses are not seen fully prepared for the shorter workweek, the government plans to give a one-year grace period to the affected small firms in adopting the 52-hour workweek.
The RoK is Vietnam's second largest labour importer and Vietnam is the second largest labour exporter of the RoK. Currently, more than 48,000 Vietnamese guest workers are working in the RoK.
VNF/Korea Herald/Korea Times