Charming Dawn On the "Infinite Sea" in Northern Vietnam
Quang Lang Beach is located in Thuy Hai commune, Thai Thuy district, Thai Binh province, about 140km from Hanoi. Early in the morning, when the water dries up, the sea surface is coated with a thin layer of water that is shallow enough to dip your ankles in, making it look like a giant mirror reflecting the crystal blue sky.
In recent days, a series of colorful photos of Thai Binh's infinity sea under the summer sun by Vu Thanh Thuy, a Vietnamese photographer, has been spread on social media. The set captures the livelihood of coastal fishermen in the early morning, when the first rays of sunshine appear, creating a beautiful and surreal natural scenery.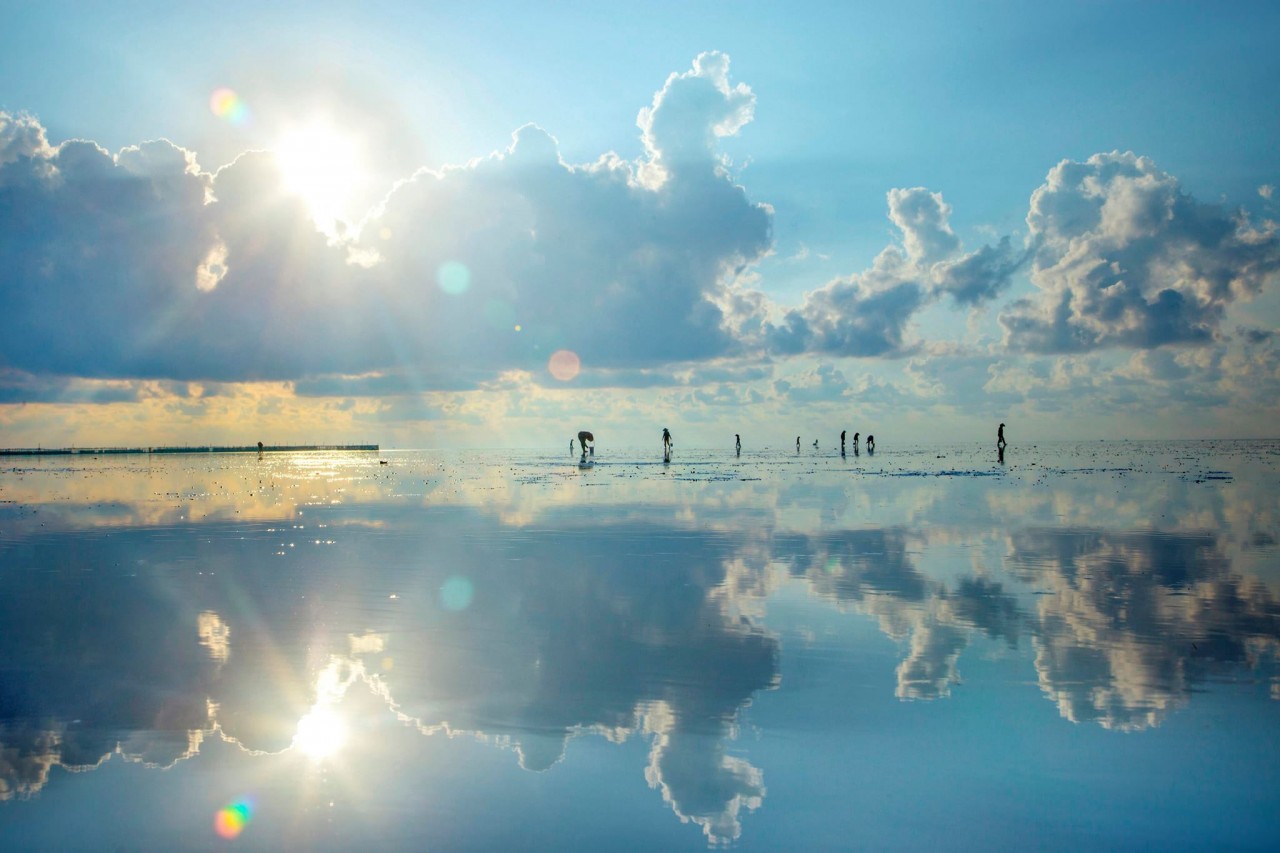 Photo: Vu Thanh Thuy
According to Vu Thanh Thuy, the set of photos was taken in the summers of 2021 and 2022. He was surprised when they were spread on the Internet, which helped promote the image of his hometown to others.
These photos were mainly taken at Quang Lang beach - which is about 2km from his house in Diem Dien town. The beach is located right next to the estuary of the Diem Ho River, a small tributary of the Red River, about 130 kilometers from Hanoi and about two kilometers from Diem Dien town.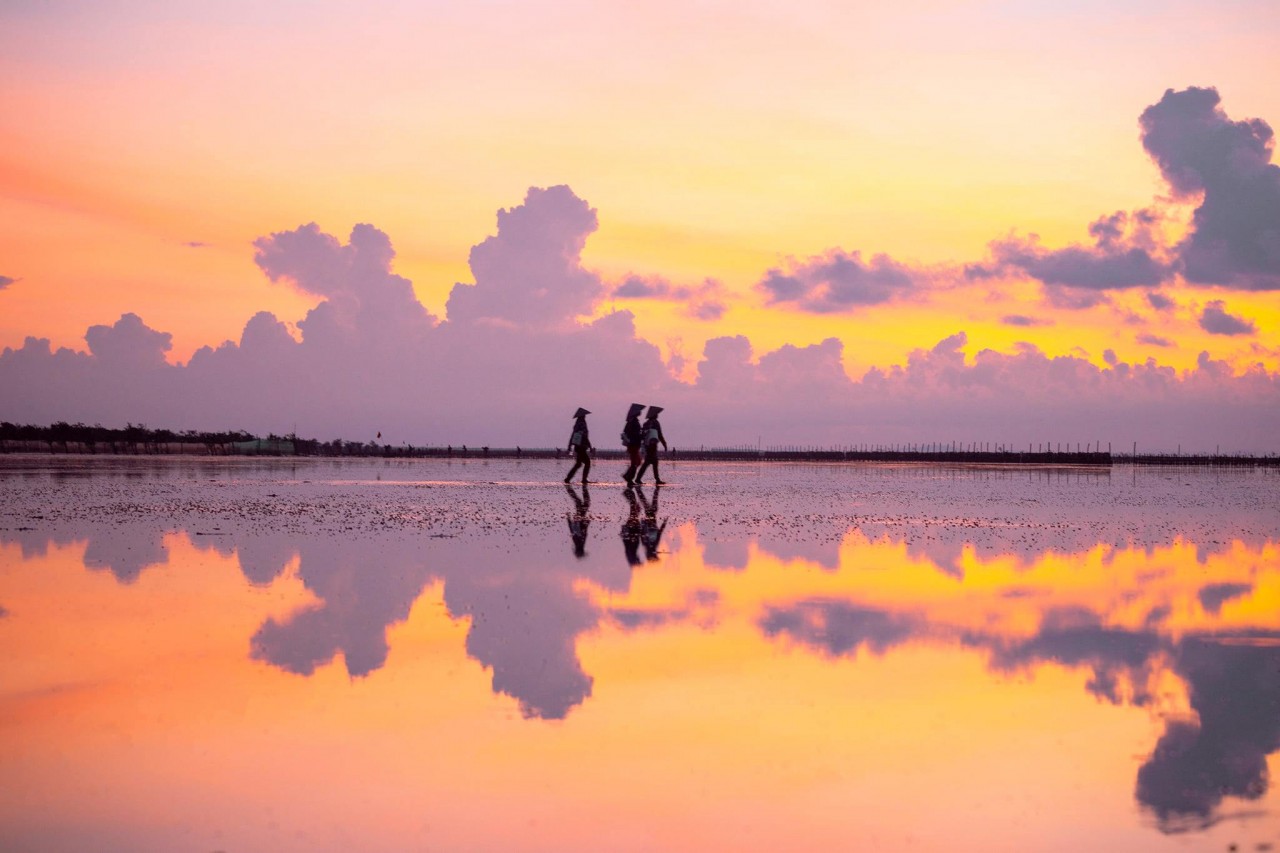 Photo: Vu Thanh Thuy
On calm days early in the morning, the beach becomes a mirror to infinity when tides recede, creating the "infinity" effect with sea water around ankle level for a long distance.
In the past few years, Quang Lang beach has attracted photographers and tourists by its magical and attractive beauty in the early dawn. This place is known as "infinity beach".
Quang Lang Beach does not have white sand, clear blue sea, or big waves, but draws people in through its wilderness and the everlasting sandy beaches. To get to the most beautiful place to see this effect, it takes a walk of about one hour through a protected forest on a slippery, muddy path.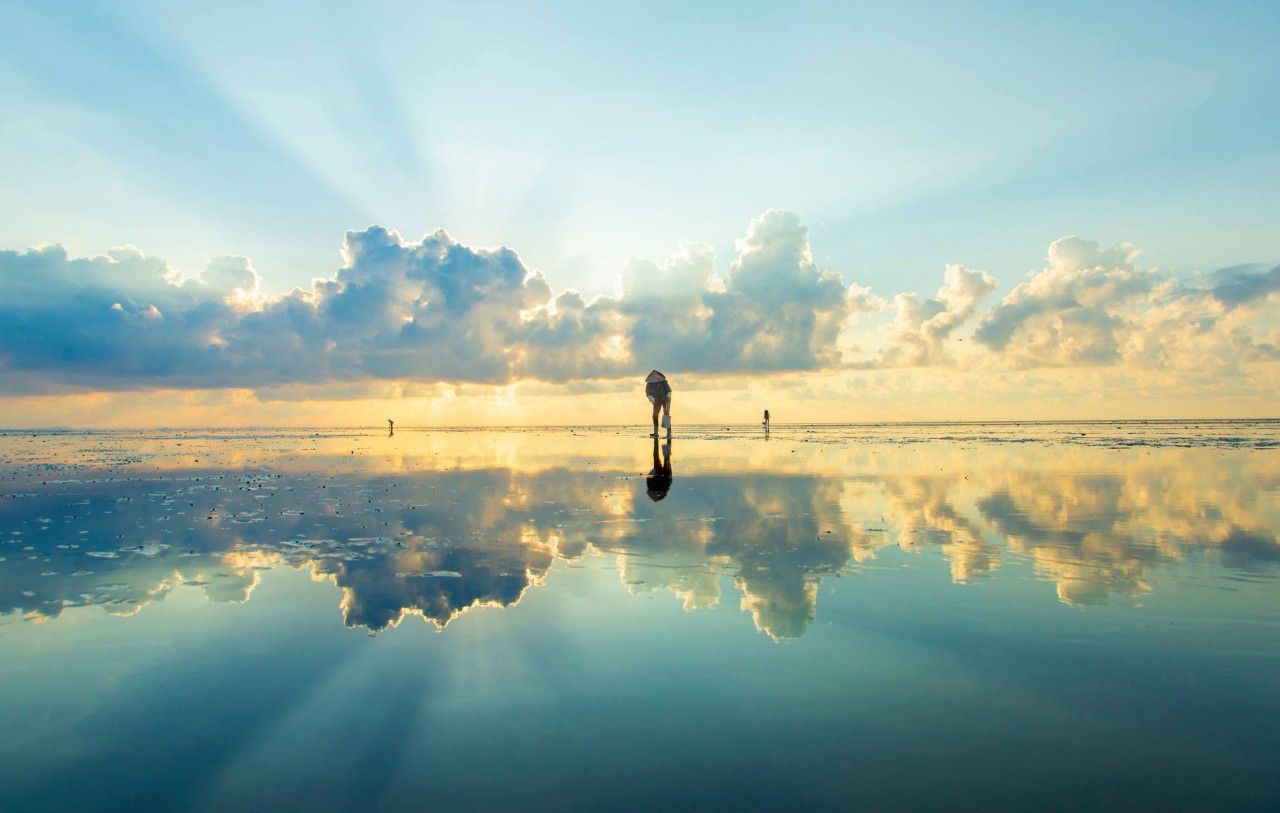 Photo: Vu Thanh Thuy
Before reaching the beach, you have to go through a mangrove forest that stretches 3-5km. So prepare a pair of boots to avoid getting wet. As Quang Lang beach is not a developed tourist attraction, there is no space for storing your belongings. If possible, pack light and only include necessities in your bags. You can also bring a folded chair which you can rest on.
On dry days, visitors can walk 4-5km out to sea, with the water level just reaching their ankles. If the sky is clear and the wind is calm, the water's surface will reflect beautifully. "If you have never been here, you should ask the local people for help," Thuy said.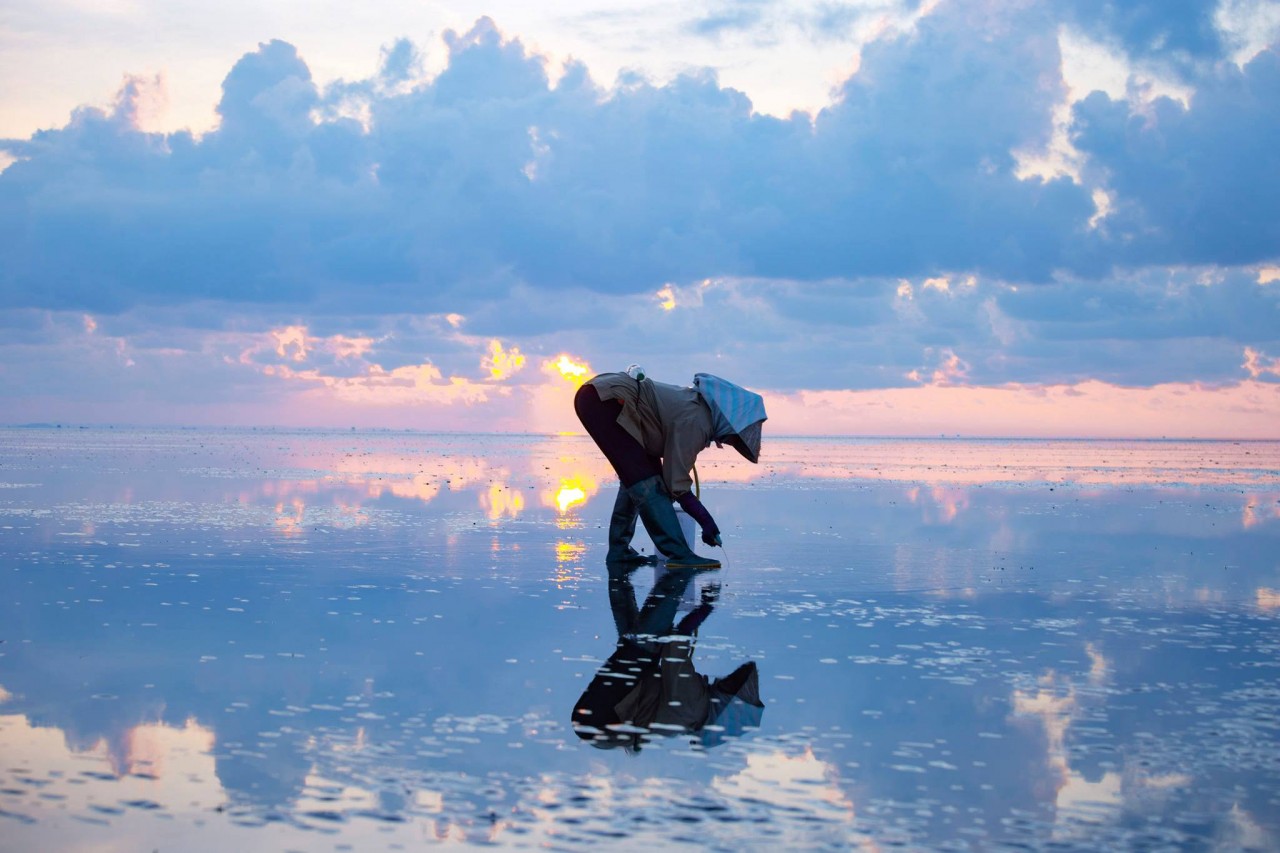 Photo: Vu Thanh Thuy
From Hanoi, visitors can go by motorbike or car to Diem Dien town. To get to the place to see the infinity sea at dawn, visitors have to begin their journey early in the morning. Timing is critical in taking pictures of beaches. For Quang Lang beach, the best time is at sunrise, from 5 to 6 am.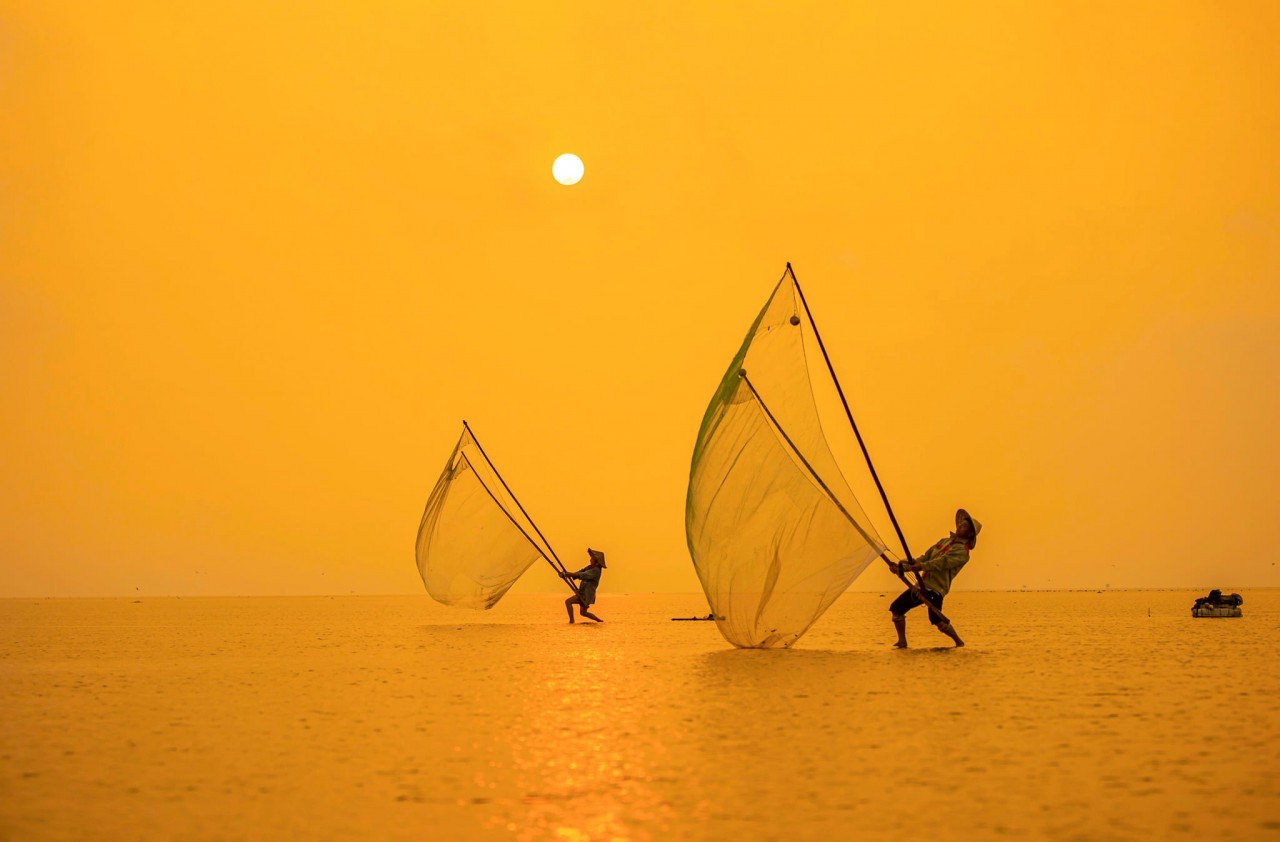 The local villagers catching fish on the sea. Photo: Vu Thanh Thuy
If you do not want to drive, taking a coach is also an option, but you still need to rent a motorbike to get to the beach.
When you're done taking snaps or posting stories on Instagram, take a moment to observe the waves, feel the breeze and free your mind from stress. Quang Lang may have yet to garner attention from travelers, but it's no less a perfect destination for a quick escape from the hustles and bustles of life.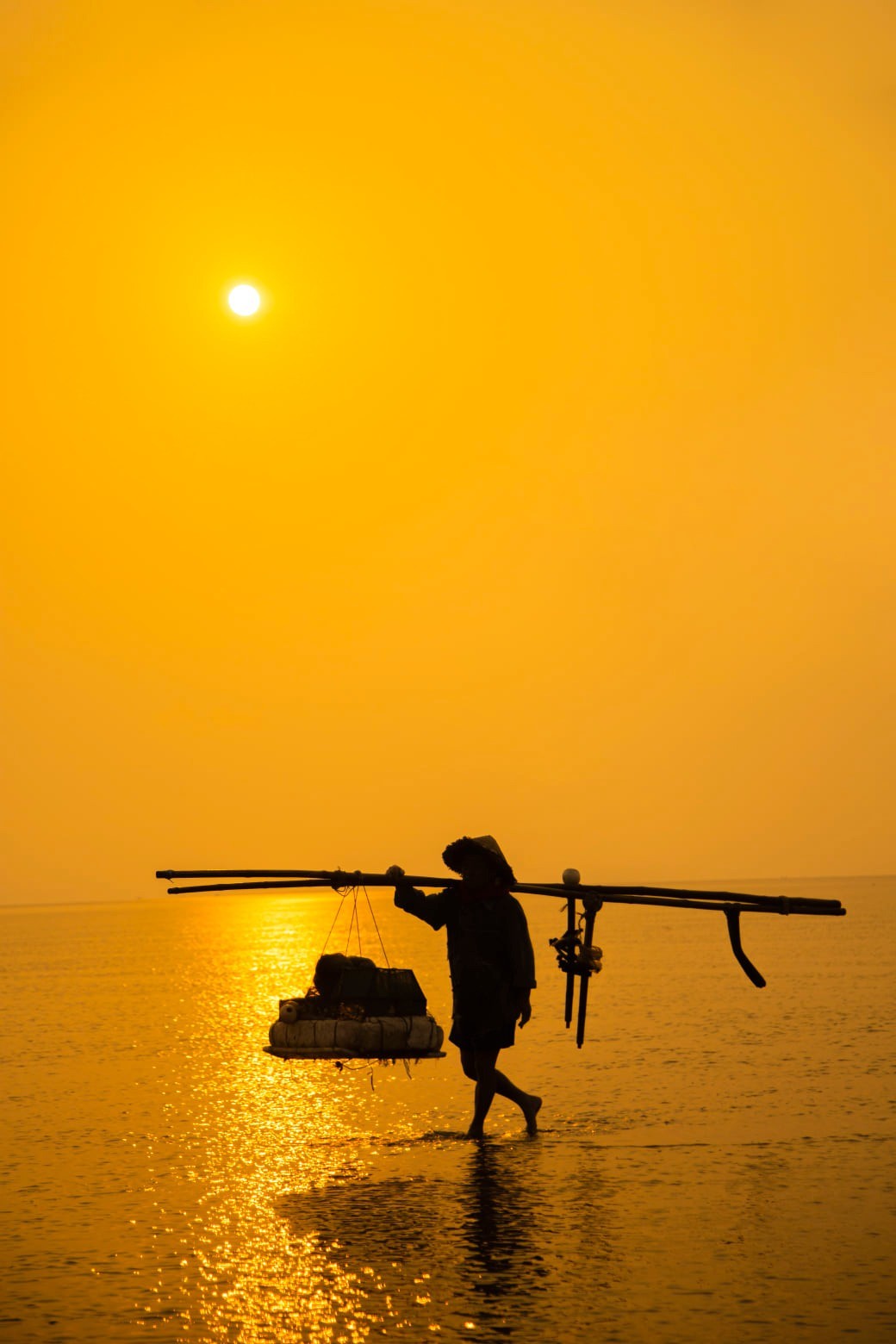 Photo: Vu Thanh Thuy
Friendship
On March 25, the 92nd anniversary of the founding of the Ho Chi Minh Communist Youth Union took place at the Russian Presidential Academy of National Economy and Public Administration (RANEPA) in Moscow.