Check-in at 400-year-old Tam Quan Ba Mu Pagoda in Hoi An
The Tam Quan Ba Mu Pagoda – a temple complex first built in 1626 – is now one of the best Instagram Spots in the historic city of Hoi An (Quang Nam province).
The Chua Ba Mu Pagoda could be the perfect place to show off a new outfit tailored in Hoi An. Photo: @hueandsuntravel
The Tam Quan Gate, or three-entrance gate, is part of a complex known by locals as Ba Mu (Midwife) Temple on the city's Hai Ba Trung Street in Hoi An city.
Tam Quan Gate is an entrance gate with classical Vietnamnese style of architecture often seen in front of pagodas and temples.
The temple complex was built in 1626 at a different location in feudal Vietnam and then moved to the present position.
Major restorations were done in 1848 and 1922 to the structure, which was once considered one of the most beautiful in Hoi An. However, after the war and bad weather, the complex was ruined and only the entrance gate remained.
The newly restored Chua Ba Mu Pagoda is already incredibly popular on Instagram. Photo: @_the_phan_
Last year, the local government spent over VND 5.3 billion (USD 228,000) on restoring the gate and landscaping the complex, which now has electric lighting, a pool, flower beds arranged in patterns, and paths for strolls flanked by lawns.
The gate was restored to its original beauty with elaborate designs. Photo: @tumpss163
The pagoda re-opened recently and is already a hotspot for photographers. The most popular shot taken from outside the entrance gates, capturing the traditional architecture and decorative patterns. Beautiful at dawn and lit up at night, this is a perfect place to capture a water reflection.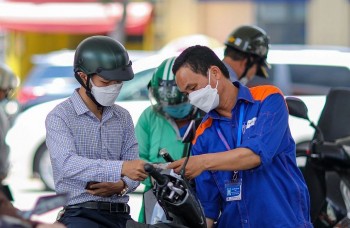 Economy
Vietnam Business & Weather Briefing (Oct 2): Binh Duong lures foreign investors with special care, the North and Central regions continue to have heavy rains, leading to the risk of flooding, flash floods, and landslides.