Check Out These Royal Pillows Made by 100-year-old Artisan
For several generations, a woman from Hue has kept busy by making multiple-fold pillows.
The multiple-fold pillow is made by attaching four or five rectangular cushions, each about five cm thick. Now they were only made by 100-year-old artisan in Thua Thien Hue province, keeping the tradition alive.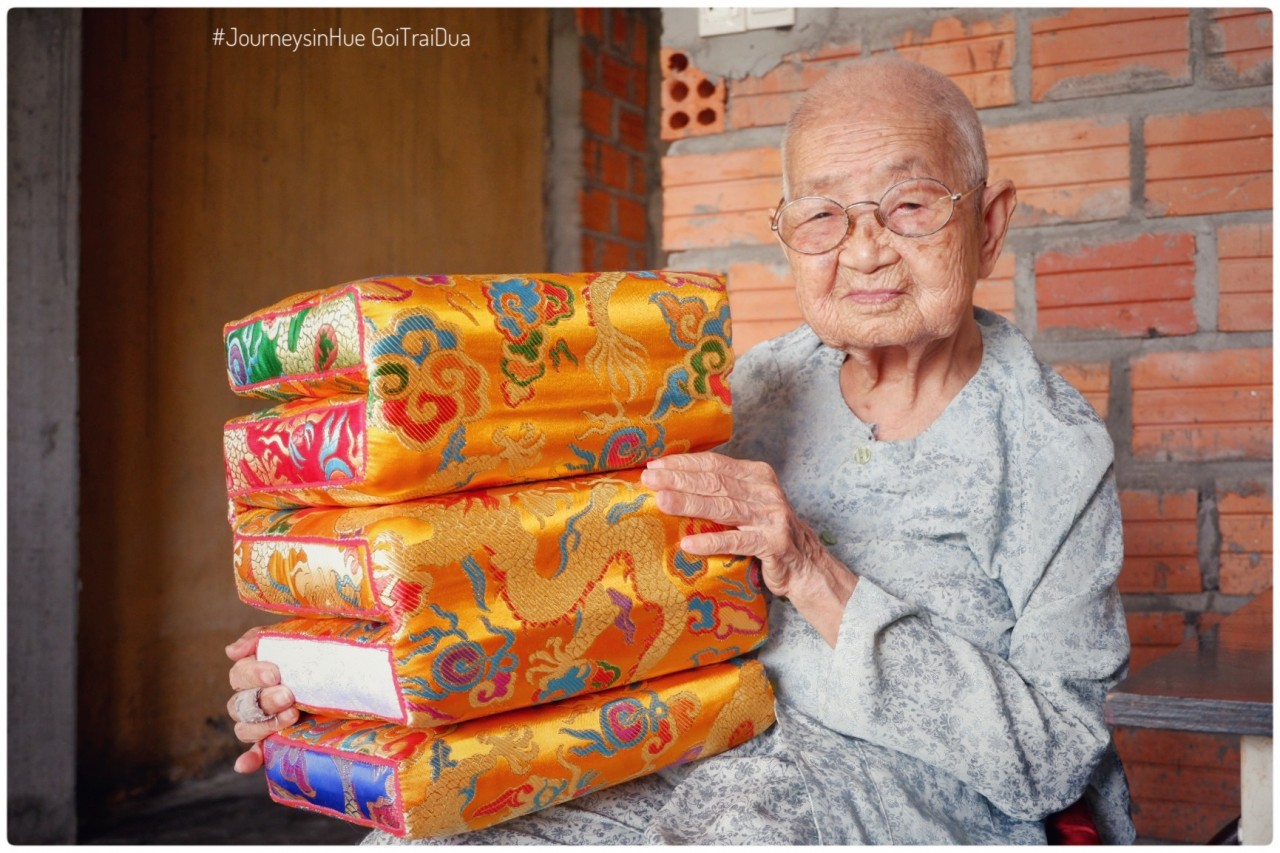 This ancient multiple-fold pillow is made by Cong Ton Nu Tri Hue, one of the few people left possessing the technique, once popular in the Imperial Citadel of Hue. Source: Journeys in Hue Tour [FB]
Called "goi trai dua" in Vietnamese, this ancient multiple-fold pillow is made by Cong Ton Nu Tri Hue, one of the few people left possessing the technique, once popular in the Imperial Citadel of Hue, VnExpress reported.
Born into a family of royal origin, Ms. Hue of Huong Tra District in Thua Thien-Hue Province in the North Central Coast region of Vietnam, is one of the few people still able to make the Vietnamese royal multiple-fold pillow, typically found at royal shrines and temples across the town.
Ms. Hue is a granddaughter of Duke Nguyen Phuc Mien Lam of Hoai Duc, the 57th son of Minh Mang, the Nguyen Dynasty king who reigned from 1820-1841.
At the age of 17, she started to learn sewing and embroidery at the loyal palace. Here, she also learned about the royal multiple-fold pillow, which could support the head, back, and arms while reading, reciting poetry, or drinking.
Each pillow consists of 5 leaves weighing 2.5kg, box-shaped, size 32 - 30 - 20 cm. Source: Journeys in Hue Tour [FB]
According to Ms. Hue, multiple-fold pillow makers must comply with traditional rules: the king's pillow must have five cushions, while those of the queen mother, concubines and mandarins must have four. Usually, gold was only used for the king, with concubines and mandarins using blue, green, and purple pillows.
Bao Dai, the last king of Vietnam himself was very pleased with the pillows made by Ms. Hue. Many of his French friends ordered her pillows as gifts for their families.
While making royal pillows is not too difficult, it requires meticulousness. "The more meticulous we are, the tighter the pillow would be, retaining its smoothness, tension, and swelling without going flat, even after a long time," she said. "A beautiful pillow has not noticeable stitches."
The first step in making a royal multiple-fold pillow entails cutting fabric into equal sized pieces, then sewing them into kits. Next, measured amounts of cotton are inserted into each kit to ensure a stiff form. Finally, each is sewn together to create a pillow.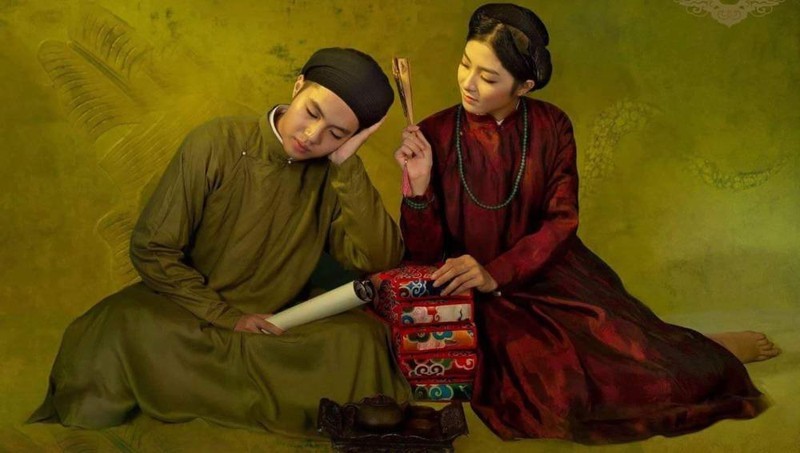 Illustrative image.
In time, this type of pillows fell out of favor. Only occasionally is Ms. Hue asked to replace pillows still found at historical relics. She also was approached by a researcher wanting to restore certain Hue traditions.
Ever since, her pillow making skills have become more widely known, with longevity ceremony or decoration orders streaming in. Besides, Ms. Hue was invited to supply multiple-fold pillows for a scene in the 'Phuong Khau', a Vietnamese film about concubines in the time of King Thieu Tri.
If there is a TV station or a journalist writing articles about these pillows, she makes and sells 4-5 pieces (her whole month's income can range from VND 1-1.5 million), but there was a time 7-8 months going by with no orders, Ms. Hue shared.
In the past, almost no one knew about pillows, sometimes she only dared to take advantage of leftover fabric from sewing clothes for the villagers to make pillows, just to keep her hands busy and reminisce about the golden age.
With the tradition slowly fading, the artisan hoped to preserve the art by passing it down to younger generations. Her first student was her daughter-in-law and niece. Today, they support each other to create these royal pillows.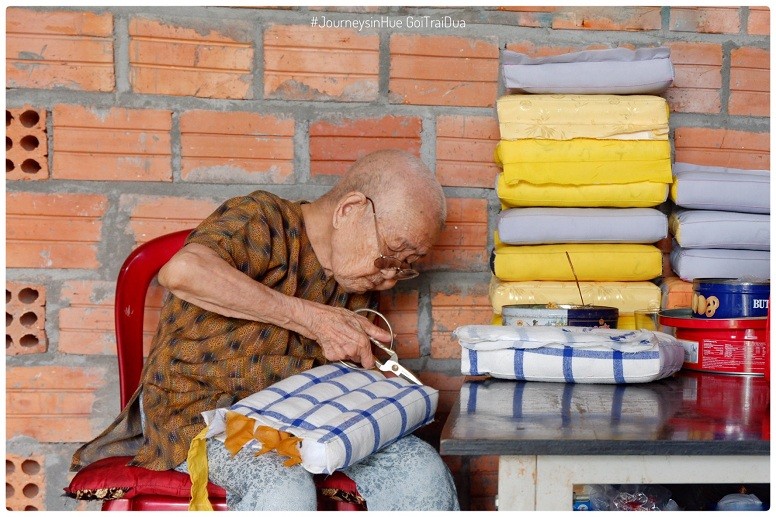 Source: Journeys in Hue Tour [FB]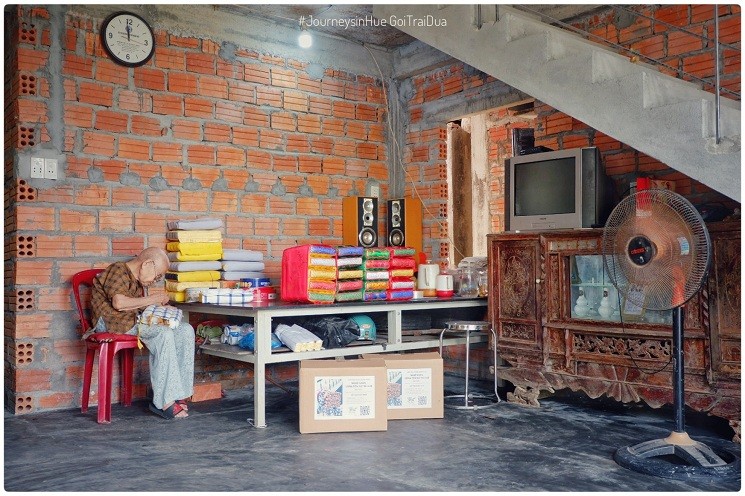 Source: Journeys in Hue Tour [FB]
Each pillow will take Ms. Hue 7-10 days or longer, with the help of daughter-in-law and niece, the work time will be faster. The whole making process goes through many stages and requires meticulousness and thoughtfulness to produce a beautiful and durable pillow over time.
Ms. Hue works every day from 8am to lunch time at 12pm, then stops and takes a lunch break, and then works again at 2pm until 5pm.
She worked very hard with this pillow because she said that this is her joy, her motivation to live. When no pillow makes me sad, I don't know what to do.
When there are orders, Ms. Hue said she feels happy that she can make pillow again and to bring these royal pillow to people across the country.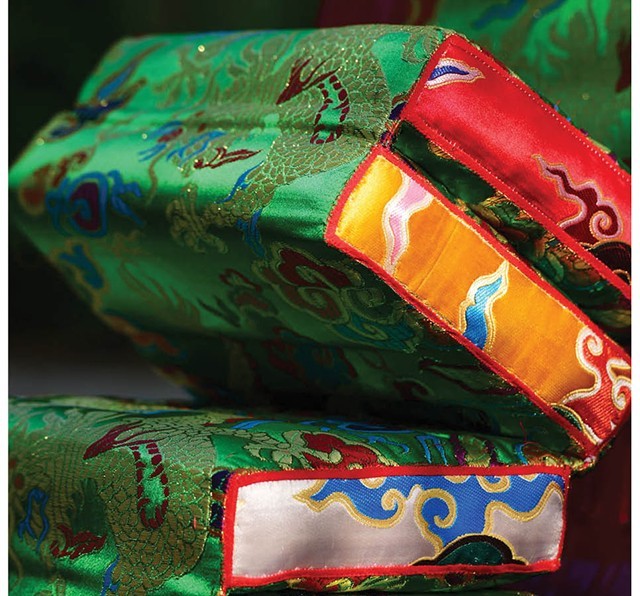 Photo: Khanh Vy/Thua Thien Hue online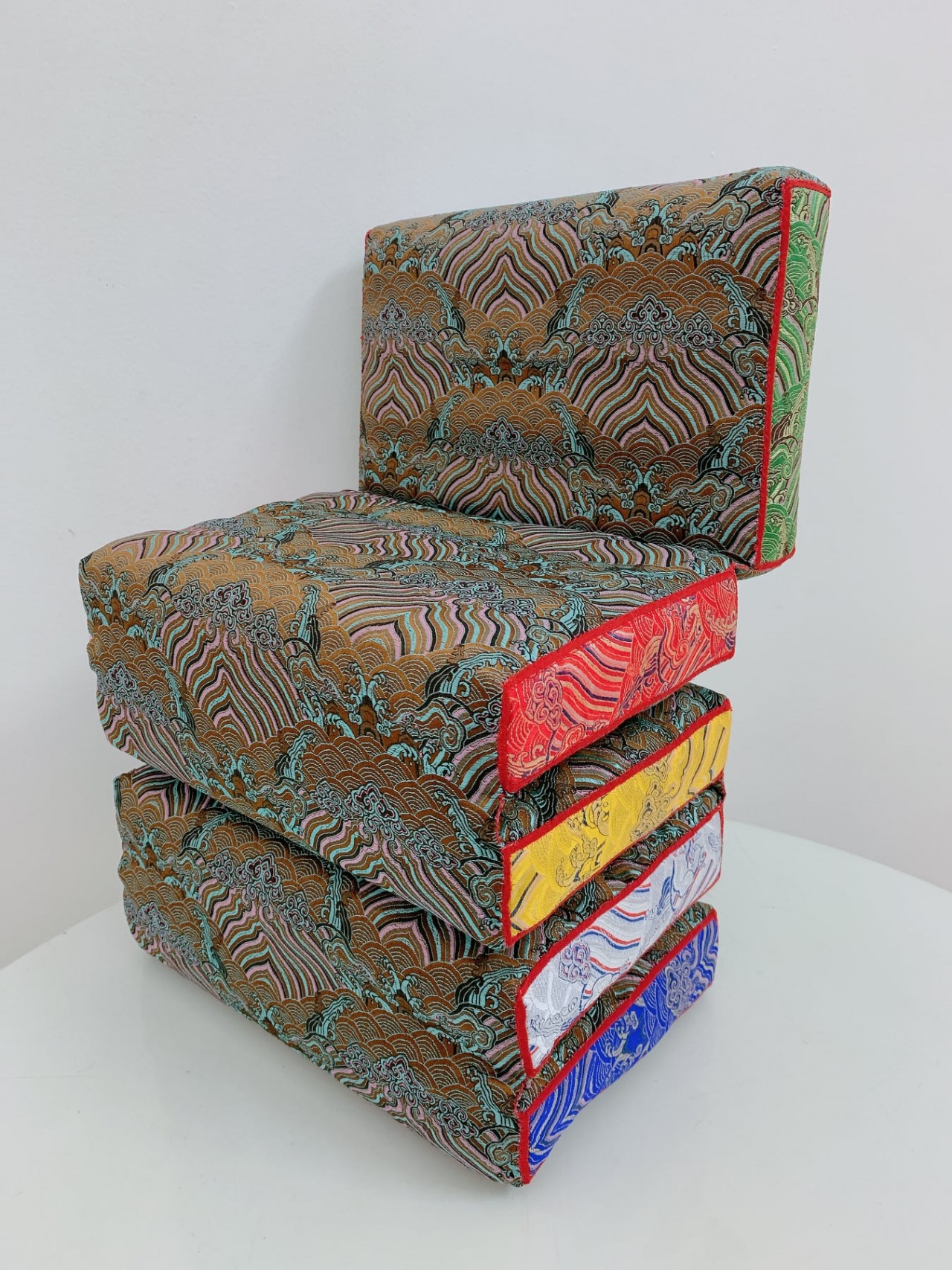 Pillow with Van Thuy Ba - Waves Pattern. According to one interpretation, the ocean waves reflect the life energy of all living things. The water also representing the overflowing wealth. In Vietnam, this pattern is used to adorn the bottom of noble and regal garments. Source: Journeys in Hue Tour [FB]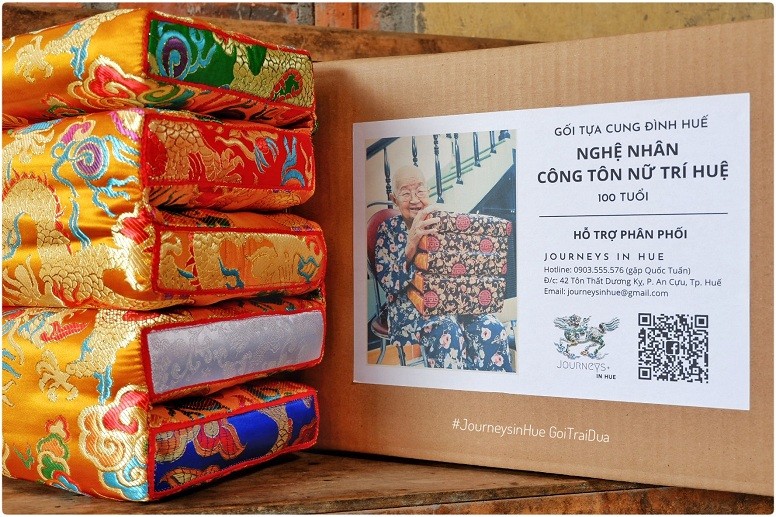 Source: Journeys in Hue Tour [FB]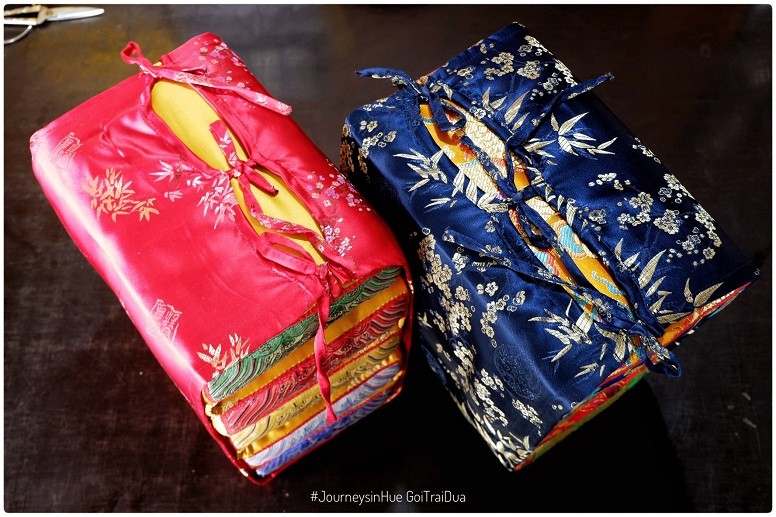 Changeable pillow cover. Source: Journeys in Hue Tour [FB]
Each five-cushion pillow is sold for VND 1.8 million (US$78) or more depend on the fabric and patterns. In addition to the pillow, Ms. Hue has made some more pillowcases to wear outside the pillow, which can be the same color or different from the pillow color.
When buying you can choose for yourself such a pillowcase. Using a washable pillowcase, you can easily change the color of the pillow, further increase its durability.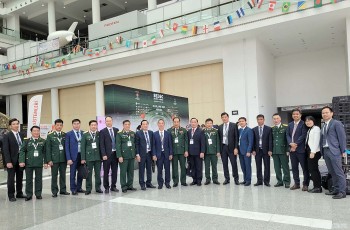 Friendship
Vietnam's presence at the security and defence exhibition SEDEC 2022 in Ankara has been seen as important initial steps to promote the Vietnam-Turkey cooperation.