Royal-themed Sticky Rice Cakes Make for a Regal Treat
This coconut sticky rice "cake" was covered in a fondant-like bean paste with a figure model wearing ancient Vietnamese costume across the top. And the figure aren't just decorations, they're completely edible.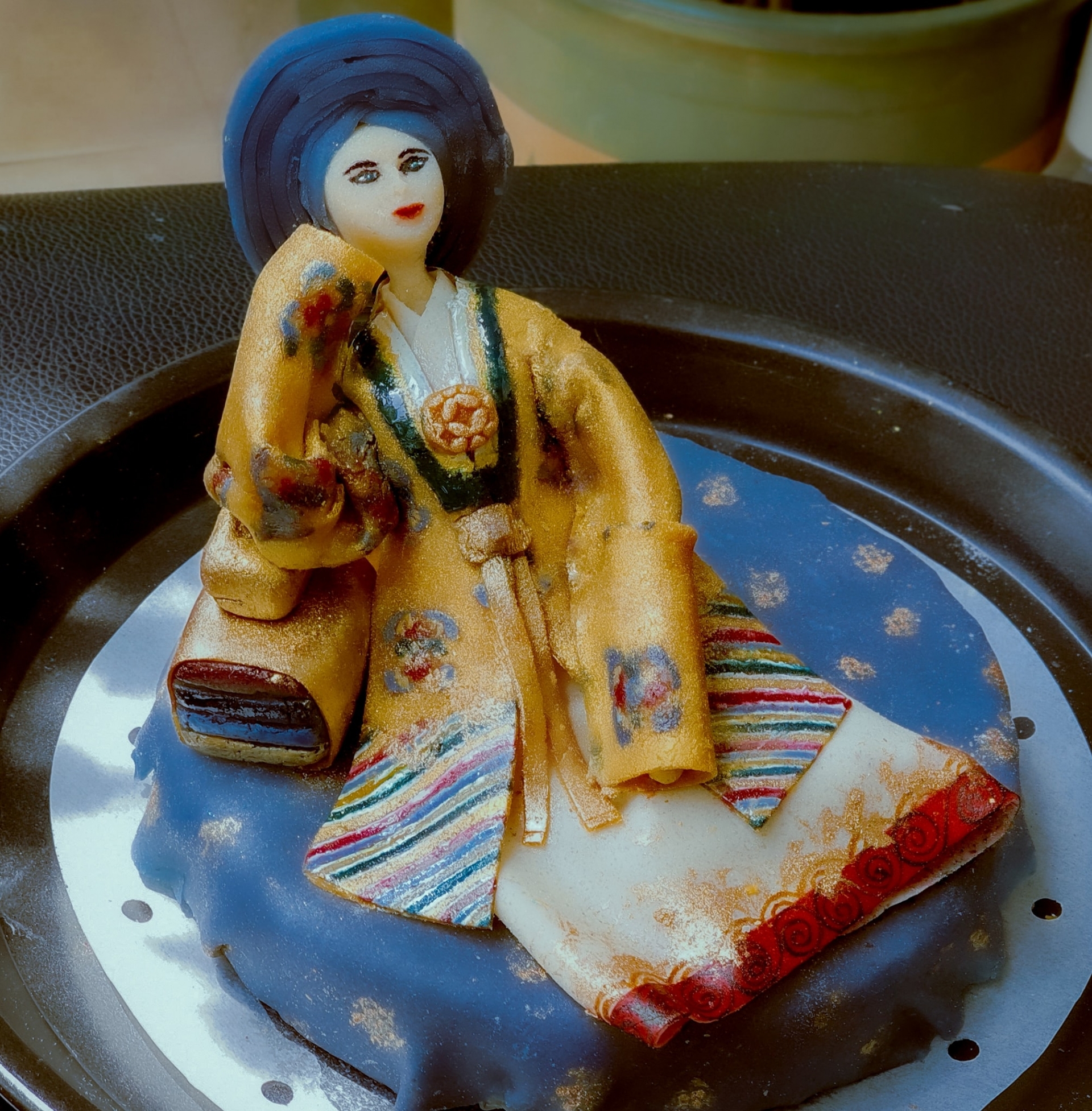 The bean paste decoration featuring a queen wearing Nhat Binh costume (square-collared garb). Photos provided by Huyen
Nguyen Thanh Huyen, a Vietnamese woman, has created this sticky rice with royal-themed bean paste decoration during the current social distancing period.
To those unfamiliar with bean paste, this white bean paste is more like a dough similar to fondant or gum paste. It can be rolled, shaped and manipulate into different shapes and forms like fondant and gum paste. They are also known as bean paste craft, bean flower paste or bean paste for flower modeling.
This trend started in Asia, where beans are popular and commonly used in desserts.
As the name implies the main ingredient of this paste are beans, white beans to be exact. Compared to gumpaste which is almost 100% sugar, this recipe has a lot less sugar which could be as low as 30%. The body of the paste is created by the beans and the sugar is just mainly there for taste. You can adjust if you want it sweeter or less sweet.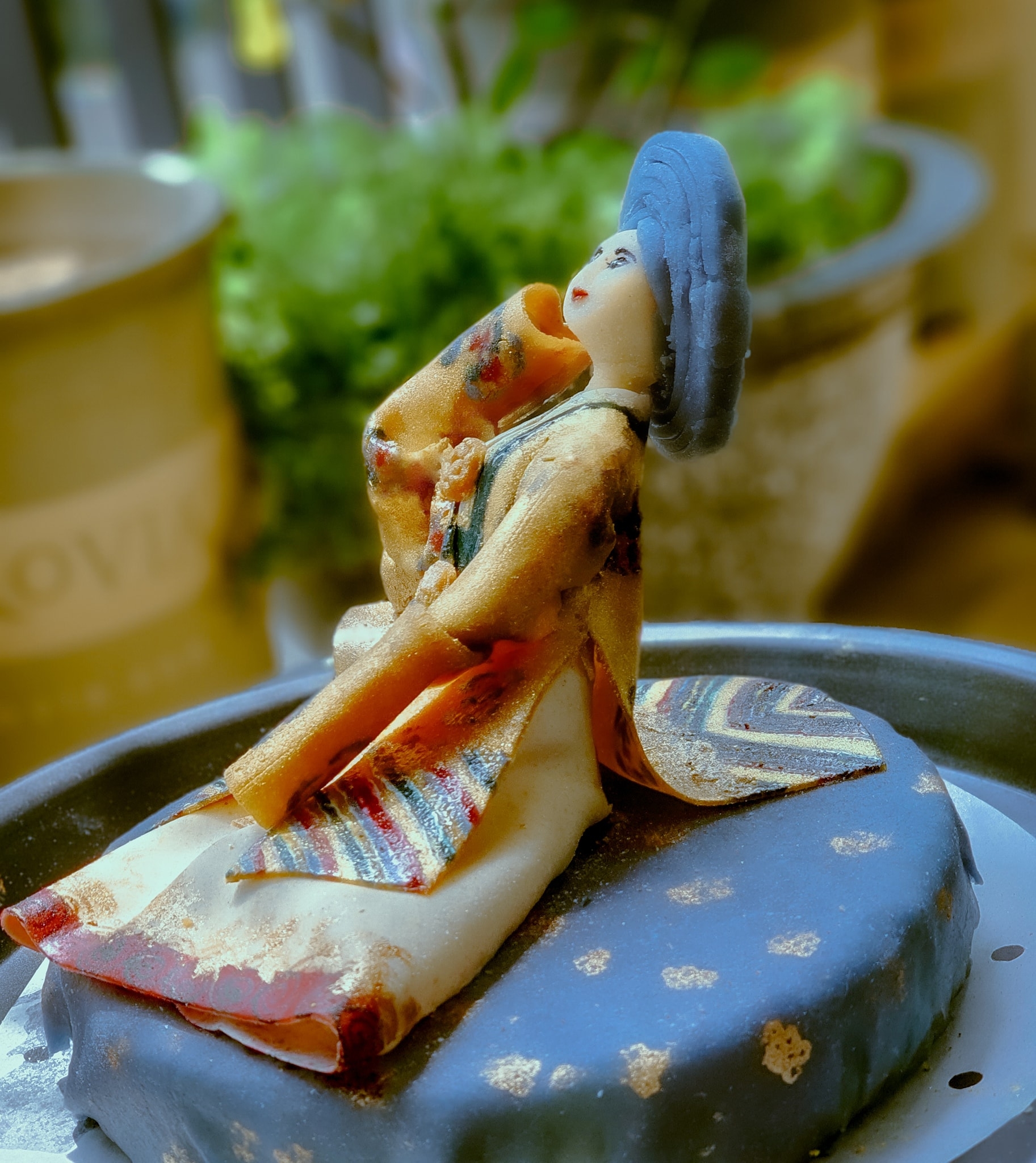 The figure made entirely out of beans paste.
As we can see from the above photo, the bean paste decoration on top is a queen wearing Nhật Bình costume (square-collared garb) - the everyday costume of the royal consorts and princesses of the Nguyen Dynasty (1802-1945).
"Nhật" means rectangle, referring to the shape the garment makes around the neck area where the robe is buttoned. Five bands of colours at the hem of the sleeves represented the five elements in traditional Vietnamese culture – metal, wood, water, fire and earth.
The designers also created sophisticated accessories such as necklaces, mấn (headdresses) and badges made of bronze and trimmed with gold and silver.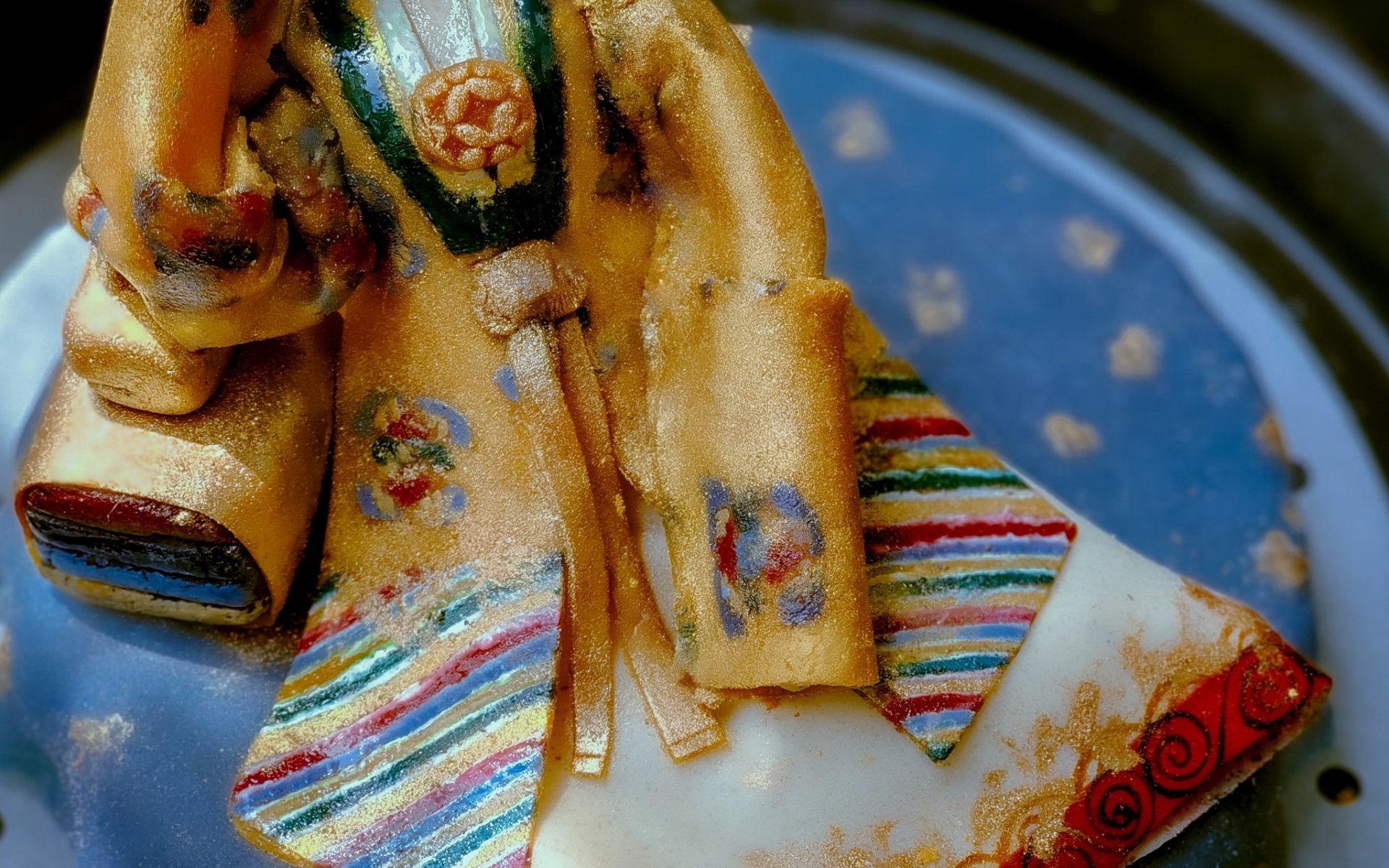 The costume is decorated with colors and embroidery patterns.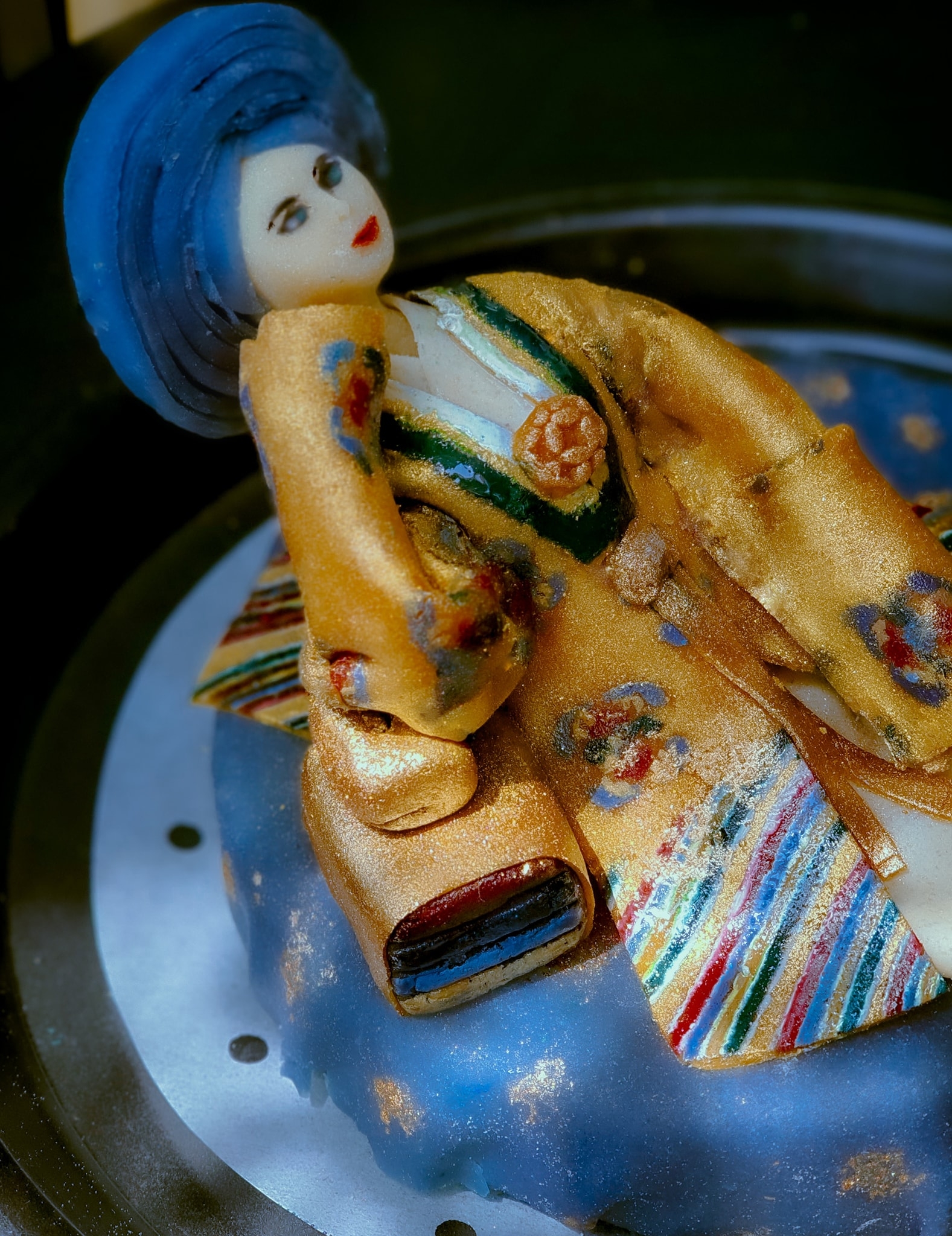 Nhat Binh was accompanied by Vietnamese turban - the most common combination as seen today.
Huyen has been in love with this ancient Vietnamese costume for a long time. So during the current social distancing period she decided to devote much effort to create the extreme detail figure.
"The way I make it is the same as the way to make a mooncake filling, but replace green beans with white beans, glutinous rice flour with wheat flour, corn flour and tapioca flour, and replace rice malt syrup with sugar," she shared the ingredients.
To make paste, blend white peas with flour and suger to a smooth consistency. Transfer to a clean pot. Heat pea paste in a pot over a medium heat and stir. As the paste heats and the sugar dissolves, the paste will become loose. Stir to let the steam out so the paste can thicken again. After sufficient water has evaporated, the paste will get thicker again when stirred. Test for doness by slicing through the paste with a wooden spoon. Flatten paste and wrap tightly in plastic wrap, it will thicken slightly as it cools.
When you're ready to use the paste, divide the paste, add in food color and mix well, then tinted and moulded into shapes.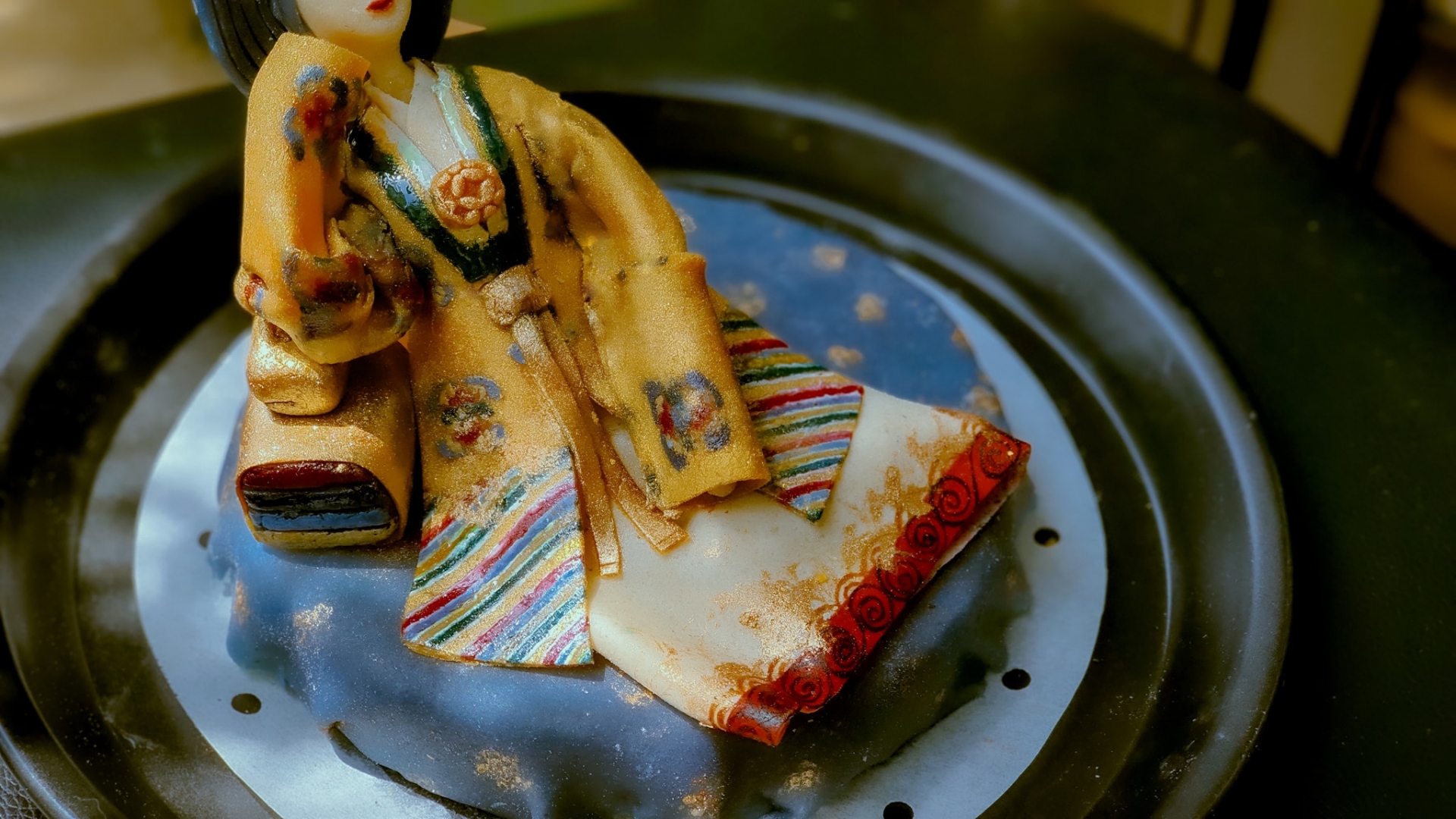 Huyen uses brushes and food coloring to paint the detail on the dress.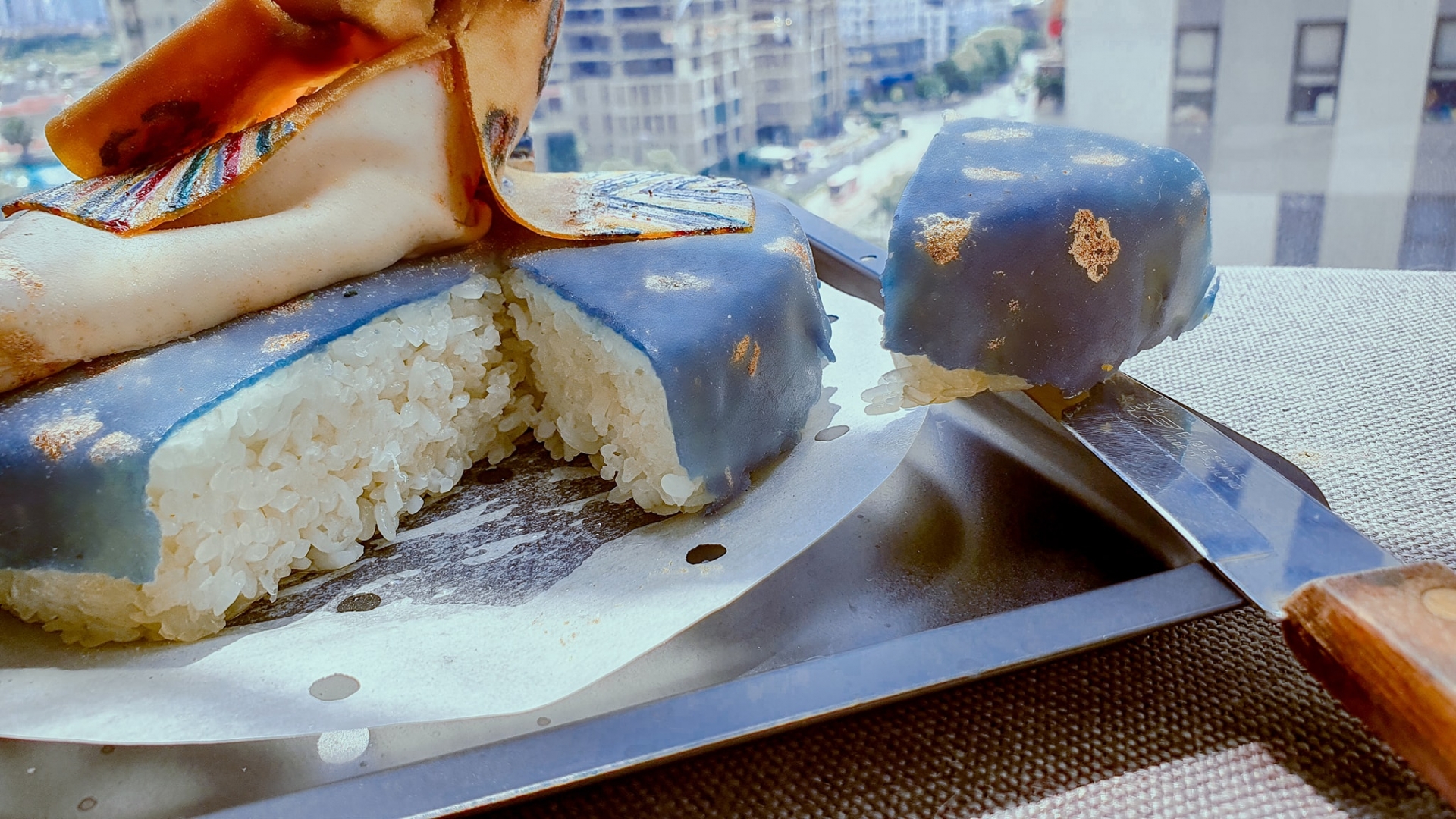 The coconut sticky rice underneath.
Seeing Huyen's products on Facebook, many people praised her skills, techniques and dedicated, adding that the figure is too beautiful to eat.
As of Aug. 11, her post has received 9,200 'likes' and 156 shares.
"The figure is completely edible but you can lift it out and put it in a clear plastic box (the type used to hold cakes) to preserve and display until the model is moldy/damaged. As for the base of sticky rice, I cut it and eat it normally," Huyen answered the question many have in minds.
The article used the informations and photos from a post of Nguyen Thanh Huyen contributed to the Facebook group Yeu Bep (Esheep Kitchen Family).
Bonus
Vietnamese women in Nhat Binh costume which used to be worn by the King's concubines during the Nguyen dynasty. The costumes are designed and recreated by Y Van Hien. (Photo: Y Van Hien)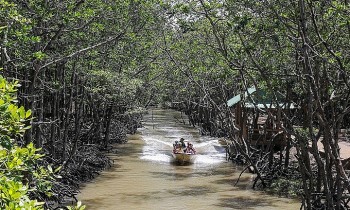 National
Vietnam News Today (September 22): Vietnam confirms 11,687 new Covid-19 cases; HCM City issues Covid safety rules to resume tourism; Vietnam Airlines completes procedures for direct flights to US; Vietnam to compete in AFF Suzuki Cup's in Group B.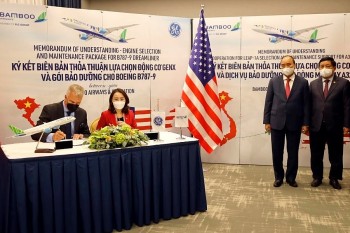 Economy
On September 21, 2021, Bamboo Airways officially introduces AVIAWORLD (AVIAREPS JV) as its official General Sales Agent in the US and launches the nonstop flight network connecting the two countries.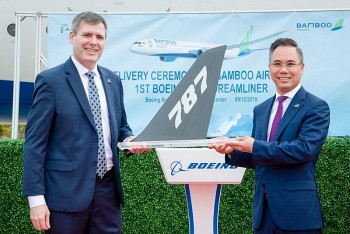 Economy
Vietnam's Bamboo Airways will sign a deal valued at nearly $2 billion with General Electric to purchase GEnx engines to power Boeing 787-9 Dreamliner aircraft, the airline said on Tuesday