Child protection application launched
A child protection application, called "National hotline 111" run on both two operating systems: Google's Android or Apple's iOS, has been developed and can now be used to quickly report and respond to reports of suspected child abuse and neglect.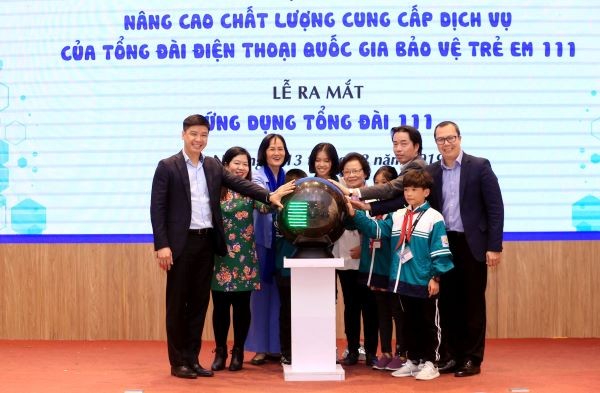 At the lauching ceremony.
On December 13, ChildFund Vietnam, the Department of Child Affairs and Microsoft Vietnam officially announced the Child Protection Application "National hotline 111" which allows reporting on suspected child abuse cases, while supporting the research and development of information systems in child protection related activities.
The application is a channel to receive information, evidence (photos and videos), notification of whistleblowers and acts of child abuse under the National Center for Child Protection. After receiving the information, the operator will be responsible for contacting the reporter to confirm the information. The information about denounce acts of abuse, violence, trafficking and exploitation will immediately be transmitted to individuals and agencies with child protection functions.
In case of emergency, the information is classified and reported immediately to the local police and authorities for emergency preventive measures.
For cases related to risks, operators will prepare documents and transfer them to the local agencies for support.
In addition, it also provides helpful resources related to child safety such as electronic document libraries, contacts of emergency telephone numbers, and list of website addresses of child support services.
The application is a product of a project developing information system, reports of suspected child abuse and applications to protect children on the internet, funded by Microsoft and implemented by ChildFund Vietnam and managed by the Department of Child Affairs.
Since 2004, Vietnam has used free-of-charge telephone hotline number 18001567 to advise and support children, receiving over 2.5 million calls from across the country.
To make it easy to remember and respond in case of an emergency, the round-the-clock 111 hotline has been set up, alongside other emergency numbers, such as 113, 114 and 115.
In 2018, Microsoft Vietnam, ChildFund Vietnam and Department of Child Affairs sign a Memorandum of Understanding on their cooperation in building a child protection application. Accordingly, during 25 months from July 2018, Microsoft will support ChildFund VND 5.4 billion including cost of developing two applications, awareness-raising communications events and software license, data management platform./.