China and ASEAN foreign ministers to hold coronavirus emergency meeting in Laos
The Association of Southeast Asian Nations (ASEAN) and China are planning to hold an emergency conference, which would take place as early as February 20 in Laos, to discuss the new coronavirus epidemic.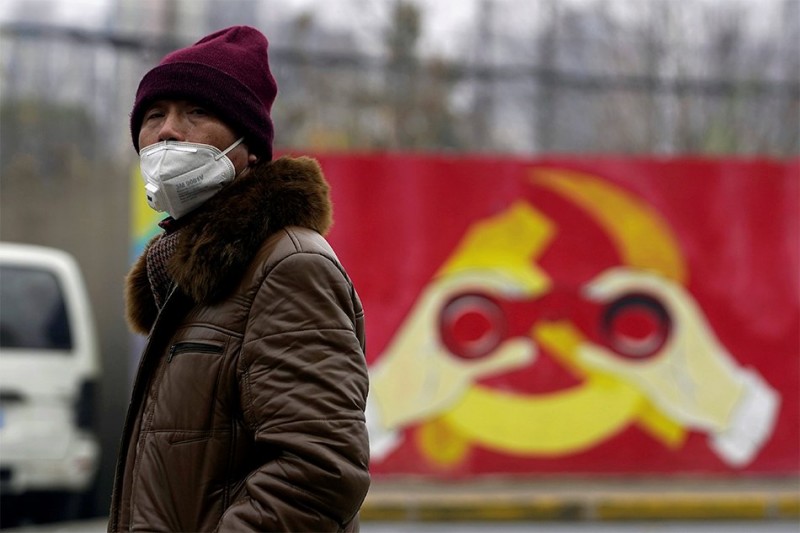 A man wears a mask as he walks past a mural showing a modified image of the Chinese Communist Party emblem in Shanghai, China after the country is hit by an outbreak of the new coronavirus, January 28, 2020. Aly Song, Reuters
According to a diplomatic source, an emergency meeting of ASEAN foreign ministers is intended to share information and improve coordinati on between China and the 10-nation bloc to combat the virus.
Last week, China proposed a foreign ministerial gathering with the ASEAN nations, according to the diplomatic sources. Beijing has been struggling to contain the spread of the new virus first detected late last year in the central city of Wuhan, a major business hub.
Top diplomats of China and Southeast Asian countries along the Mekong River including Thailand were originally scheduled to gather next week. On the sidelines of it, Chinese and ASEAN foreign ministers are now expected to meet on Feb. 20, the sources said.
Some of the ASEAN nations -- Brunei, Cambodia, Indonesia, Laos, Malaysia, Myanmar, the Philippines, Singapore, Thailand and Vietnam -- have recently become inclined to restrict traffic to and from China in the wake of the epidemic.
By showing its strong commitment to preventing the virus from spreading, China is likely to try to dispel criticism about shortcomings in its initial response to the outbreak, which has been increasing among ASEAN countries, the source said.
The new coronavirus was first detected in China, where the death toll has surpassed 1,000, and has spread to nearly every Southeast Asian country. Cases are rising in the region, which depends heavily on trade and tourism flows with China. Nations have taken measures such as restricting travel, even as they brace for the economic impact of the outbreak./.