China Flood Latest News: Thousands trapped after levees fail, dams at risk of breaking
China Flood Latest News: More than 10,000 people are trapped in a town in eastern China as flooding across much of the country renews pressure on dams.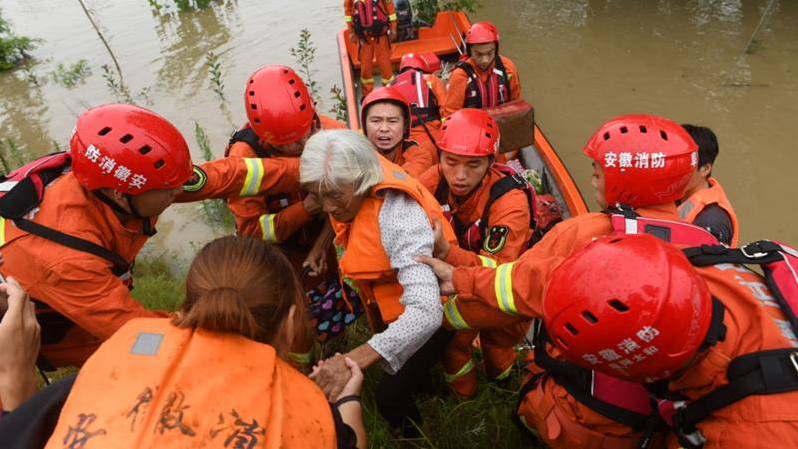 escue workers evacuate a flood-affected resident in Funan, Anhui province (Photo: Reuters)
10,000 people are trapped due to dam opening
Wang Qingjun, Guzhen's Communist Party secretary, told the official Xinhua News Agency that floodwater rose as high as 10 feet in the region.
State media outlets reported that around 1,500 firefighters rushed to rescue those in the province, where weeks of heavy rain have disrupted the lives of more than 3 million people.
At least 141 people have died or gone missing in flooding since the beginning of June, with more than 150,000 houses damaged and direct economic losses estimated at about $9 million.
The Yangtze River is flooded in Nanjing, Jiangsu Province of China (Photo: Xinhua)
On Sunday, a dam in Anhui was blasted to allow flood waters to flow downriver. The province's Wangjiaba dam on the Huai River opened its 13 sluice gates on Monday, flooding cropland and forests to prevent more extensive damage down river.
The move forced more than 2,000 people to seek safety in the middle of the night, some loading blankets and furniture onto three-wheel motorcycles..
In Jiangxi province, 45-year-old Xu Yongxiang told China Youth Daily his village of Liufang had been without running water or electricity for almost a week.
"We do not have 1 inch of dry ground. It has all been flooded," he said online.
Floodwaters discharge in Gansu, China (Photo: Xinhua)
Provinces face threats of dams breaking
Additional rainfall is putting renewed pressure on the dam, which straddles the mighty Yangtze River.
The official Xinhua News Agency said the rate of flow in the reservoir behind the dam would hit a record for the year Friday night, at 55,000 cubic meters (almost 600,000 cubic feet) per second.
The inflow peaked Saturday at 61,000 cubic meters per second, before easing to 46,000 by Sunday night, Xinhua reported.
Ministry officials said they needed to keep a close eye on water levels in the Three Gorges Dam, which has been storing huge volumes of water in order to ease downstream flood risks and is now 16 metres (52 feet) higher than its official warning level.
An aerial view shows the flooded Yangshuo town by the overflowing Li River (Photo: Reuters)
The dam at a small reservoir in China's Guangxi region gave way last month after days of heavy rain in a collapse that could be a harbinger of sterner tests for many of the country's 94,000 aging dams as the weather gets more extreme.
Located in Yangshuo county, famed for its otherworldly karst landscape, the dam collapsed at around midday on June 7, inundating roads, orchards and fields in Shazixi village, residents told Reuters.
But the collapse, which was not reported by domestic media, suggests big storms might be enough to overwhelm reservoirs, especially if the design is inferior and maintenance has been patchy.
That raises the prospect of disaster in river valleys and flood plains that are much more densely populated than they were when the dams were built.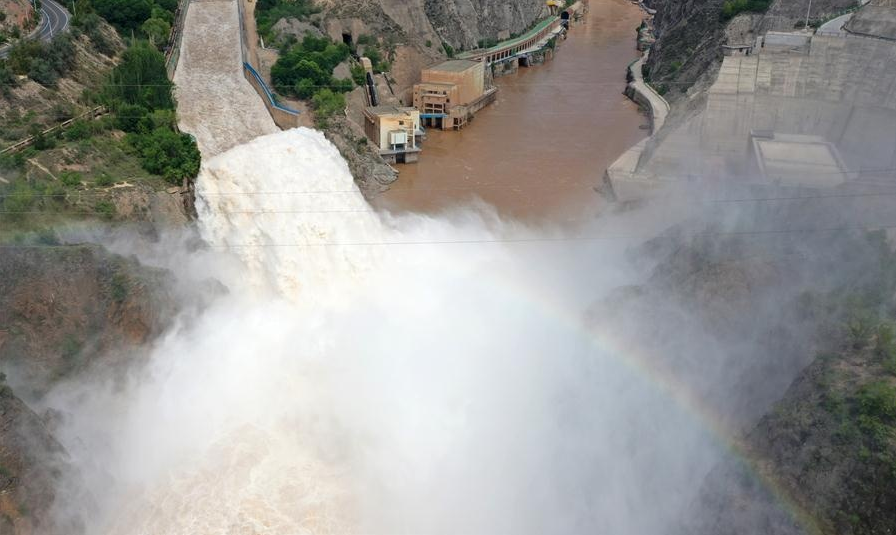 Floods in the upstream of the Yangtze are causing many concerns for the structure of the Three Gorges dam (Photo: Xinhua)
Thousands evacuated after floods threaten villages
China has evacuated tens of thousands of people in Anhui and Hubei provinces amid severe flooding and landslides triggered by some of the heaviest rainfall in decades.
In eastern Anhui, rescue workers evacuated 16,000 people from the town of Guzen after weeks of torrential rains caused a nearby river to overflow, China Global Television Network (CGTN) reported on Wednesday.
The flooding inundated 13 villages and cut off electricity to the whole region, it said.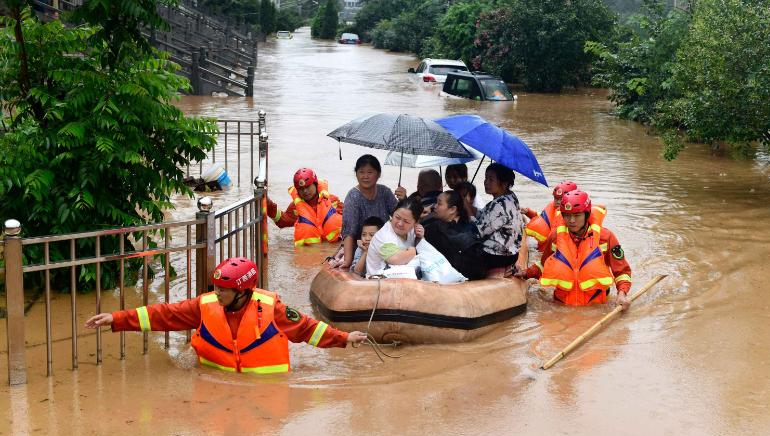 Rescuers evacuate residents on a raft through flood waters in Jiujiang in central China's Jiangxi province (Photo: CNN)
In central Hubei province, more than 8,000 people were evacuated after a landslide blocked a river and created a barrier lake that threatened to submerge the city of Enshi and neighbouring villages, CGTN said.
Seasonal flooding strikes large parts of China each year, especially in its central and southern regions, but conditions this year have been especially bad due to heavy rainfall.
China experienced its worst flooding in recent years in 1998, when more than 2,000 people died and almost 3 million homes were destroyed, mostly along the Yangtze.
Floodwaters flow past a residential building in Chongqing in southwest China (Photo: CNN)