China - India Border Conflict: Both starts withdrawing troops from Galwan Valley
China and India began withdrawing its troops along the disputed area with India in Galwan, following last month's clash, said Indian officials.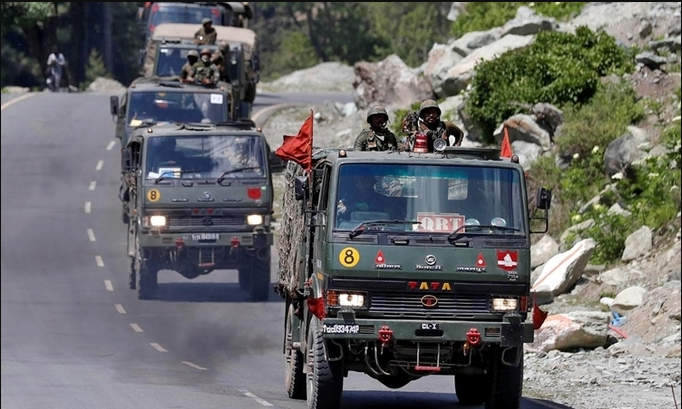 Indian troops moved along the highway leading to Ladakh on June 18 (Photo: Reuters)
Chinese soldiers today removed tents and structures at a site in the Galwan valley, near the scene of a clash between the two countries' forces on June 15, according to Indian government news source.
Chinese military vehicles have also begun to leave the Galwan valley area, as well as the Hot Springs (Kyam) and Gogra, two other disputed border areas between India and China, added by the news source.
In a press conference held in Beijing on July 6, when asked if China was withdrawing its weapons in the Galwan valley, Chinese Foreign Ministry spokeswoman Zhao Lian Jian said both sides "were taking effective measures to reduce tensions and cool down the border situation".
"We hope India will respond to Chinese requests and take concrete measures to implement what the two sides have agreed to and continue keeping close contact through diplomatic and military channels," Zhao said.
While Indian media on July 6 simultaneously reported on signs of withdrawal, reduced confrontation at the Line of Actual Control (LAC) between India and China.
India has been insisting on the restoration of status quo ante in all areas of eastern Ladakh (Photo: AFP)
Indian and Chinese soldiers have repeatedly clashed in the western Himalayas in recent months, culminating in a deadly scuffle on June 15 that left dozens of soldiers on both sides dead. India said 20 soldiers had died, including one colonel. China has confirmed casualties but has not released the number of casualties.
India has been insisting on the restoration of status quo ante in all areas of eastern Ladakh to restore peace and tranquillity in the region.
India and China have held several rounds of diplomatic and military talks in the last few weeks to ease tension in the region. However, there was no visible sign of an end to the standoff though the two sides agreed to initiate disengagement of the forces from the region.