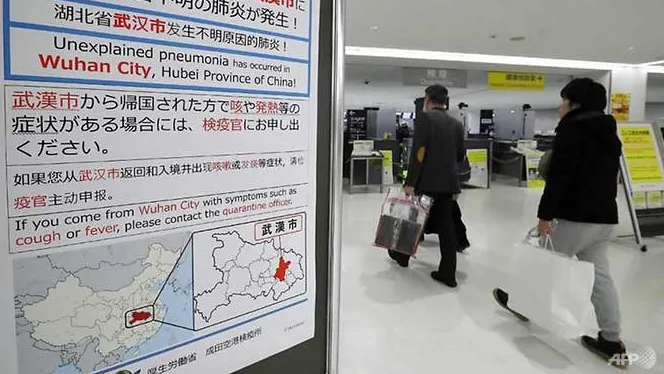 Passengers walk past a sign at Narita Airport in Chiba prefecture on Jan 16, 2020. Japan has confirmed a case of a mystery virus that first emerged in China and is from the same family as the deadly SARS pathogen. (STR/JIJI PRESS/AFP)
Much remains to be understood about 2019-nCoV. Not enough is known to draw definitive conclusions about how it is transmitted, clinical features of disease and disease severity, or the extent to which it has spread and its source, which also remains unknown. Here are some information we know so far, including what you can do to protect yourself and your loved ones.
Q: How severe can someone infected with 2019-nCoV get? What are the symptoms?
Based on current data, many cases seem to experience milder disease and it is possible that further mild cases are being missed as people mistake their illness for a cold or seasonal flu and recover on their own without seeking treatment. However, this disease can also cause severe illness and there have been a number of deaths. Reports from China indicate that the majority of the people who have died had underlying health conditions that may have weakened their immune systems. However, there is still a lot that is unknown about this virus and WHO is monitoring the situation closely.
Q: I understand 2019-nCoV is a type of coronavirus. I am confused about the many things I hear about coronaviruses. Where do they come from?
Coronaviruses (CoV) are a large family of viruses that cause illness ranging from the common cold to more severe diseases such as Middle East Respiratory Syndrome (MERS-CoV) and Severe Acute Respiratory Syndrome (SARS-CoV). A novel coronavirus, such as 2019-nCoV, is a new strain that has not been previously identified in humans.
Coronaviruses are zoonotic, meaning they can transmit between animals and people. Previous detailed investigations suspected that SARS-CoV was transmitted from bats to civet cats and to humans, and MERS-CoV from dromedary camels to humans. Several known coronaviruses are circulating in animals that have not yet infected humans.
Q: I have been seeing media reports of people getting infected with 2019-nCoV. How did they get the virus?
It is now clear that human-to-human transmission is taking place. More analysis of the epidemiological data is needed to understand the full extent of human-to-human transmission.
Q: With the limited information we have of this virus, are there at least ways to reduce the risk of infection?
Ensuring hand and respiratory hygiene is recommended. As we enter a major travel season in the region, including Tet holidays, we remind the public to practice protective measures.
· Wash your hands with soap and water or alcohol-based hand rub;
· Cover your mouth and nose with a medical mask, tissue, or a sleeve or flexed elbow when coughing or sneezing;
· Avoid unprotected close contact with anyone developing cold or flu-like symptoms and seek medical care if you have a fever, cough and difficulty breathing;
People who shop in wet markets can take the following precautions to stay healthy:
· wash hands with soap and water after touching animals and animal products
· avoid touching eyes, nose or mouth
· avoid contact with sick animals and spoiled meat
· avoid contact with stray animals, waste and fluids in market
People who work in wet markets can take the following precautions to stay healthy:
· frequently washing hands with soap and water after touching animals and animal products
· disinfect equipment and working area at least once a day
· wear protective gowns, gloves and facial protection while handling animals and fresh animal products
· remove protective clothing after work, wash daily and leave at the work site
· avoid exposing family members to soiled work clothing and shoes
Q: What is WHO doing?
WHO has a long history supporting countries in communicable diseases' prevention, control and response in the Western Pacific Region, including other new disease outbreaks such as influenza A(H7N9), A(H5N1) and SARS.
WHO will continue to work closely with countries and provide any support needed to gain a better understanding of this new virus, identify any cases and help to prevent infection.
Q: WHO has convened an Emergency Committee for 2019-nCoV. What is this about?
The Emergency Committee is a meeting with international experts who provide technical advice to the WHO Director-General if the concerned public health event may be determined as a "public health emergency of international concern" (PHEIC).
The term public health emergency of international concern (PHEIC) is defined in the International Health Regulations (IHR) (2005) as an event which is determined as;
i. to constitute a public health risk to other States through the international spread of disease; and
ii. to potentially require a coordinated international response".
This definition implies a situation that: is serious, unusual or unexpected; carries implications for public health beyond the affected State's national border; and may require immediate international action.
The Director-General makes the final determination of a PHEIC and Temporary Recommendations to address the situation, based on advice from the Emergency Committee, information provided by the State Parties, scientific experts and an assessment of risk to human health, risk of international spread of disease and of risk of interference with international travel.
In the past, a total of five PHEIC had been declared since 2006 when IHR (2005) came into force: pandemic influenza H1N1 (2009), Polio (2014), Ebola in West Africa (2014), Zika (2016), and Ebola in the Democratic Republic of the Congo (2019).
The meeting of the Emergency Committee for Pneumonia due to the Novel Coronavirus 2019-nCoV is ongoing. The Committee is assessing if the 2019-nCoV situation constitutes a PHEIC, and what recommendations should be put in place.
Two Chinese nationals in Vietnam have tested positive for the SARS-like coronavirus and are being treated in hospital, officials said on Thursday (Jan 23).
A Chinese man living in Long An was infected by his father who travelled to Vietnam on Jan 13 from Wuhan.
The father was hospitalised on Jan 17 with a high fever, days before his son showed symptoms, health officials said.
Both were quarantined and tested positive for coronavirus.
Japan, Hong Kong, Macau, South Korea, Taiwan, Thailand, Singapore and the United States have all reported confirmed cases of the new virus after it first emerged in China on Dec 31.
So far, the majority of the victims were elderly individuals with pre-existing health conditions, such as diabetes and liver cirrhosis.
One man, an 86-year-old who was hospitalised on Jan 9, had surgery for colon cancer four years prior, on top of suffering from high blood pressure and diabetes.
Another, an 80-year-old woman surnamed Hu, had Parkinson's Disease and more than 20 years of high blood pressure and diabetes in her medical history.
According to details released by China's National Health Commission (NHC) on Thursday, the 17 victims of the virus were between 48 and 89 years old.
Only two were under the age of 60, while the average age of the victims was 73.
Most of them died this week, according to the NHC.
VNF/WHO/AFP