Chinese Haiyang Dizhi 8 survey ship heads away from Vietnam's exclusive economic zone
The Chinese survey ship Haiyang Dizhi 8 (Marine Geology 8) has left Vietnam's exclusive economic zone in the East Sea on Thursday (Oct 24) after more than three months, Reuters quoted marine data.
The Chinese survey ship Haiyang Dizhi 8. Photo: Schottel
The Chinese survey ship Haiyang Dizhi 8, was speeding away from Vietnam's exclusive economic zone (EEZ, meaning the area off its coast in which it claims exclusive fishing and mineral rights) towards China on Thursday morning under the escort of at least two other Chinese ships, according to data from Marine Traffic, a website that tracks vessel movements.
Given China's geological survey vessel group Haiyang Dizhi 8 violating Vietnam's EEZ and continental shelf in the south of the East Sea, Vietnam has contacted the Chinese side for many times via different channels, handed over protest diplomatic notes and demanded China to immediately withdraw all of its vessels from Vietnam's waters and to respect Vietnam's sovereign right and jurisdiction, for the sake of the relations between the two countries and for regional stability and peace.
Foreign Ministry's Spokesperson Le Thi Thu Hang on October 3 repeated Vietnam's solemn demand that China must immediately stop serious violations and withdraw its survey ship Haiyang Dizhi 8 and escort vessels from Vietnam's waters.
She affirmed that Vietnam determines to protect its sovereignty and legitimate rights and interests in the East Sea through legal measures in line with international law.
Regarding Chinese Foreign Ministry Spokesperson Geng Shuang's responses September 18, Hang said that Vietnam's positions on serious violation of the Chinese survey vessel group were clear in her press statement on September 12.
China's so-called "Wan'an Tan" is in fact a low-tide elevation which forms part of the seabed belonging to Vietnam's exclusive economic zone and continental shelf as defined by the provisions of the 1982 UNCLOS, Hang said.
This is completely not a disputed nor overlapped area because China has no legal international grounds to make a claim on the area, she said, noting that the 1982 UNCLOS and trials have affirmed the fact affirmed./.
VNF/VNA/Reuters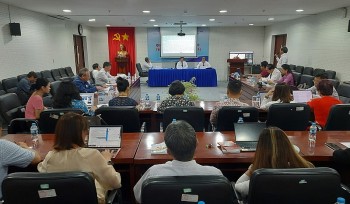 Friendship
The Vietnam - India Friendship Association's Ho Chi Minh City branch, the Ho Chi Minh City Union of Friendship Organizations (HUFO) and the Southern Institute of Social Sciences on March 21 held a scientific seminar themed "Vietnam - India relationship: tradition and present".