Clean Water Project Benefits 1,404 People in Remote Area of Central Province
The project aims to ensure residents' access to clean water diseases with reasonable prices, ensure sanitation at households and public places, reduce related to water resources and sanitation, improve local people's living conditions in some remote areas of the central province of Quang Tri
World Vision Vietnam has supported the construction and handover of clean water supply works for people, especially communities in isolated "oasis" areas in Hai Phong Commune, Hai Lang District (Quang Tri Province).
People in three communes Hai Hung, Hai Truong, and Hai Phong, gain access to clean water and safe and sustainable sanitation. Source: World Vision Vietnam
With a total budget of USD 37,500, this activity belongs to the project on water, sanitation and adequate hygiene (WASH) support to the vulnerable children and communities, funded by the Korea Gas Company.
The practical source of clean water provided within the project will support 1,404 people in three target communes Hai Hung, Hai Truong, and Hai Phong reduce their worries about diseases and improve their quality of life.
Specifically, the support for clean water includes: upgrading the water system for Hoi Dien Village and Hung Nhon Hamlet (Hai Phong Commune); building toilets and washbasins for the cultural house in Tra Loc Village (Hai Hung Commune); installing a drainage system for Tra Loc Village (Hai Hung Commune); installing water dispensers for households with vulnerable children and registered children in Hai Truong Commune; and carrying out a periodic inspection to ensure the quality of the water systems built or upgraded in the project communes.
Before that, the lives of people in the project areas, especially in geographically isolated areas such as Hoi
Dien and Hung Nhon Hamlets (Hai Phong Commune) had faced many difficulties due to low-quality water resources.
In the dry and rainy seasons, people could not use water from dug wells or drilled wells due to the high alum contamination of the water. In addition, the raw filtered river water system that had existed for 20 years, which had been used for showering and washing purposes, had also deteriorated heavily.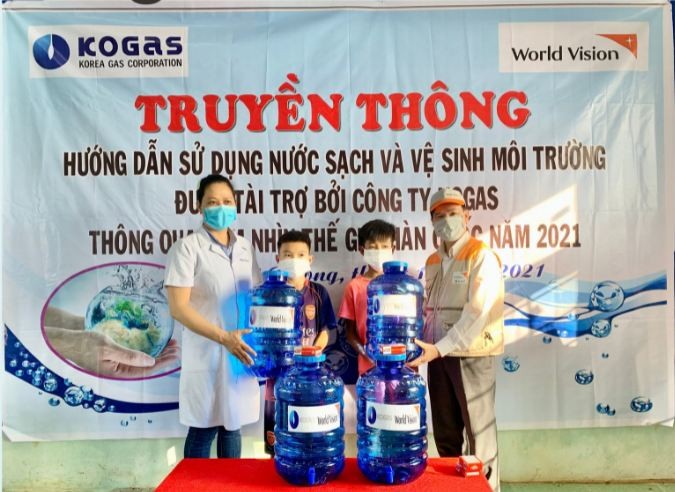 World Vision Vietnam communicates the importance of clean water to locals and students.
To ensure that the new clean water system goes smoothly and effectively, World Vision Vietnam has also actively worked out various training and communication sessions to people.
In addition, the role of community members has also been identified and agreed upon, which to enhance the community's responsibility in maintaining and demonstrating the proper operation of the water system, thereby significantly improving people's quality of life.
Vietnam is one of the countries experiencing severe consequences of climate change; pollution and water scarcity are more alarming than ever.
About 20% of the population does not have access to clean water (about 17.2 million people are using domestic water from drilled wells, which have not been tested or treated). On average, about 9,000 people die each year because of poor water and sanitation conditions.
Difficulties from the lack of clean water have been piling up since the start of the Covid-19 pandemic. In particular, the lack of clean water for daily use has made it challenging to adhere to basic safety measures to prevent the virus spread, including frequently washing hands with clean water, keeping the living environment clean airy, and eating well-cooked and hygienic food .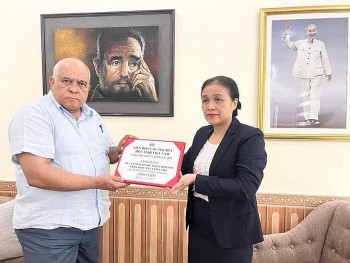 Focus
According to Cuba's News Agency Prensa Latina, on August 16, President of Vietnam Union of Friendship Organizations Nguyen Phuong Nga said that Vietnamese people will always stand by and support Cuba no matter what difficulties our friend is facing.