Colorful Night of Vietnamese Heritage Held in Paris
Night of Vietnamese heritage in French capital Paris brings international friends many emotions when enjoying unique art performances, imbued with the colors of Vietnamese folk culture.
The Ministry of Culture, Sports and Tourism, in collaboration with Vietnam's permanent delegation to UNESCO in France, organized an art performance program at the Vietnamese Cultural Centre in Paris on November 17, VNA reported.
Themed Dem Di san Viet Nam (Night of Vietnamese Heritage), the event offered a chance for delegates to enjoy a unique art program performed by artists of the Viet Bac folk art troupe.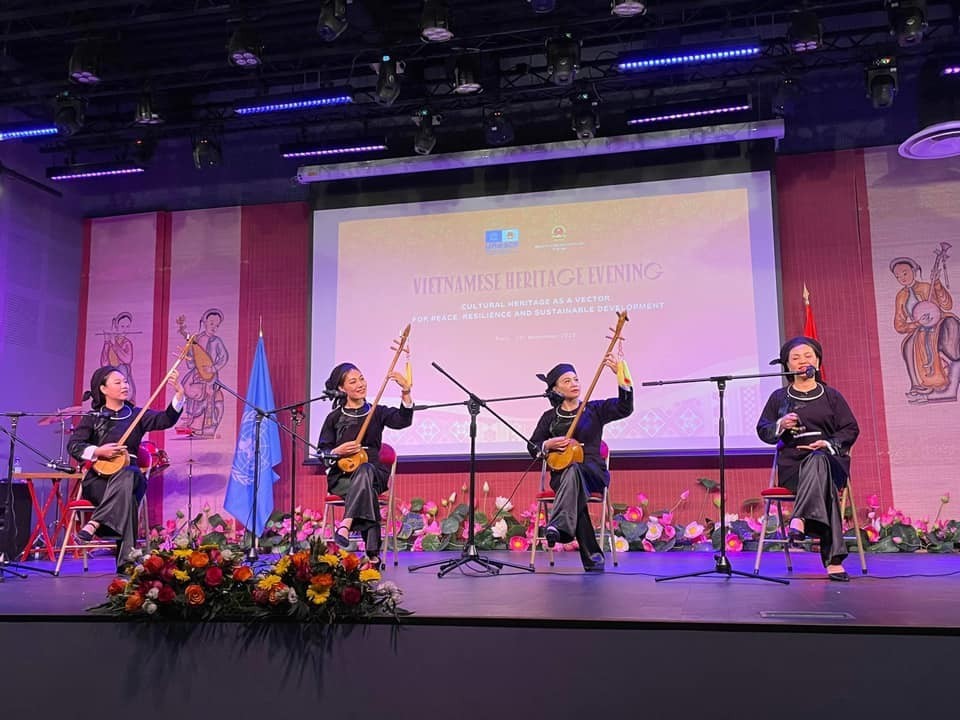 An art performance at the Night of Vietnamese Heritage was held in Paris. Source: Nguyen Sy Hung/FB
In her speech, Ambassador Le Thi Hong Van, head of Vietnam's delegation to UNESCO, said promoting the cultural values and strengths of the Vietnamese people is the key to realizing the aspiration to build a prosperous country.
She took the occasion to thank the valuable support and effective cooperation of UNESCO in preserving and promoting heritage, affirming that Vietnam is committed to working closely with UNESCO and its member countries to ensure that cultural heritage is not only living heritage, a source of diversity and creativity, but also a motivation for peace, resilience, and sustainable development, and inspiration for the future.
Minister of Culture, Sports and Tourism Nguyen Van Hung said Vietnam considers culture to be both a goal and a driving force for development, and culture is placed on par with economics, politics, and society.
According to the minister, with more than 35 pieces of heritage of various types recognized by UNESCO, and cities joining the UNESCO Creative Cities Network, Vietnam is proud of its diverse and rich culture imbued with national identity.
Vietnam is ready to exchange and share experience and expertise with countries around the world to boost the conservation of the value of the world heritage system, Hung stressed.
As an active and responsible member of UNESCO and a candidate for a seat in the World Heritage Committee in the 2023-2027 tenure, Vietnam wishes to spread the message and calls on countries around the world to join hands in further pushing the preservation work of world heritage on a global scale, he went on.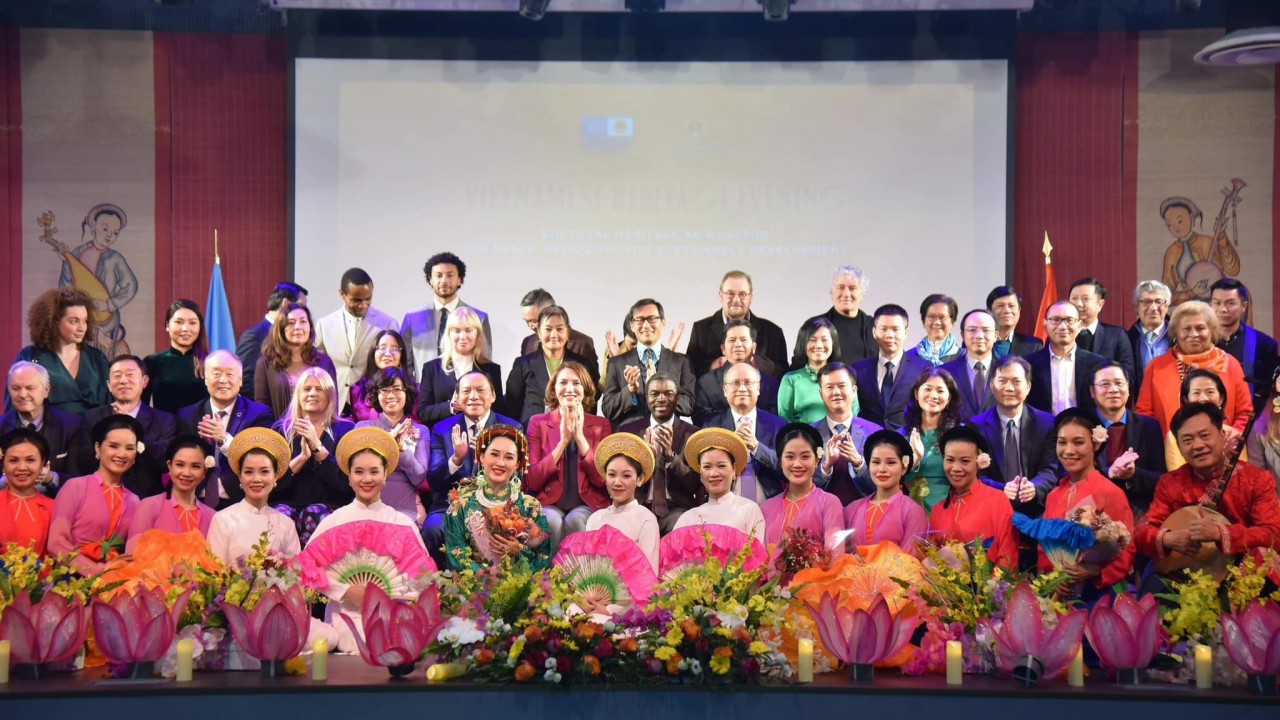 "Night of Vietnamese Heritage" brings many unique art performances, impressing international friends. Source: Nguyen Sy Hung/FB
Tamara Rastovac Siamashvili, chairperson of the Executive Board of UNESCO, expressed her interest in participating in the "Vietnamese Cultural Night" event.
She said that the program showed the bright colors, diversity, and richness of Vietnam's cultural traditions and history. The program is also a testament to the models that UNESCO aims for, which are diversity, richness, and tolerance.
Appreciating Vietnam's positivity in UNESCO's activities, she said that Vietnam's activities contribute to promoting the country's cultural diversity, true to the spirit of tolerance and unity, true to its current position, and contribute to promoting culture.
Vietnam considers culture a driving force of socio-economic development, placing culture on par with economy and politics, Minister of Culture, Sports and Tourism Nguyen Van Hung said on November 16 when meeting with UNESCO General Director Audrey Azoulay in Paris.
The Vietnamese minister said that in its action programs, Vietnam always designs a progressive cultural policy framework that meets citizens' rights to enjoy and participate in cultural life.
Hung called on UNESCO and its General Director to support Vietnam in developing a draft law on cultural heritage – a move to complete the legal framework for cultural heritage in the country.
Based on the results of the UNESCO pilot project on cultural index serving the implementation of the United Nations 2030 Agenda for sustainable development at the national level and in Thua Thien-Hue province, the Ministry of Culture, Sports and Tourism has developed the National Cultural Index, which helps comprehensively assess the contribution of culture to the sustainable development of the country. The ministry thanked UNESCO for supporting it in developing and implementing the National Cultural Index.
He also hoped that UNESCO would pay attention to receiving Vietnamese officials to work at UNESCO's specialized agencies. Thereby contributing to improving the qualifications and capacity of Vietnam's professional staff, affirming Vietnam's contribution to UNESCO.