'Hai Phong - French Heritage' Exhibition Launched
On November 15, People's Committee of Hai Phong City coordinated with the French Embassy in Vietnam to organize the launching ceremony of the "Hai Phong - French Heritage" exhibition themed "Architectural heritage today, prosperity for tomorrow."
This exhibition is to celebrate the 50th anniversary of the establishment of diplomatic relations and 10 years of upgrading to strategic partnership between Vietnam and France.
At the opening ceremony, Vice Chairman of the City People's Committee Nguyen Duc Tho said that Hai Phong is the city with a history of development of more than a century with many ups and downs since its establishment in 1888. It is acknowledged that Hai Phong still has many works bearing the early tectonic impressions of French architecture.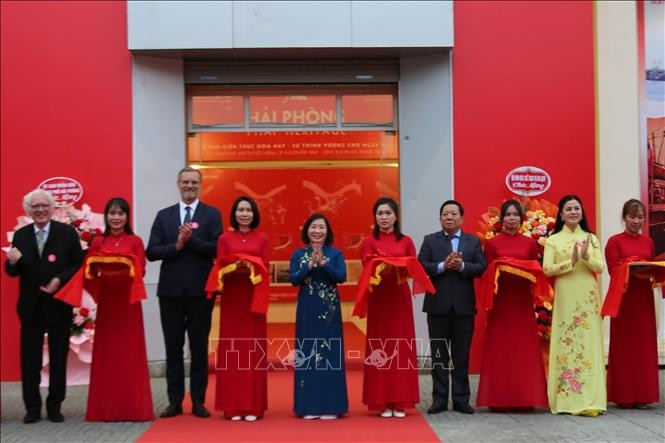 Vice Chairman of People's Committee of Hai Phong City Nguyen Duc Tho and Olivier Brochet, French Ambassador to Vietnam, and other delegates in the opening ceremony. (Photo: VNA)
A very important highlight of the city is the central urban area, where many typical architectural works converge, showing the value in terms of architecture, culture, and art, demonstrating the harmony of rich and diverse cultures. Up to now, the architectural works in the city's central urban area still remain intact, preserved, and promoted in use value, proving their lasting vitality over time.
The above-said cultural and architectural heritages are valuable assets, constituting the living environment of the "Portland" people, and contributing to the unique and unmistakable appearance of Hai Phong. That is also a potential, strength, basis, and resource for Hai Phong to develop economically and socially, especially in cultural tourism.
Over more than 100 years, these works are still in use and have become valuable cultural and highly aesthetic heritage, contributing to creating an urban appearance of Hai Phong that is both ancient and modern. This is considered a typical symbol of the interference of French and Vietnamese cultures in Hai Phong.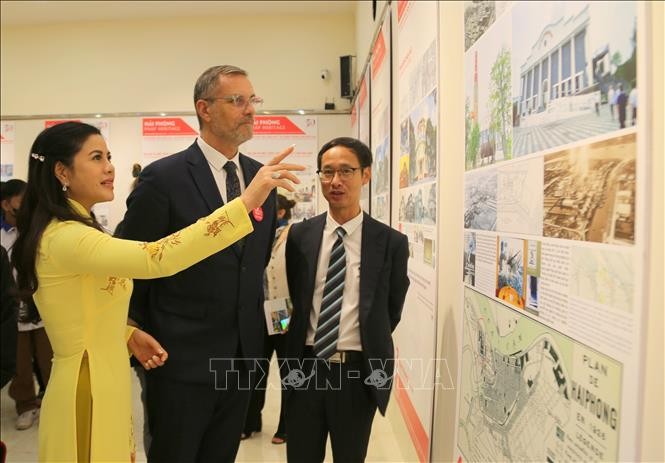 Tran Thi Hoang Mai, Director of Hai Phong Department of Culture and Sports introduced to the French Ambassador to Vietnam some typical French architecture works in Hai Phong. (Photo: VNA)
On July 13, 2021, the city issued Decision No. 1981 on the establishment of a Council to determine the list of houses and architectural works with artistic, architectural, cultural, and historical value that need to be preserved, restored and protected, creating a favorable legal basis for preserving and promoting the value of architecture works, most of which are in central urban areas along with many other meaningful activities to protect heritage.
Thierry Van De Wyngaert, former President of the French Academy of Architecture and president of the French-Vietnamese Academy of Architecture, said that documents exhibited this time provide a more complete view of standard architectural works designed and built by French architects in the late 19th and early 20th centuries in Hai Phong. He hopes that the documents and images in this exhibition will continue to be displayed in Hanoi, Ho Chi Minh City, and then in Paris.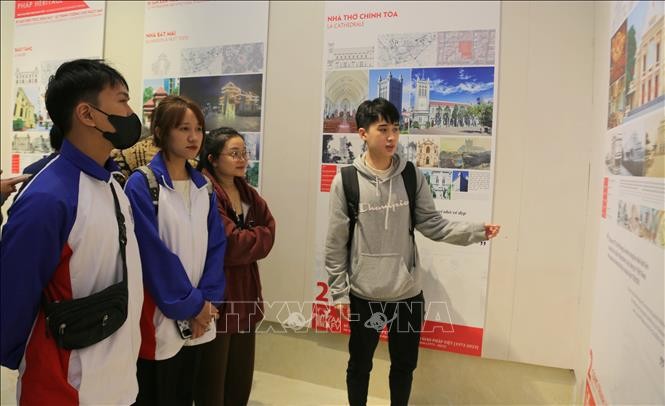 Students of Hai Phong University show their interest in the images displayed at the exhibition. (Photo: VNA)
The exhibition displays 684 maps, excerpts, and images of architecture with typical value in Hai Phong city; expansion and development of the city and planning until 2030, vision to 2050; and images of the city's outstanding achievements in recent years.
The exhibition takes place from November 15 - 21.