Vietnam – Brazil
Communication and Diplomatic Mechanism Need to be Exploited for Cooperation
That suggestion was made by Brazilian Ambassador to Vietnam Fernando Apparicio da Silva in an interview with VietnamTimes about recommendations for Vietnamese and Brazilian states, enterprises, and people to promote bilateral cooperative and friendly relations on the 200th anniversary of Brazilian independence.
"I would recommend to entrepreneurs and businessmen to continue exploring new frontiers and possibilities in trade and investments. I would recommend to governments facilitate new opportunities in bilateral relations. I would recommend the people of Brazil to expand and develop the range of mutual knowledge, taking advantage of the highly positive image that Brazilians and Vietnamese have of each other," said the ambassador.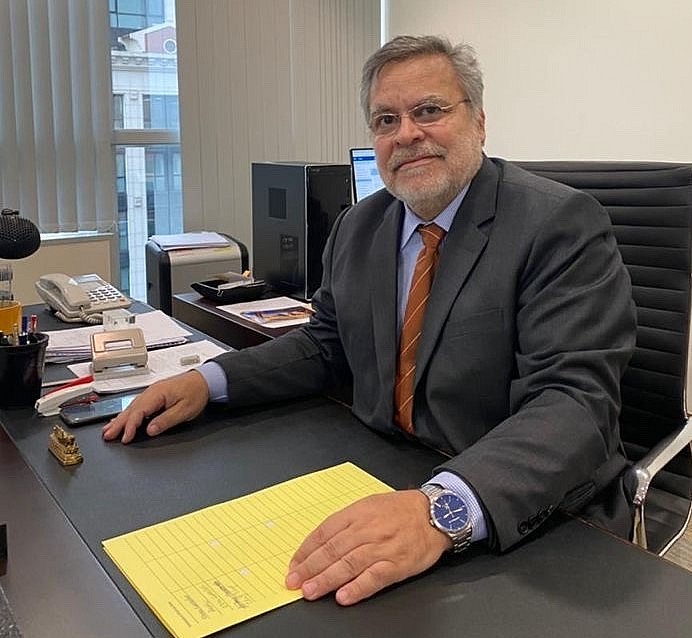 Brazilian Ambassador to Vietnam Fernando Apparicio da Silva. (Photo: Embassy of Brazil to Vietnam)
What is the meaning of the 200th anniversary of Brazilian independence to the Brazilian people? Can you tell us the main events in the founding of the country?
The independence of Brazil was unique. Brazil was a colony of Portugal for three hundred years. At the beginning of the 19th century, Europe was at war. On the eve of the invasion of Portugal by foreign troops, Dom Joao, then Prince Regent, moved the Court to Brazil, the richest part of the Portuguese Empire. The war ended but Dom Joao remained in Brazil. Only in 1820, he returned to Portugal.
In the following year, a parliament in Lisbon started taking arbitrary measures against the interests of Brazil. A climate of growing animosity came about, which soon precipitated the proclamation of independence on September 7, 1822, by the King's son, Dom Pedro, who had remained in Brazil as Prince Regent.
The independence came through the hands of the heir of the Portuguese crown. Brazil became independent as a monarchy in a sea of neighboring republics. As was stated later, Brazil emerged as an exotic plant in America.
Is it correct to say that the independence of Brazil was a peaceful political process in which wars were absent?
Not exactly. Once proclaimed independence in 1822, some provinces remained loyal to Portugal. The unity was imposed by means of wars – the so-called 'wars of independence", which lasted two years. For thirty years until 1845, there were separatist rebellions in some provinces, which were also defeated by means of wars. In the end, the huge territory of Brazil, which was constituted during colonial times, did not split into several different countries. This is another aspect of the uniqueness of the independence of Brazil.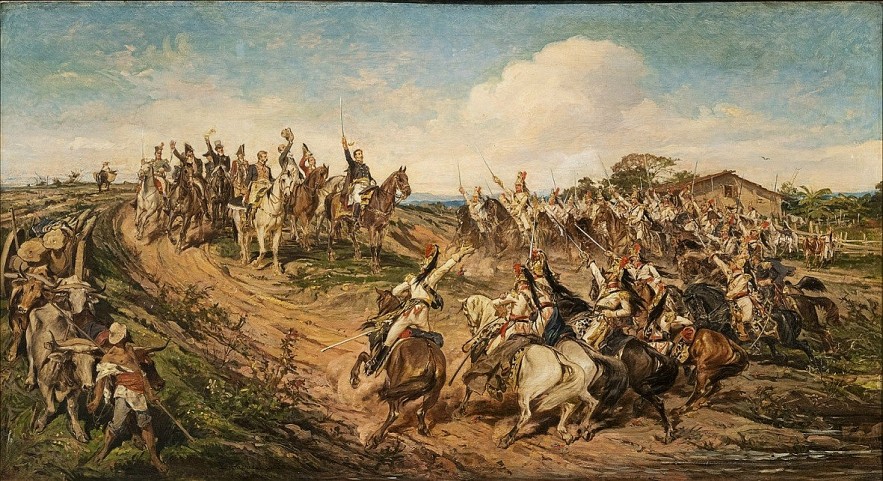 Declaration of Brazil's independence by Prince Pedro, regent on September 7, 1822. (Photo: Embassy of Brazil to Vietnam)
Vietnamese people want to learn more about the country and the people of Brazil. Can you share the most fundamental mental development achievements of Brazil and the typical cultural values of the country?
In 1822, Brazil was the land of no more than five million people. We are 215 million Brazilians today. A fundamental cultural development is a linguistic unity, which is an element of national identity. Also, Brazil became the land of multi-ethnic and multi-religious people. Brazil has developed its economy in many areas. Brazil is among the few countries that developed technology to build airplanes. Brazil developed a highly sophisticated agro-industrial and energy complex.
But there are areas lagging behind in development and the social disparities among Brazilians are great. In its singularity, Brazil is a complex country, not easy to understand. If it is true that Brazil is huge in size, population, and economy, huge are the challenges it has to face. And huge must be the political will to tackle them.
In your opinion, what are the important factors that are potential for developing relations and cooperation between people and business of the two countries? What are the key plans of the two sides to promote these potentials?
Brazil and Vietnam have been wisely developing the potential of cooperation in multilateral organizations, such as the United Nations. The fact of being Global South countries sharing similar views on global issues and the commitment to foster economic growth and development for the benefit of all peoples and countries renders multilateral cooperation fluid and easy.
Also, Brazil is engaged in strengthening relations with ASEAN, which may become a key platform for exploring new potentials in the relations with its member countries. The eventual negotiation of a free trade agreement between MERCOSUR and Vietnam will open new frontiers in bilateral trade and investments.
What do you think about the country and people of Vietnam? What impressed you the most? Can you share an unforgettable memory of Vietnam?
I would have difficulty selecting one among the many unforgettable memories that I will keep about Vietnam. When friends in Brazil ask me about Vietnam, I always say that Vietnam is beautiful in nature and has a historical heritage of great value.
The Vietnamese are a world-admired people. They fought bravely for the independence and national sovereignty of their country, but their victories have not turned them into arrogant people. The Vietnamese are a simple people, elegant in their simplicity. They are not conflicting in their daily lives and are kind to their kids and elder. The Vietnamese are open-minded to other cultures and friendly and welcoming to foreigners.
I feel at home in Vietnam. I will leave Vietnam in some months from now, but Vietnam will never leave me.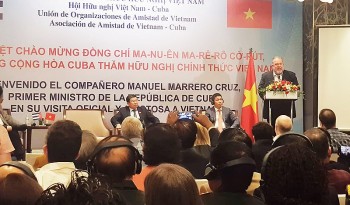 Friendship
Cuban Prime Minister Manuel Marrero Cruz met representatives from the Vietnam-Cuba Friendship Association in Hanoi on September 30, as part of his visit to Vietnam from September 28 to October 2.