Conditions for Granting Registration Certificates to Foreign NGOs
The decree on the registration and management of foreign non-governmental organizations (NGOs) in Vietnam, will take effect on November 1, 2022.
The Government has issued Decree No 58/2022/ND-CP on the registration and management of foreign non-governmental organizations (NGOs) in Vietnam, VNA reported Thursday.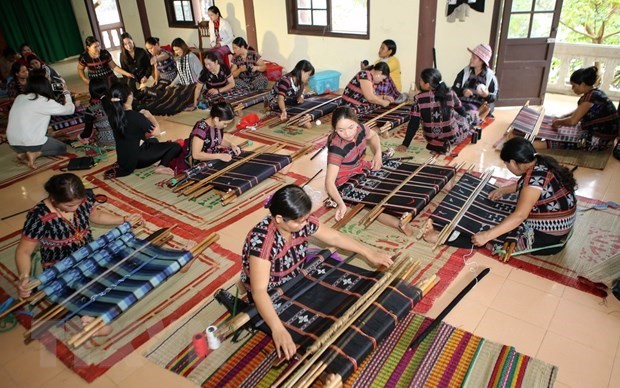 Ethnic minority women in brocade weaving training course sponsored by USAID. Photo: VNA
Accordingly, foreign NGOs will be granted registration certificates if they have a valid legal entity status in the countries or territories they were founded; have clear statutes, principles, and goals that match Vietnam's interests and needs; provide details about their planned programs, projects, and non-project activities to assist development and humanitarian aid in Vietnam in three years; and propose their representatives in the country.
They can submit dossiers applying for registration certificates directly, by post, or online to the Committee for Foreign NGO Affairs (COMINGO).
After receiving applications, the committee will examine the dossiers. If the dossiers are eligible, it will collect opinions from relevant ministries, agencies, as well as administrations of the localities where the foreign NGOs plan to work in, and then send the applications and opinions to the Ministry of Foreign Affairs for assessment.
Within 10 working days after the reception of foreign NGOs' applications and relevant agencies' opinions, the Foreign Ministry will make an assessment, decide whether or not to grant registration certificates, and announce the results to the Committee for Foreign NGO Affairs.
Within 30 working days since the reception of eligible dossiers, the committee will send registration certificates directly or by post to foreign NGOs. If applications are rejected, it will send written announcements with reasons included to the organizations.
The decree will take effect on November 1 this year.
The Committee for Foreign Non-Governmental Organization Affairs (COMINGO) on March 23 held an online conference to review the implementation of its tasks in 2021 and discuss its orientations in 2022. Photo: VNA
The disbursement of foreign non-governmental aid to Vietnam in 2021 hit nearly USD 233 million, an increase of over 5% year on year. Of the total, the value of goods, cash, and technical assistance for Vietnam's fight against Covid-19 totaled more than USD 10.6 million.
The disbursement ratio of foreign non-governmental aid reached more than 73% of the total value committed in the year, over 2% higher than that of 2020.
The activities of international NGOs in Vietnam and their administration by the Government of Vietnam are managed by Government Decree No. 12/2012/ND-CP, which came into effect on 1 June 2012. Decree No. 12 replaces Prime Minister's Decision No. 340/QD-TTg of May 1996.
The COMINGO brings together key Vietnamese government ministries and other bodies to assist the Prime Minister in guiding and addressing issues relating to foreign NGOs. COMINGO was established on 24 April 2001 under Decision 59/2001/QQ-TTg of the Prime Minister.
COMINGO works to propose guidelines and policies related to foreign NGOs in Vietnam, and coordinate with relevant agencies to provide guidance, monitoring, and oversight for the implementation of laws and policies relating to the operations of foreign NGOs.
At the same time, COMINGO also works to take the lead in the appraisal, via its member agencies, of foreign NGOs in order to forward documentation to the Foreign Ministry for the purpose of granting, extension, supplement, amendment, and revocation of the Certificates of Revocation of foreign NGOs in Vietnam.
Furthermore, COMINGO carries out tasks related to foreign NGOs in Vietnam as assigned by the Prime Minister and makes periodic reports to the Prime Minister on the operations of foreign NGOs in Vietnam.
The Vietnam Union of Friendship Organizations (VUFO) is the standing agency of the Committee for Foreign NGO Affairs (COMINGO). VUFO is a nationwide socio-political organization whose main function is to establish and promote friendly and cooperative people-to-people relations between Vietnam and other countries. Under Decree 12/2012/ND-CP, VUFO is responsible for the communication and promotion of foreign non-governmental assistance.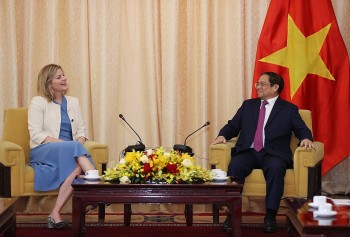 National
The Netherlands committed to cooperate with Vietnam, and together find innovative and sustainable solutions to accelerate green economy transformation.