Continue to Promote Training Activities to Implement the Eco-Industrial Park Project in Vietnam
Recently, the Eco-Industrial Park Project Management Board in Vietnam, the Ministry of Planning and Investment in collaboration with the Vietnam Cleaner Production Center held an online capacity development workshop on. "Resource efficiency, Cleaner production and Industrial symbiosis".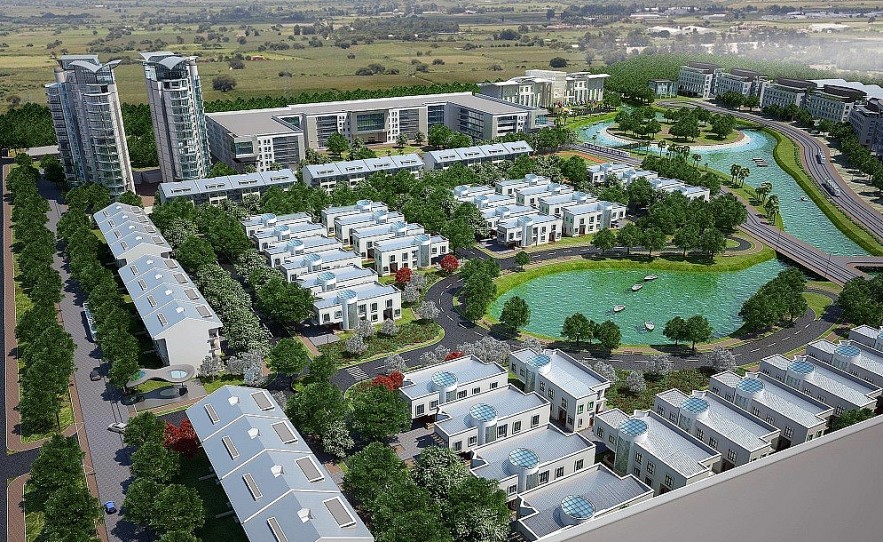 Illustration.
The project "Eco-industrial parks intervention in Vietnam - Perspective from the Global Eco-Industrial Park Programme" by the Ministry of Planning and Investment in collaboration with the United Nations Industrial Development Organization (UNIDO) from the funding of the Swiss Federal Economic Agency (SECO) is promoting the implementation of activities to support the Industrial Parks (IPs) participating in the Project to identify and implement opportunities for eco-industrial park (EIP) with the aim of bringing environmental and economic benefits to businesses through a series of training activities to strengthen practical capacity in resource efficiency and cleaner production (RECP) and industrial symbiosis.
In order to disseminate information to relevant local departments and agencies, IP infrastructure development company and businesses in Amata IP (Dong Nai) about the project's program of activities and support mechanisms, On January 13 and 14, 2022, the Project Management Unit of the Ministry of Planning and Investment coordinated with the Vietnam Cleaner Production Center (VNCPC) to organize the "Capacity development Workshop on Resource efficiency and Cleaner production and Industrial symbiosis".
Mr. Le Thanh Quan – Project Director
Speaking at the opening of the workshop, Mr. Le Thanh Quan, Director of the Department of Economic Zones Management, Ministry of Planning and Investment, Project Director said: Vietnam is gradually transforming its development model, including IPs in a more sustainable direction, in line with the National Strategy on Green Growth, Vietnam's commitment to the implementation of the Sustainable Development Goals (SDGs) of the United Nations in 2030, the Paris Agreement on climate change and, most recently, the Prime Minister's commitment at the Conference of the Parties (COP 26) in Glasgow (UK) on the goal of achieving net "zero" emissions by 2050." He also emphasized the development of the EIP model: "The EIP model can play a positive role with the national sustainable development strategy only when it is replicated across the country, with different support in policy, technology, finance, information and close connection mechanism among stakeholders".
At the workshop, experts from UNIDO and Vietnam had shared a lot of knowledge and experience to evaluate the EIP according to the international framework, manage the EIP and provide services for businesses in the EIP; key concepts, methods and tools in identifying and implementing RECP; Key concepts, methods and tools related to industrial symbiosis detection and implementation.
Thereby, the stakeholders also exchanged wishes and proposals from the Management Board of Dong Nai IPs, Amata Bien Hoa Urban Joint Stock Company and enterprises in the IP.
On that basis, the project develops an action plan and next steps to support businesses and stakeholders in Amata IP - Dong Nai.
Representing about Resource efficiency and Cleaner production methods, Mr. Dinh Manh Thang, VNCPC expert said: "Every industry at any size and sector can increase production efficiency by systematic methods. Increasing resource efficiency at businesses provides significant social and economic benefits, not simply environmental benefits. Building and managing database for production and consumption of raw materials, energy, water and substances in a continuous and systematic way will be an important and decisive basis for the successful execution of RECP. This is an important strategy to help businesses achieve their green growth goals and progress to sustainable development".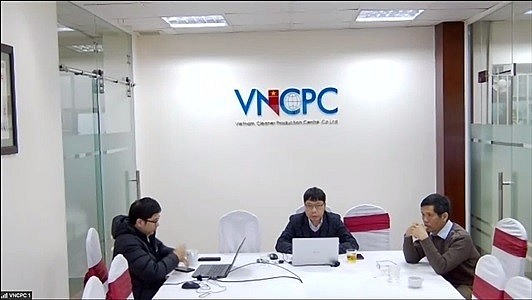 Mr. Dinh Manh Thang (on the right) – VNCPC's RECP expert
Mr. Thang affirmed that RECP is an inevitable global trend in the context of resource depletion due to overexploitation and inefficient use. He cited that the world industrial and manufacturing productivity in 2000 increased 50 times compared to 1900; global energy consumption in 2030 will increase by 44% compared to 2006; Humans are using about 40 to 50% of clean groundwater, the level of water use has doubled compared to 40 years ago. Meanwhile, it is we who create environmental pollution because 90% of resources become waste immediately after being exploited, 80% of products are discarded after one use, greenhouse effect causes global warming… It is also the cause of challenges for the industry as resources are exhausted, while costs are increasing, customers and markets are turning to environmentally friendly and efficient products.
According to experts from VNCPC, for industrial enterprises, RECP is the continuous application of an integrated preventive environmental strategy to production processes, products and services to increase efficiency and reduce risks to humans and the environment. Therefore, RECP helps to improve production efficiency through efficient use of natural resources in enterprises; improve environmental conservation through minimizing impact on nature; while enhancing human development by reducing hazards to humans and the community.
The workshop also helped stakeholders better understand the concept, approach, and implementation of Industrial Symbiosis through very specific examples. Experts say that this is an approach that brings together companies from all business sectors with the aim of improving the efficiency of resource use across industries through commercial business. These are links about: materials; energy, water and other resources; sharing resources and materials; logistics, services; and expertise aimed at maximizing resource conservation and reducing emissions through sustainable management of waste and by-products across industries/companies. As a result, this symbiosis helps to form supply chains that are economically, environmentally and socially viable.
Experts have clearly analyzed 5 forms of industrial symbiosis, including:
• Utility symbiosis and share infrastructure: Use of shared infrastructure and utilities, mainly in the water and energy sectors (e.g, water sharing and energy co-production).
• Supply symbiosis and co-location of suppliers and customers: Co-location or clustering of companies by supply and value chains (e.g, manufacturers, suppliers, etc.) raw materials, components, production, business customers).
• Byproduct symbiosis and waste exchange: One company uses products that (formerly) another company disposed of (solid, liquid or gaseous waste), put into the production process to make valuable products
• Service symbiosis: Sharing of services and activities between companies and within the IP (e.g, training employees together or using the same maintenance contractor)
• Urban-industry symbiosis: A partnership between businesses and cities/urbans in the collection, treatment and reuse of materials, waste, energy and water.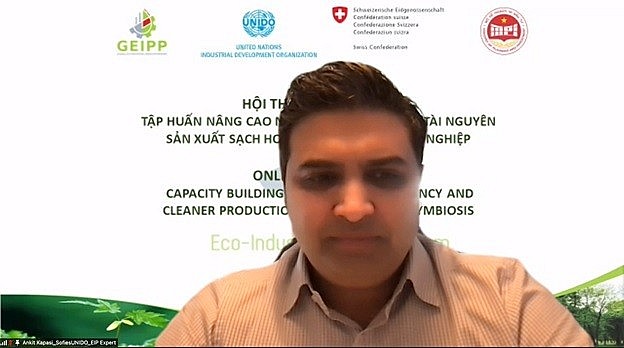 Mr. Ankit Kapasi – Sofies expert
In this regard, Mr. Ankit Kapasi, Sofies expert analyzed: "Industrial symbiosis is simply an association between industrial facilities or companies in which the waste or by-products of one unit become raw materials for another. Thus it contributes to cost savings and reduced resource usage by working together to maximize the output that can be generated, thereby providing economic and environmental benefits. First of all, industrial symbiosis helps increase profits and competitiveness, creating opportunities for companies at the present time – both private and public. It then provides significant benefits to the environment by reducing the need for materials and waste. With the challenge of saving and protecting the environment, industrial symbiosis can become the solution for Vietnam towards sustainable development".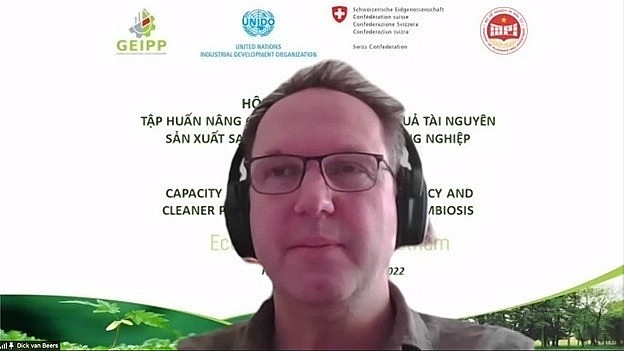 Mr. Dick van Beers – An expert on EIPs from UNIDO
Along with the above information, Mr. Dick van Beers – Eco-Industrial Park expert from UNIDO described industrial symbiosis as the cooperation between a number of different facilities, often geographically close to each other, which are companies and factories located close to each other in clusters or industrial zones that exchange resources (e.g. materials, energy, water and by-products) that can be used as substitutes for products or raw materials that would otherwise be imported from elsewhere or treated as waste.
Mr. Dick also cited examples of industrial symbiosis in some EIPs around the world. For example, Kalundborg IP (Denmark) after applying industrial symbiosis, has reduced energy use, reduced CO2 emissions by up to about 250,000 tons/year, reduced water use by 30% and reduced all other wastes to be treated. Or like NISP IP (UK), in 7 years, they have saved costs of 1.3 billion pounds, additional sales increased by 1.3 billion pounds, and at the same time reduced up to 39 million tons of CO2.