Industrial parks: Vietnam to do more to attracts big investors
Vietnam industrial parks have positive development in the first five months of 2021, but the country needs to do more to attract more big investors, according to experts.
According to CBRE, the industrial realty sector tended to increase just before the pandemic as Vietnam was said to be a promising destination for the wave of production relocation from China, with interest from many large corporations, according to VOV.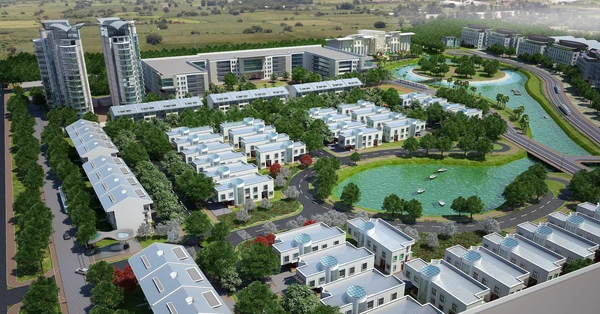 Photo: AD Consulting
The research firm said industrial real estate would be the "backbone" for any developing manufacturing economy, and Vietnam was no exception.
Seeing the potential, many localities promoted the establishment and investment of infrastructure for industrial parks in the area. According to the latest report of the Ministry of Planning and Investment (MPI), as of May 2021, the country has 394 industrial parks established with a total natural land area of 121,900 ha. Of which, 286 industrial parks are in operation with an occupancy rate of 71.8%, creating 3.78 million direct jobs in the country.
The report said by the end of 2020, there were 369 industrial parks established nationwide and in the first five months of 2021, 25 new industrial parks were established. According to a representative of the MPI, the number of IPs set up was impressive, as in the first six months of 2020, Vietnam established six new industrial parks.
As the flow of investment in the world was shifting to other parts including Vietnam, IP developers and leaders of the localities understood they can promote the attraction of investment with their IPs.
Le Thanh Van, a member of the Finance and Budget Committee of the National Assembly, said: "The IP model of Vietnam is outdated compared to the level of development of the world and the region."
Van said: "Vietnam is deeply involved in value chains and the scale of IPs with some hundreds of hectares or 1,000-1,500 ha is no longer suitable. The current model of IPs is a perfect supply chain with much bigger spaces. Some countries have IPs of about 20,000-30,000 ha each."
"As Vietnam does not have an industrial park of 1,000 ha and a new model, it would be difficult for us to call for a wave of investment," adding: "We must create an attractive space with a new model in the planning of IPs," she said.
The latest report by Colliers Vietnam for the first quarter said co-industrial parks are a suitable model for sustainable development and are gradually being promoted by many businesses and manufacturers in the world.
Colliers Vietnam said the model of eco-IPs will play an important role in the sustainable development strategy in general, helping to reduce resource exploitation, limit the impact on the environment while still not affecting the performance of businesses. In addition, the environment contribution will also make a positive contribution to the efforts to combat climate change in Vietnam and globally.
Industrial park developers promote sustainability to attract "eagles"
Vietnam has witnessed a growth in the arrival of global high-tech brands like Pegatron, Universal Scientific Industrial, Foxconn.
This shows investors are increasingly becoming vocal about their interest in partnering with companies that take sustainability seriously.
It is these industry leaders who are driving a movement as they look for a partner that matches their same sustainable outlook and goals.
As a result, local businesses in Vietnam, and industrial park developers in particular, are transforming their business model as well as adapting to international standards to attract these "eagles". Although it can be tricky for industrial parks to balance profitability, concern for environment, and social commitments, there are still multiple ways they can do to stay sustainable.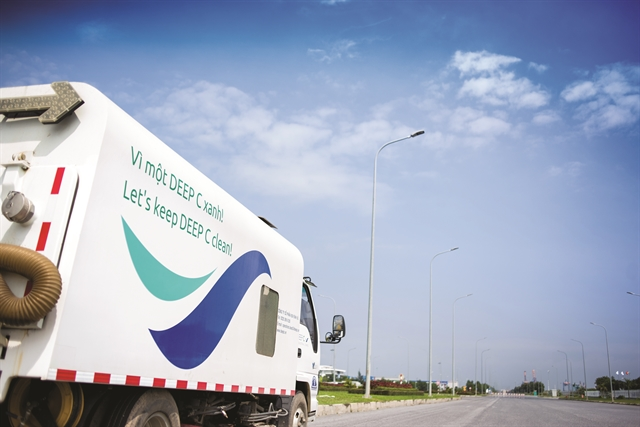 Photo courtesy of DEEP C Group
In 2020, the "Eco-industrial Park Intervention in Vietnam – Perspective from the Global Eco-Industrial Parks Programme" project was launched in HCM City by the Ministry of Planning and Investment (MPI) and the United Nations Industrial Development Organisation (UNIDO). At the workshop, five industrial parks across the country were chosen to implement eco-industrial park initiatives. The project will be carried out in a period of three years with an aim to establish a more sustainable industrial park model and pave the way to the replication of this model across Việt Nam in the future.
One of the five pilot industrial parks is DEEP C Hai Phong I (also known as Dinh Vu Industrial Zone), the first footprint of DEEP C group in Vietnam. The industrial park cluster has gained a reputation as the only European-managed industrial park in Việt Nam, with compatible European quality in all business aspects, from general infrastructures, utilities supply to park operations. Located in Hai Phong City and Quang Ninh Province, DEEP C Industrial Zones is the northern representative of the project.
Long before the recent selection, DEEP C implemented their environmental sustainability strategy on four pillars: power, water, waste, and green zone. The main goal is taking the complexity out of investing in Việt Nam while achieving common sustainability goals with investors. Overall, the strategy is to drive economic growth in a sustainable manner for DEEP C, investors and local community.