Covid-19: Residents in Hanoi Asked Not to Travel Outside
Residents in Hanoi have been asked not to travel outside the city during social distancing as part of efforts to curb the spread of Covid-19.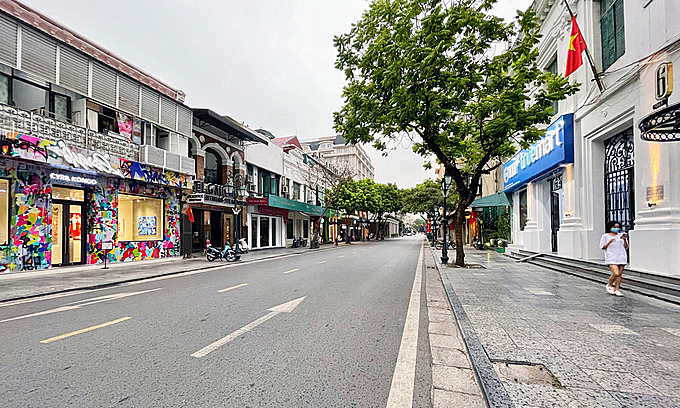 Hanoi's Trang Tien Street deserted after Covid-19 prevention measures were tightened July 18, 2021. Photo: VnExpress
The municipal People's Committee made the order in a newly drafted document, given the detection of Covid-19 clusters originating from people returning to Hanoi from pandemic-hit regions.
The committee requested all localities to assess high-risk areas, especially hospitals, industrial parks and clusters, populous residential areas and concentrated quarantine establishments.
The localities would decide more stringent measures during the period of social distancing, the committee said, ordering timely policies to support employees and employers affected by the pandemic.
Central and local agencies and socio-political organisations, as well as diplomatic corps and international organisations in the city should seriously observe the social distancing regulations, the document said.
Regarding vaccinations, the committee asked localities and agencies to ensure transparency and equality in the work.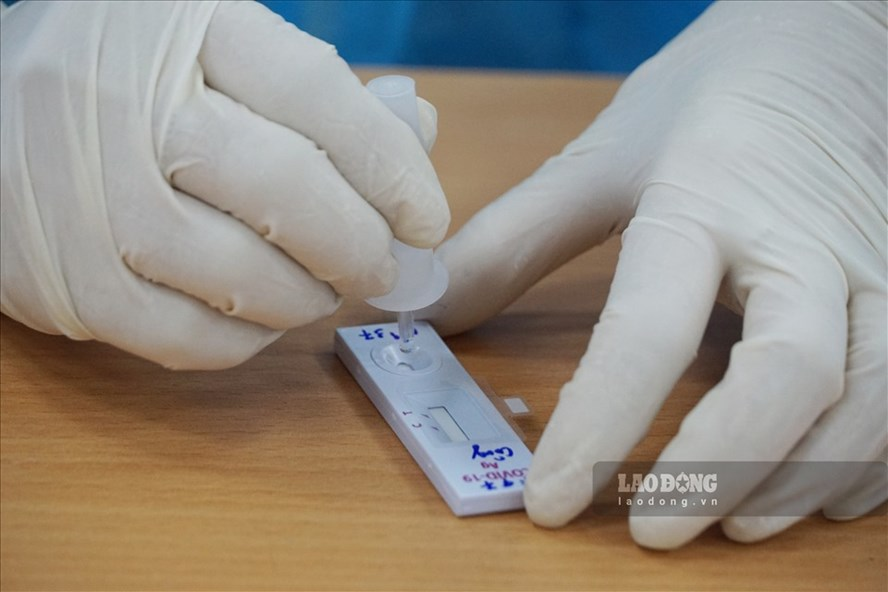 Covid-19 testing in Hanoi. Photo: Lao dong (Labour) newspaper
Hanoi has imposed 15-day social distancing since July 24 under Directive 16, which comprises the country's most stringent social distancing regulations, requiring residents to stay at home and only go out for basic necessities such as buying food or medicines or to work at factories or businesses that are allowed to open.
People must keep a distance of at least two meters. No more than two people can gather at public places apart from workplaces, schools or hospitals. Daily online medical declaration is required and if anyone has potential symptoms like fever and cough, they must inform local authorities of their condition immediately.
This is the second time that Hanoi is imposing the stringent social distancing order, the first being in April 2020, which lasted for nearly a month.
Sealing off pandemic-hit areas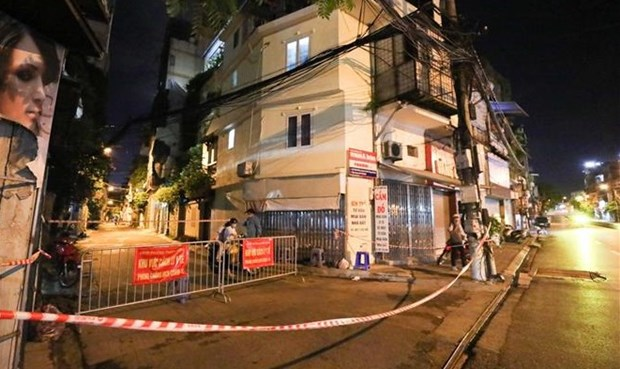 Alley 651 (82/651), Minh Khai street, Thanh Luong ward, Hai Ba Trung district, where the food company is located, under a temporary lockdown. Photo: VNA
On August 2 morning, the Hanoi Department of Health reported an additional 45 Covid-19 cases in the past 12 hours to 6am, 38 of whom were found in the community.
Of the latest cases, 20 were related to Thanh Nga Supply Food Company Limited in Thanh Luong ward, Hai Ba Trung district.
All positive cases have been under treatment, with the number of F1 cases amounting to 17, and 750 others with links to the epidemic spot had samples taken for Covid-19 testing.
The People's Committee of Thanh Luong ward on August 1 sealed off the alley where the company is located, and surrounding locations.
The Ministry of Health reported 3,201 new infections of Covid-19, including three imported cases, from 6:30 pm on August 1 to 6am on August 2, bringing the national count to 157,507.
Ho Chi Minh City, the country's biggest epidemic hotspot, logged 1,997 new cases, followed by Binh Duong (496), Dong Nai (189), Can Tho (119), Tien Giang (79), Da Nang (76) and Vinh Long (50)./.