COVID-19 spreads in Middle East as Kuwait, Bahrain announce first cases
Two more Middle East coutries confirmed on Monday (Feb 24) their first COVID-19 cases, the countries' health ministries announced.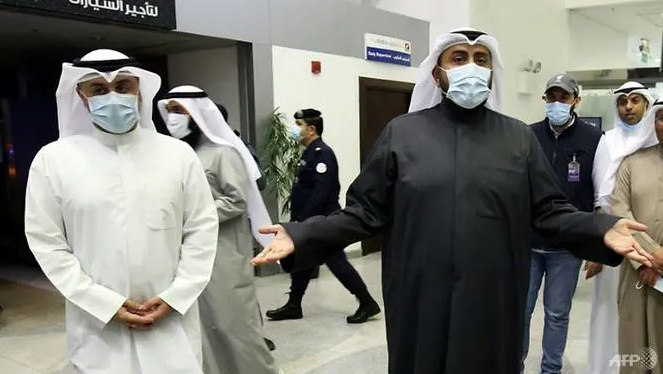 Kuwaiti health minister Sheikh Basel al-Sabah (R) speaks to the press at Sheikh Saad Airport on Sunday, as Kuwaitis returning from Iran wait before being taken to hospital to be tested for coronavirus (Photo: AFP/YASSER AL-ZAYYAT)
Kuwait reported three infections and Bahrain one in citizens who had returned home from the Islamic Republic.
The three cases in Kuwait were among the 700 people evacuated from the northeastern Iranian city of Mashhad last week, state news agency KUNA reported.
Iraq has shut its Safwan border crossing with Kuwait to travellers and trade at Kuwait's request, the local mayor told Reuters on Monday.
Turkey, Iraq, Pakistan and Afghanistan have extended entry bans or closed their borders with Iran in a bid to prevent the spread of COVID-19.
Iraq extended on Saturday an entry ban for any non-Iraqis coming from Iran, which has so far said it had confirmed 43 cases and eight deaths, the highest death toll from the new coronavirus outside of China where it originated.
All highways and railways were closed as of 5pm local time and flights from Iran suspended, while flights from Turkey to Iran are still allowed.
Afghanistan authorities on Sunday too suspended air and ground travel to Iran, where millions of Afghan refugees live, as fears across the region grow over a jump in new coronavirus infections.
"To prevent the spread of the novel #coronavirus and protect the public, Afghanistan suspends all passenger movement (air and ground) to and from Iran," the office of the National Security Council of Afghanistan said in a statement on Twitter.
Jordan said on Sunday it will bar entry to citizens of China, Iran and South Korea and other foreigners travelling from those countries in response to the deadly coronavirus outbreak.
The minister of state for media affairs, Amjad Adayleh, said the ban would be "temporary" and imposed on all non-Jordanians coming from the three nations among the worst affected by the illness.
"Jordanians who come from those countries will be placed in quarantine for two weeks to ensure they have not contracted the coronavirus," he said.
Jordan has so far not reported any cases of coronavirus./.