Photo: VNA
One new COVID-19 case reported
One new case of COVID-19 was detected in the past 24 hours to 6 pm December 26, which was a person illegally entering the country in Vinh Long who was immediately put into quarantine, according to the National Steering Committee for COVID-19 Prevention and Control.
The 1,440th patient was a 32-year-old Vietnamese citizen who returned to his home in the southern province through an illegal border crossing on December 24. Right after he arrived home, his family reported to the local police so as to have him put into quarantine and tested. His sample turned out positive on December 26. All F1 and F2 people of the case have been traced and quarantined in line with regulations.
A total of 17,107 people who had close contact with COVID-19 patients or returned from pandemic-hit areas are being quarantined nationwide.
Photo: MOH
First three volunteers receive 50mcg dose of vaccine
Three first volunteers received the first shot of a dose of 50mcg of Nanocovax COVID-19 vaccine on December 26 morning. The participants will be under medical monitoring for six months from the day they were given the first injection.
Developed by the Nanogen Pharmaceutical Biotechnology JSC and the Vietnam Military Medical University, Nanocovax is Vietnam's first COVID-19 candidate vaccine to reach the human trial stage.
A total of 60 volunteers, aged 18-50, were selected for the first phase of the clinical trials. They are divided into three groups for receiving three doses of 25 mcg, 50 mcg, and 75 mcg, respectively. The vaccination consists of two injections 28 days apart. The first group testing the 25 mcg dose received the first injections on December 17.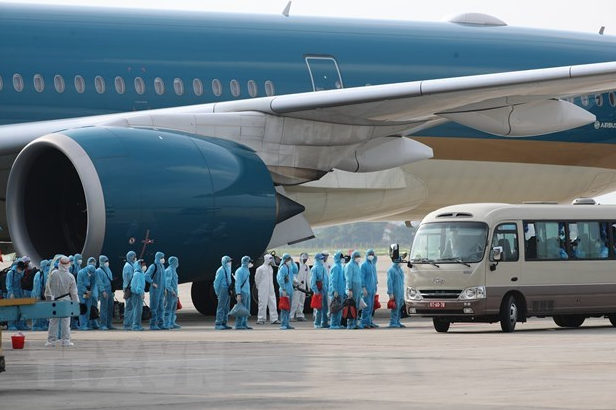 Photo: VNA
Over 340 Vietnamese citizens brought home from Russia
More than 340 Vietnamese citizens in Russia were flown back to Vietnam on a flight of Vietnam Airlines at the arrangement of Vietnamese and Russian agencies on December 24-25. Passengers on the flight included under-18 children, the elderly, the sick, pregnant women, workers with expired visas or labor contracts, and students who finished their studies but without accommodation.
To ensure health for the citizens and prevent the spread of COVID-19, strict security, safety, and epidemiological measures were applied during the flight. After landing at Cam Ranh airport in the central province of Khanh Hoa, all crew members and passengers on the flight were given health checks and sent to quarantine in accordance with regulations.
Valerie Mai