Covid Relief in Response to Covid-19 in Ho Chi Minh City
Ho Chi Minh city continues to receive assistances to combat Covid and support vulnerable groups.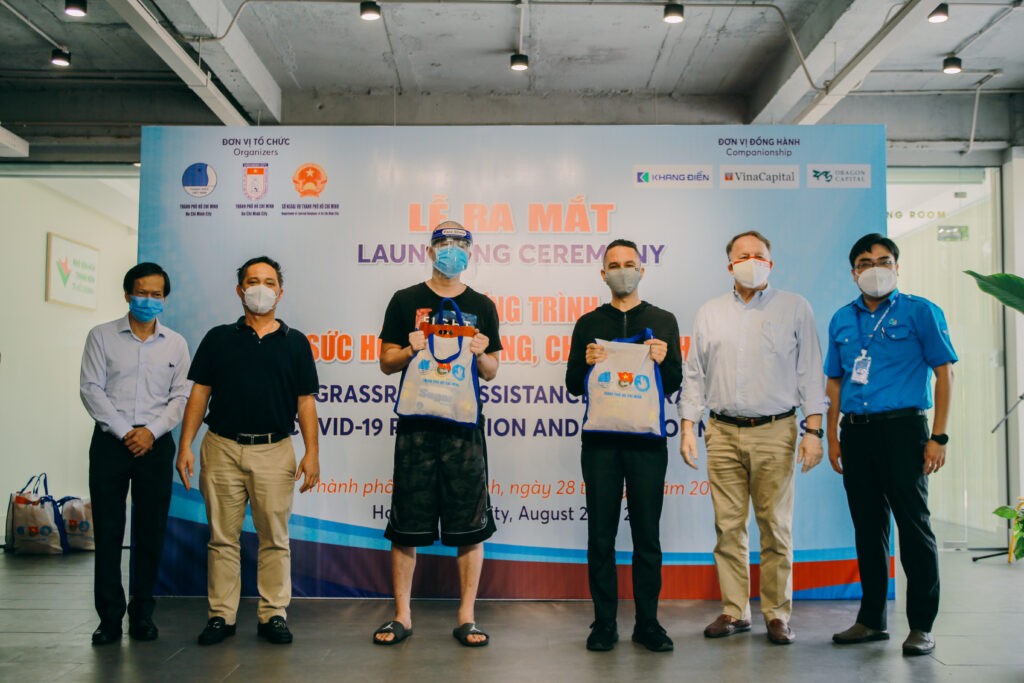 Supporting distressed foreigners in the city that are held up in Vietnam because of the Covid-19 pandemic related issues.
Ho Chi Minh City is receiving more and more support from philanthropists and enterprises nationwide amid the battle against Covid-19.
The Vietnam Youth Federation of Ho Chi Minh City, Ho Chi Minh City Union of Friendship Organizations (HUFO), and city's Department of External Relations, with the companionship of the Dragon Capital Vietfund Management, Khang Dien House Trading and Investment JSC, and VinaCapital Foundation, launched the "Grassroots Assistance Program", and signed the agreement to implement the program from now to Sept.15, 2021, reported SagionBiz.
Accordingly, the program will focus on supporting Vietnamese people affected by the Covid-19 pandemic; affected foreigners who are settling, working, studying, travelling or being stuck in the city; and providing medical supplies, meals, and necessities to frontline workers at quarantine sites, field hospitals, and Covid treatment hospitals.
In immediate response to this meaningful campaign, VinaCapital Foundation handed over VND 1 billion (USD 44.000) to Youth Union of HCM City to provide essential assistance to frontline workers, struggling foreigners, people who have lost their jobs and those with unstable and low-income employment due to the pandemic in the city from now to Sept. 15.
This local grassroots assistance activity compliments VinaCapital Foundation's current ongoing capacity building commitment to provide over USD 1 million in medical ventilators and PPE to local hospitals in HCM City and surrounding provinces.
HCM City's People's Committee also received medical supplies and vehicles worth VND 161 billion (USD 7 million) donated by the Truong Hai Automobile JSC (THACO).
The donation comprises 500,000 rapid Covid-19 test kits, 30 specialised ambulances, 25 mobile vaccination trucks, VNA detailed.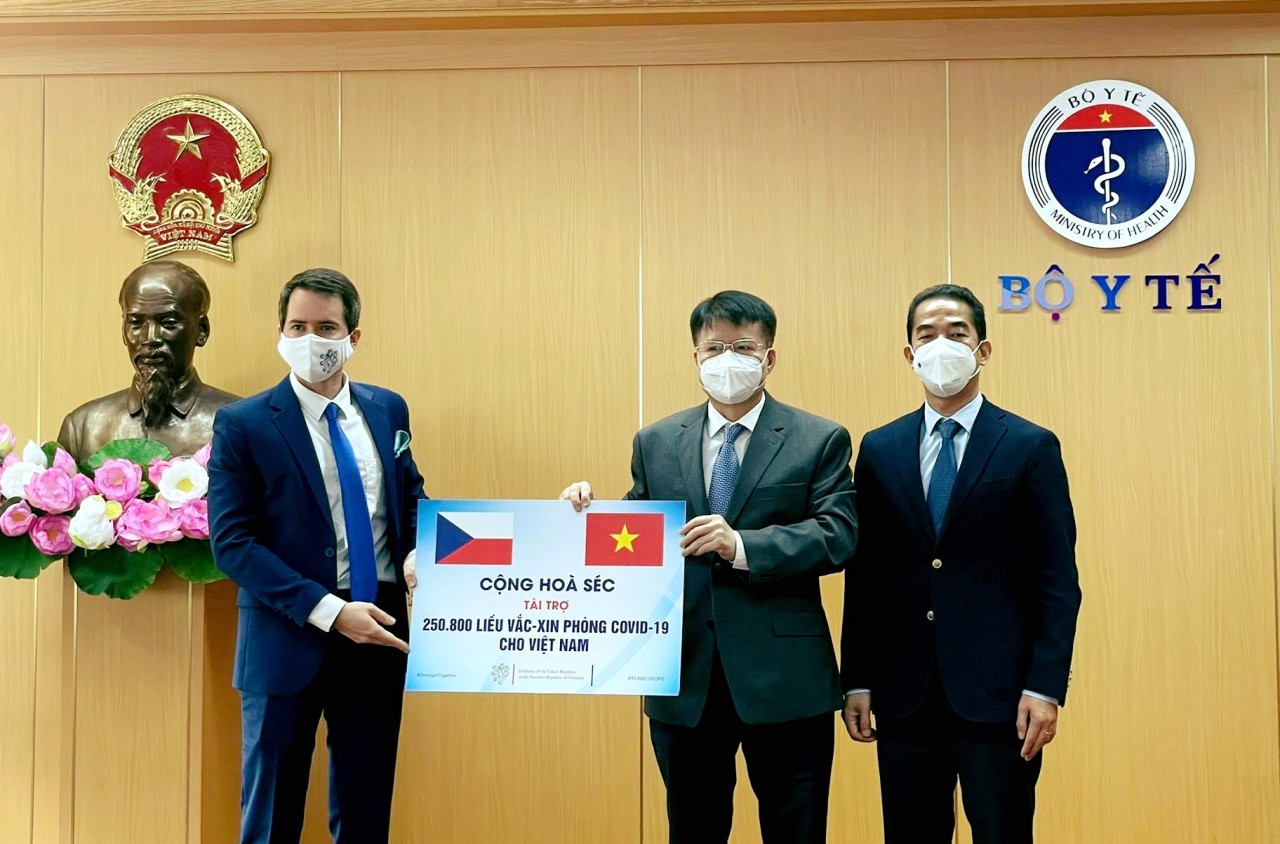 At the vaccine handover ceremony in Hanoi. Photo: Czech Embassy
The Health Ministry on Aug. 30 held a ceremony to receive 250,800 doses of AstraZeneca and Moderna Covid-19 vaccines granted for Vietnam by the Czech Republic Government.
Earlier, the Australian Consulate in HCM City on behalf of the Australian Government handed over 403,000 doses of AstraZeneca vaccine to Vietnam on Aug. 27.
The delivery of these doses is the first installment towards Australia's commitment of 1.5 million AstraZeneca doses to be shared with Vietnam this year.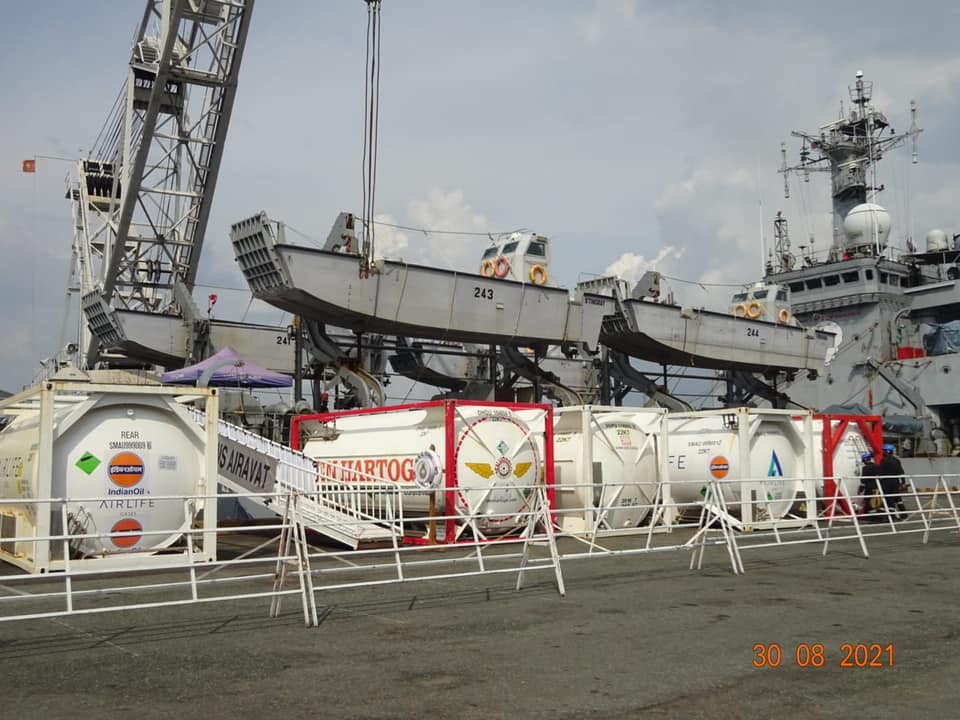 The Indian ship disembarks 100 Metric Tons of Liquid Medical Oxygen in 5 ISO Containers and 300 Oxygen Concentrators of 10 LPM capacity each. Source: Indian Embassy
On the same day, the Indian Navy Ship INS AIRAVAT arrived at HCM City, bringing 100 metric tons of Liquid Medical Oxygen and 300 oxygen concentrators as a friendly contribution from the people and Government of India to the people and Government of Vietnam in the ongoing fight against the Covid-19 pandemic.
As of Aug. 26, 19 southern localities had been allocated with more than 12.3 million doses, of which about 10.5 million doses had been administered, including more than 9.9 million first jabs.
HCM City alone had vaccinated more than 5.78 million doses (81.6%), including nearly 5.6 million first injections.
The city has been the largest hotspot in the country, with over 200,000 cases reported so far. Since Jan. 1, 2021, 104,844 Covid patients have recovered while 8,624 have died of the disease.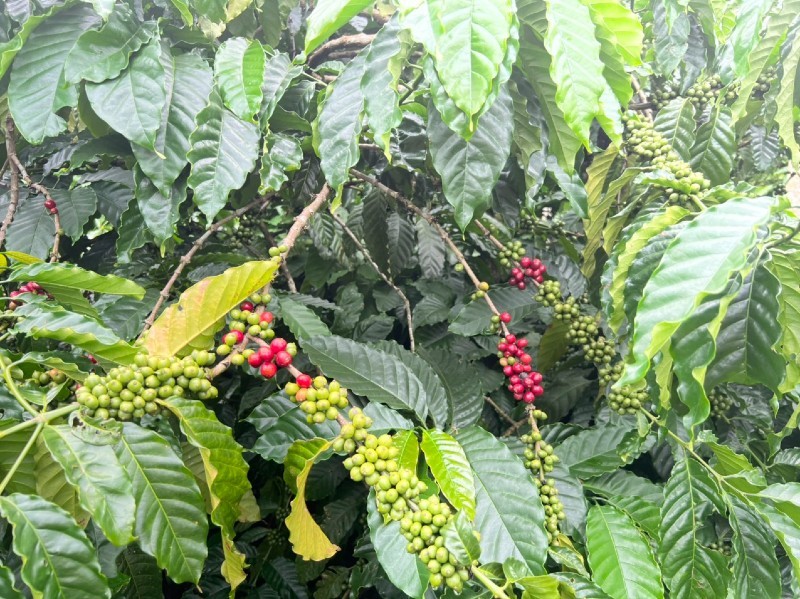 Economy
Reduced output causes coffee prices to continuously increase from the beginning of the season, possibly even the highest in the world in 2024.
December 08, 2023 | 10:50