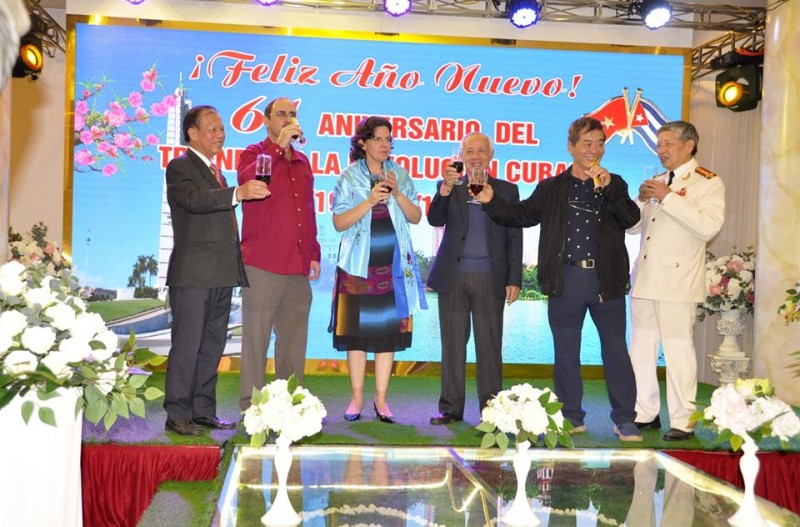 Delegates make toast celebrating Cuba's 61st Liberation Day and New Year. Photo: Pham Quang Thang
The representatives of Vietnam – Cuba Friendship Association hailed the achievements that the Cuban people have obtained over the 61 years of defending and constructing the socialist Cuba – the symbol of the revolutionary heroism in the western hemisphere.
They re-affirmed the Vietnamese people's consistent unity with the glorious and righteous revolutionary cause of the Cuban people, voicing their belief that the Cuban State, Government and people will continue to attain more successes in the national construction and defence.
Cuban Ambassador to Vietnam Lianys Torres Rivera stressed that the success of the Cuban Revolution on January 1, 1959, which put an end to the Batista dictatorial regime and the 500 years of the colonial rule in Cuba, was one of the most influential political events in Latin America in the 20th century.
To Cuba, this victory was the result of the struggle for national liberation launched in the 19th century that fought against firstly the Spanish colonialists and then the US-backed administration.
She added that the Party, State and people of Cuba always treasure the support provided by the Party, State and people of Vietnam during Cuba's past revolutionary war and the national development at present.
Regarding the Vietnam-Cuba relations, the ambassador said the two countries should lift their economic and trade ties on par with the sound political connections./.
VNF