Cultural antiques exhibition underway in HCMC
Artifacts from 15th to 20th century on display at Museum of History until March 31.
Artifacts from 15th to 20th century on display at Museum of History until March 31.
An artifact from the 19th century at the exhibition (Photo: Saigondautu.com.vn)
Some 130 artifacts from the 15th to 20th century are on display at the Ho Chi Minh City Museum of History.
In coordination with the Ho Chi Minh City Antiques Association, the Net Cu Dau Xua (Marks of History) exhibition is being held at the museum at 2 Nguyen Binh Khiem Street, Ben Nghe Ward, District 1.
The introduction of antiques to the public reflects the enthusiasm of members of the association in preserving and promoting the cultural heritage of the Vietnamese ancestors.
The artifacts were selected from collections of 27 collectors, while a number have been collected by the museum over the years.
They are pided by topic, including weapons, seals, the structure of Vietnamese administrative organizations through feudal periods, enamel bronze products, and Lai Thieu pottery. Various administrative and royal documents from the Nguyen Dynasty (1802-1945) are also on display.
Cay Mai pottery on display at the exhibition. (Photo: Saigondautu.com.vn)
The exhibition's highlight is a collection of Cay Mai pottery, which is characteristic of wet rice cultivation. The collection is composed of Cay Mai ceramics, a famous ceramic genre in the south created by artisans in Ho Chi Minh City at the end of the 19th century and the beginning of the 20th century.
Cay Mai ceramics are dedicated to Buddhism, with statues of dragons, phoenixes and kylins, as well as glazed ceramic vases in varying colors, including green, white and brown. The statues and vases were used in pagodas and temples.
The museum has also launched three exhibitions rooms to modernize its displays on the history of Vietnam. The rooms were designed based on scientific and technological achievements, graphic design, and cataloging techniques.
The exhibition runs until March 31, 2019./.
VNF/VnEconomicTimes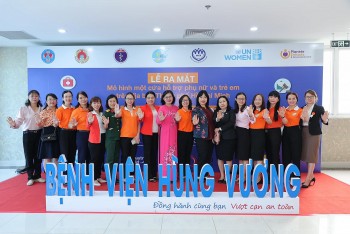 Viet's Home
What is the one-stop centre for women and children experiencing violence?