Da Nang Looks to Expand Cooperation with Belgium
Da Nang and some Belgian localities should promote connectivity, establishing friendly and cooperative relations, said the Belgian Ambassador.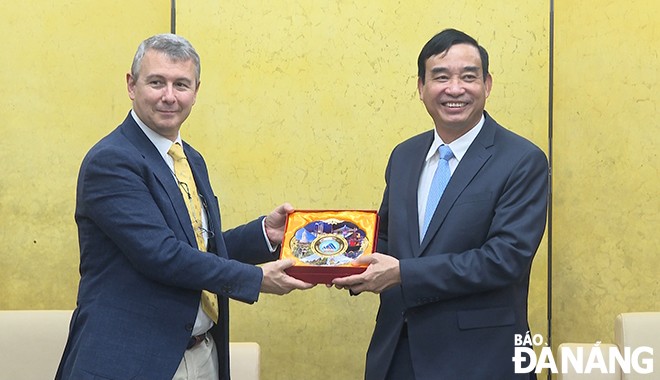 Da Nang People's Committee Chairman Le Trung Chinh (right) presents a souvenir to Ambassador of Belgium to Vietnam Karl Van Den Bossche. Photo: T.Phuong/Da Nang newspaper
"Promote connectivity and establish friendly and cooperative relations between Da Nang and some Belgian localities." This is the proposal of Ambassador of Belgium to Vietnam Karl Van Den Bossche on the occasion of his working visit to the central city of Da Nang on the afternoon of March 1.
At the meeting with the municipal People's Committee Chairman Le Trung Chinh, Ambassador Karl Van Den Bossche assessed that he sees a lot of potential for cooperation in Da Nang with its geographical location, convenient transportation in the central region. "Da Nang has a seaport, logistics, and a clear future development vision. These are important factors that help attract foreign investment," he said.
Chinh briefed his guest on the city's socio-economic situation and development orientations, stressing Da Nang has been focusing on developing such key aspects as tourism, seaports, aviation associated with logistics services, high-tech industry associated with creative urban construction, start-ups, information technology industry, electronics, and telecommunications associated with the digital economy.
The official said the city is committed to creating favourable conditions, simplifying administrative procedures, and providing support for foreigners and international businesses that are living and working in the city, expressing his hope that the Belgian diplomat to act as a bridge to appeal for more potential Belgian investors to invest in Da Nang.
For his part, Ambassador Karl Van Den Bossche thanked the city leader for his warm and respectful welcome. He also expressed his impression on the city's modern infrastructure and dynamic development.
The guest informed that many Belgian businesses were looking for investment opportunities in Da Nang, especially when the city has great potential for seaport development, human resources and improved infrastructure.
The diplomat affirmed that he will do his utmost to promote the development of the friendship and cooperation relations with Da Nang.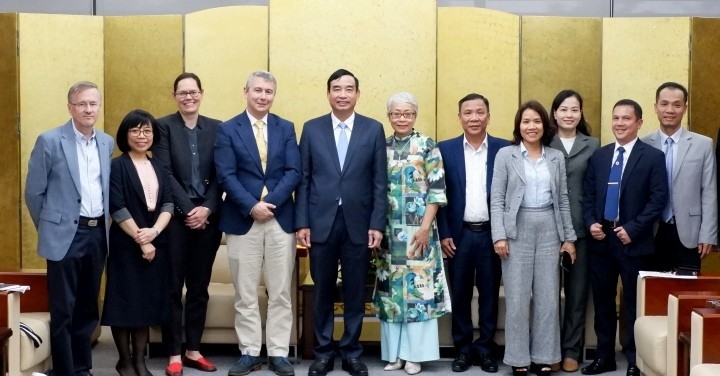 Delegates at the meeting. Source: danang.gov.vn
Da Nang ranked third in terms of economic growth and 17th in economic scale nationwide in 2022, VNA reported.
The city's GDRP rose by 14.05% year-on-year, and 6.34% compared to 2019. The locality's economic size totaled VND 125.2 trillion (over USD 5.29 billion), increasing over VND 17.38 trillion compared to 2021.
The service area holds the key position in the city's economy with an estimated yearly growth of 17.85%, contributing 13.31 percentage points to the increase in the total value added.
Da Nang strongly promoted diplomatic activities and international cooperation in 2022 after two years of the Covid-19 pandemic. It now has cooperative ties with 49 provinces and cities of 22 countries.