Da Nang Named In The Top Of The World's Best Beaches In The World
According to NZ Herald News, Da Nang beach is an ideal place to sunbathe during summer vacation.
The NZ Herald News list includes 7 locations. In addition to Da Nang beach, in Asia, there is also Fulong beach (Taiwan, China). This place attracts tourists with its clear blue water, and many fun activities such as surfing, kayaking, and other activities.
Writer Sara Bunny shared: "Da Nang is a bustling coastal city with a stretch of fine white sand winding on the coast. This is the right place for tourists who like to sunbathe".
Sara is most impressed with My Khe beach and Bac My An beach by the pristine scenery with clear water, fine white sand, and golden sunshine. This place also attracts many interesting tourist services and attractive sea foods.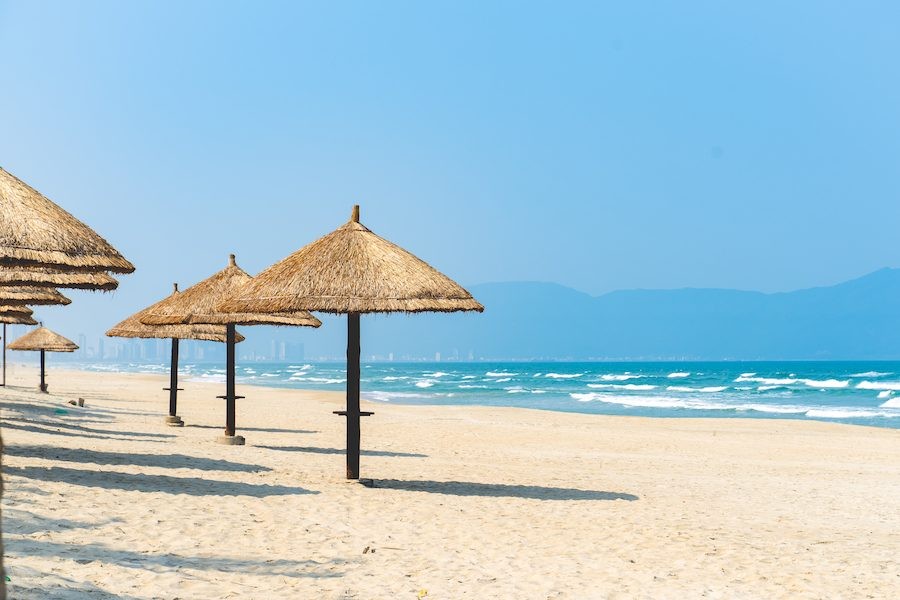 Photo: Vietnam Is Awesome
Dragon Bridge is a place not to be missed when coming to Da Nang. Visitors coming here can not only admire the beautiful scenery of the Han River but also enjoy the spectacular fireworks display.
The remaining ideal destinations include Praia da Joatinga (Brazil), Glass beach (Califonia, USA), Blavand beach (Denmark), Parnu (Estonia), and Rugen (Germany).
This is not the first time Da Nang has been honored. Previously, this city has owned many international awards and reached the top of many rankings for top tourist destinations. In 2019, Forbes (USA) added Da Nang to the list of "The most beautiful and affordable city for foreigners" 2019. The Guardian (UK) also ranked Golden Bridge (Da Nang) in the top 5 most impressive pedestrian bridges in the world with strange and unique designs in 2018.
Da Nang beaches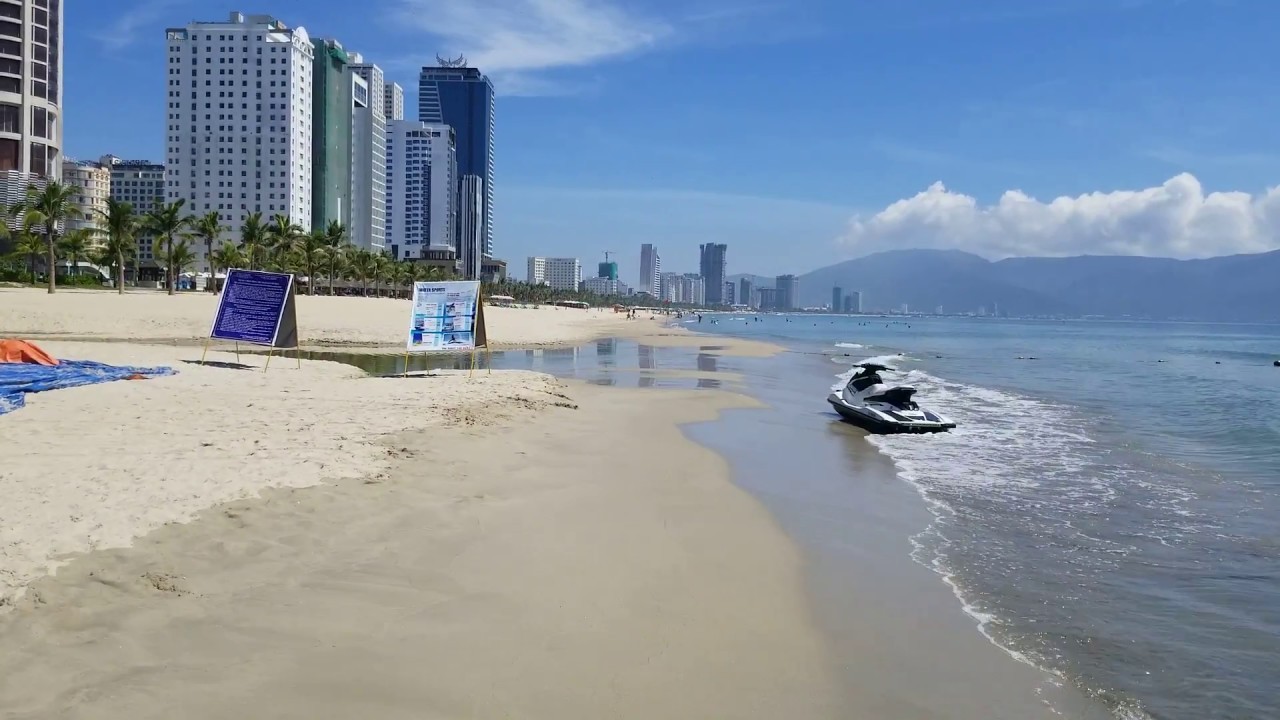 Photo: LTTLE WORLD CHANNEL
Arguably known as one of the best coastal cities in Vietnam, Danang is home to a lot of stunning beaches. Most of them have a large sandy stretch of soft sand and clear water where you can enjoy the sunlight of summer.
The most popular choices for visitors coming to Danang are Non Nuoc beach and My Khe beach because they are located near the city center. That means they can get busy during holidays and weekends, but there are many other beaches to choose from.
The best time to travel to Danang is during the dry season, from March to September. In these months, the weather is hot and humid, with temperatures hitting around 30 degrees C. The peak season is from June to August with a large number of public holidays.
The rainy season, which starts from October to March, is when you should not travel to Danang. During this time, there is a lot of rain, sometimes typhoons, thunderstorms, and even floods.
From January to March, the weather is more favorable, with the average temperature between 20 and 28 degrees Celsius.
My Khe beach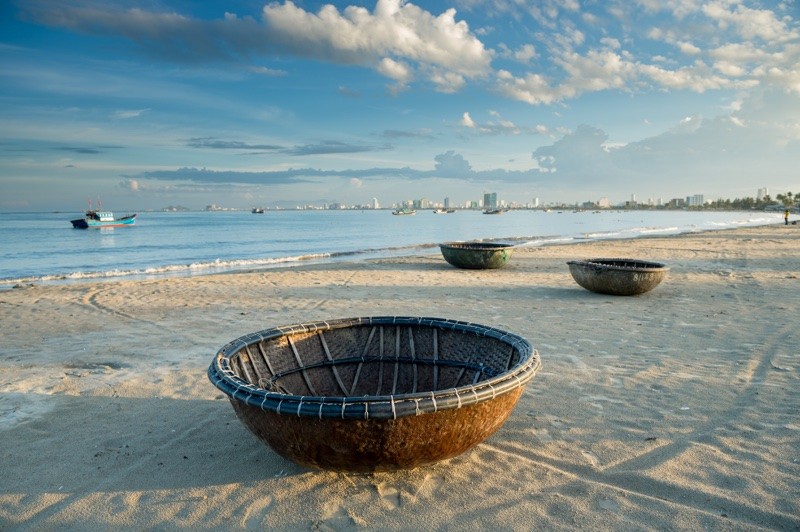 Photo: VietnamOnline
My Khe beach is a 32-mile stretch of white sand beach that is approximately 6 km east of Da Nang. The beach was made famous by movies and TV shows as a place where American soldiers of the Vietnam War enjoyed peace in Da Nang.
My Khe beach was also named one of the 6 most beautiful beaches in the world by Forbes Magazine. Hosting a number of high-class resorts and hotels, the beach is an idyllic spot for sunbathing, fishing, and a variety of water activities to enjoy during your stay.
From the beach, you can check out World Heritage Sites such as Hoi An Ancient Town, Phong Nha Caves, and Hue Imperial City. All of which are easily accessed via car or bus.
Non Nuoc beach
Located at the foot of Marble Mountains, Non Nuoc beach has crystal clear blue water and calm waves all year round. It is also regarded as one of the most stunning beaches in Vietnam. There are plenty of things you could do on the beach from sunbathing, surfing, and jet-skiing to enjoying local seafood dishes.
You can also explore the Marble Mountains, and visit popular destinations like handicraft villages, ancient pagodas, and sacred caves before or after your day at the beach.
Son Tra beach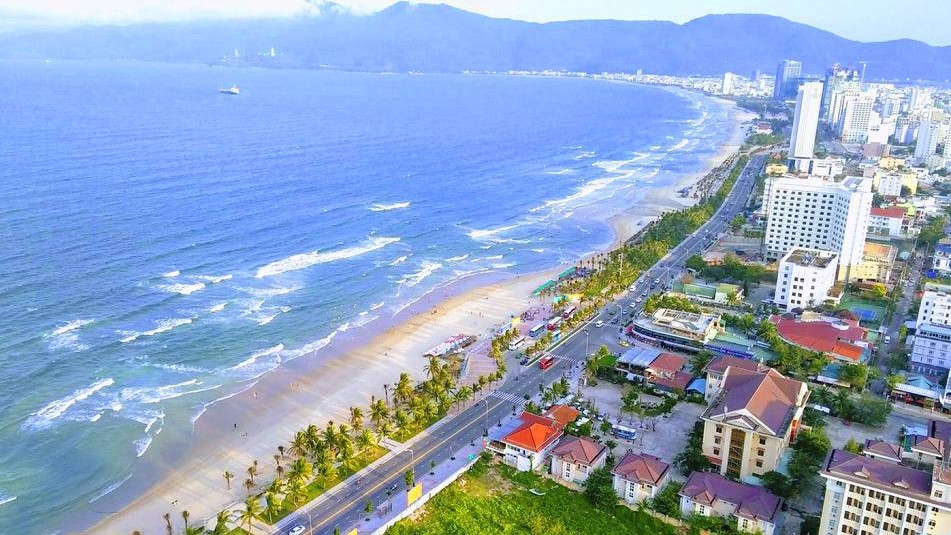 Photo: Vietgoing
Son Tra peninsula is where you could discover some of Danang's most hidden beaches like Tien Sa, Bai Bac, and Con beach. Located about 8 km from the city center, it is home to the rare red-shanked doucs.
The beaches at the foot of the mountains are beautiful, with clear blue water and calm waves. Besides relaxing and swimming, you can also go into the jungle or explore the beauty of the peninsula by riding a scooter around.
When you are here, make sure to visit Linh Ung Pagoda, one of the best spiritual destinations for Buddhists, and the bronze statue of Confucius as well as China's most prominent philosophers. Son Tra Peninsula also has a lookout point called Ban Co Peak, where you can view the spectacular sight of the mountains and the sea.