Da Nang set for world fireworks champs
Teams prepare fireworks for the International Fireworks Competition at Han River Port in Da Nang (Photo: VNA)
The Symphony of Colours, the title of the competition, has five scheduled performances from teams hailing from five continents – South Africa, the US, Australia, Poland and Vietnam.
The team of South Africa, the rainbow nation, will tell a century-old story, The Blue Sky of Africa, with every colour of the rainbow and music.
Joe Ghazzal, the director of Global2000 International Company, the consultants for the event, said South Africa's spectacular displays at the opening and closing ceremonies of 2010 FIFA World Cup means they are a thrilling addition to the competition.
Meanwhile the US team, Pyrotec-nico, will likely bring some creative fireworks to the opening night. Even after 120 years of performances, the US team still has a reputation for being innovative with pyrotechnic technology.
They placed second at the competition four years ago.
Ghazzal revealed that the US team plan to feature pyrotechnic waterfall effects.
The host, Da Nang-Vietnam will conclude the first night with a 20-minute performance accompanied by folk songs of Vietnam.
The host team, which participated in all six previous events, have yet to mount the victory podium, but the team will perform and host in true hospitable Vietnamese style.
The second and final night will have Australian and the Polish teams lighting up the sky.
The Oz team, Howard & Sons Pyrotechnics, are one of their country's most renowned fireworks companies.
The team have become well-known for their performances at large-scale international events in recent years. The team placed third at the 2009 edition.
This is the first time Surex Firma Rodzinna from Poland to participate in the competition, standing in as one of the leading fireworks companies in European.
They will be tough contenders at the competition after winning the Pohang International Fireworks Festival last year in the Republic of Korea.
StarWorld, National Geographic and BBC World – Asia Zone will broadcast the competition.
In 2013, American Melrose Pyrotechnics won first place. Canada's Davis Whysall took the top prize in 2008, while China's Liuyang Dancing won in 2009. France's Jacques Couturier Organisation won in 2010, and Italy's Parente won twice in 2011 and 2012./.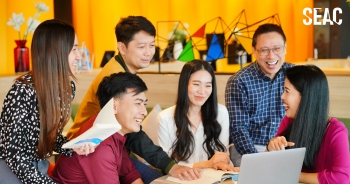 Economy
SEAC, a leading corporate and lifelong education innovator, is shaking up the Thai and ASEAN education market with significant investment to expand its SMART learning solutions across the ASEAN region.