Da Nang, Thailand's Khon Kaen Province Set Up Cooperative Relations
The Memoradum of Understanding on the establishment of Sister City Relationship between and Khon Kaen Province of Thailand and Da Nang City of Vietnam has been signed.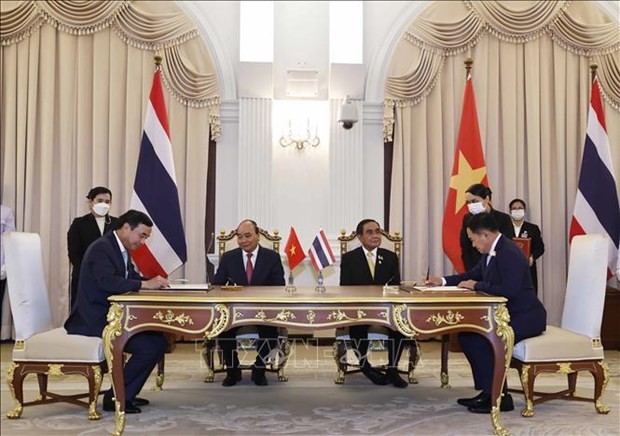 President Nguyen Xuan Phuc (sitting, left) and Prime Minister Prayut Chan-o-cha (sitting, right) witness the signing of the Memorandum of Understanding (MoU) on the Establishment of Sister City Relationship between and Thailand's Khon Kaen province and Vietnam's Da Nang city. Photo: VNA
As part of his trip to Thailand in order to accompany President Nguyen Xuan Phuc, Da Nang City People's Committee Chairman Le Trung Chinh on November 16 attended a talk between high-ranking leaders of Vietnam and Thailand and signed a Memorandum of Understanding on establishing friendly and cooperative relations with Governor of Khonkaen Province Kraisorn Kongchalad.
According to Da Nang Today newspaper, the two sides agreed to strengthen cooperation for common prosperity, and boost bilateral cooperation in the spheres of investment, trade, tourism, education and culture on the basis of equality and mutual benefit.
Covering an area of 10,886 km2, Khonkaen is located in the central northeastern part of Thailand. It had population of 1.9 million people in 2020.
As an economic and social centre of the northeast region of Thailand, Khonkaen is one of the localities specially planned by the Thai Government as a driving force for the country's socio-economic development.
The province boasts strengths in the aspects of industry, finance, tourism, culture and education. The Khonkaen University is the largest of its kind in the region with more than 20,000 students enrolled, providing quality human resources for many provinces of Thailand.
Both located on the East-West Economic Corridor, the establishment of friendly and cooperative relations between Da Nang and Khonkaen Province will create conditions for the two sides to exploit the advantages of this economic corridor, especially in the field of economy, trade and tourism.
Till date, Da Nang has set up cooperative relations with 47 localities of 22 countries around the world with 103 signed agreements. The strengthening of cooperation promotion with foreign localities has promoted the image of the city, and well implemented many programmes and projects, thereby contributing to driving the city's socio-economic development.
Thailand is currently the largest trading partner of Vietnam in ASEAN, while Vietnam is the second largest trading partner of Thailand in ASEAN, VNA reported.
The two-way trade has continued to grow and is now on track to achieve the bilateral trade target set at USD 25 billion by 2025.
Thailand is currently the eighth largest foreign investor in Vietnam with a combined value of over USD 13 billion as of 2021.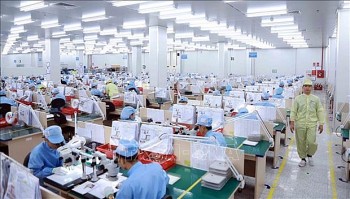 National
Vietnam News Today (Jan. 26): Vietnam - important partner of RoK; HCM City maintains growth momentum, reaps successes in 2022; Vietnam's tourism forecast to strongly rebound in five years; Many localities attract a large number of visitors during Tet.